Super fluffy buttermilk pull-apart rolls that are incredibly low effort but will inevitably become your new favorite dinner roll.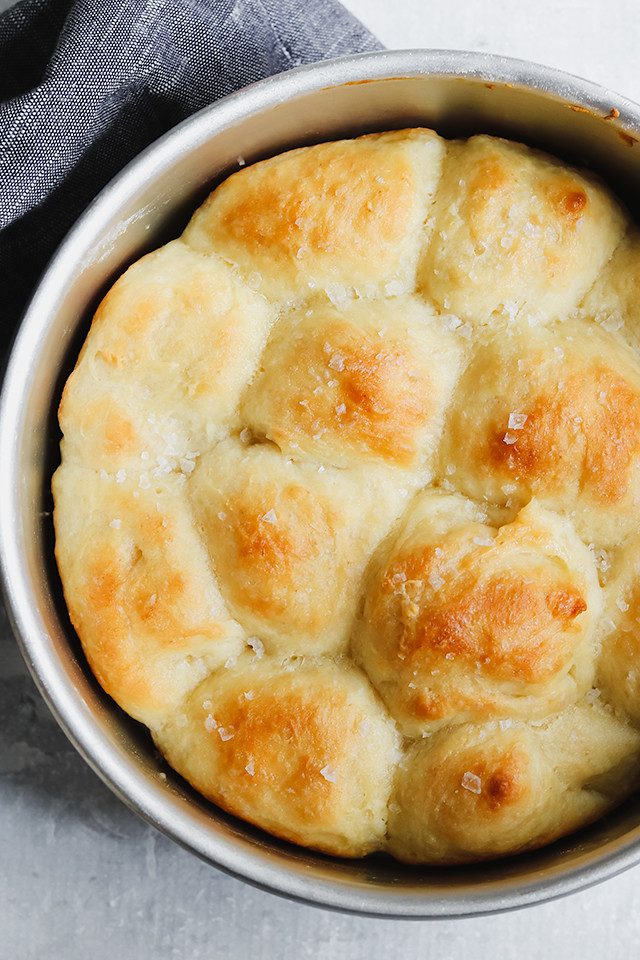 Last week I was having a major royal freak-out over the fact that all of my go-to grocery delivery services were out of pantry staples (bread, pasta, CHOCOLATE!!!!).
Until I came to this stark realization: I CAN MAKE THEM MYSELF.
(Well, not the chocolate but two out of three ain't bad.)
So that's my plan should things really get bad around here – run a make-shift bakery out of my home. I know you're all relieved that I'm putting my medical degree to good use.
All joking aside, it is really reassuring to know that I can bake-from-scratch a whole lot of things should they become scarce or if we become restricted to our homes.
Sure, we ate this entire batch of rolls in less than 48 hours but I suspect we could survive on them for longer if we really needed to.
And SO COULD YOU because these are easy enough for even the most amateur bread baker to conquer.
All you need is a mixing bowl, two forks, and a pretty basic list of ingredients.
Then, mix. Rise. Shape. Rise. Bake.
Pretty minimal effort for the fluffiest, dreamiest rolls you could ever imagine. They go perfectly with soup, stews, curries, or as a snack to nibble on just because.
Fluffy Buttermilk Pull-Apart Rolls
Super fluffy buttermilk pull-apart rolls that are incredibly low effort but will inevitably become your new favorite dinner roll.
Ingredients
4 cups (512 g) all purpose flour
2 tsp kosher salt
2 tbsp sugar
2¼ tsp instant yeast
1 cup boiling water
1 cup buttermilk
6 tbsp melted unsalted butter, divided
flaky sea salt
Instructions
Whisk together the flour, salt, sugar, and instant yeast in a large bowl. In a smaller bowl or measuring cup, mix together the boiling water and the buttermilk, stirring to combine. Let sit for 10 minutes, then add it to the flour mixture. Stir in 4 tbsp of the melted butter and mix together with a rubber spatula until the ingredients are combined and form a sticky dough. Cover with plastic wrap and set aside to rise in a warm place for 1.5-2 hours, or until it has doubled in size.
Heat oven to 375F.
Grease two 8-inch circle or square baking pans with softened butter. Deflate the dough by poking it with two forks and pulling it towards the center of the bowl so that it forms a ball.
Dust a clean work surface lightly with flour. Separate the dough into two equal pieces. Shape each into a ball and then divide each ball into 10-12 equal-sized smaller balls. Transfer each ball to one of the prepared baking pans, dividing them evenly between the two.
Allow the dough to rise, uncovered, for 20-25 minutes or until they have puffed up enough to fill the pans.
Bake for 20-25 minutes, or until golden. Remove from the oven and immediately brush with the remaining 2 tbsp of melted butter. Sprinkle with sea salt. Allow to cool for 5 minutes in the pans, then flip out onto a cooling rack and invert it again onto a serving plate. Rest at least 5 minutes before serving.