Swiss chard with buttered pine nuts and a tahini-yogurt sauce – it's the perfect side dish!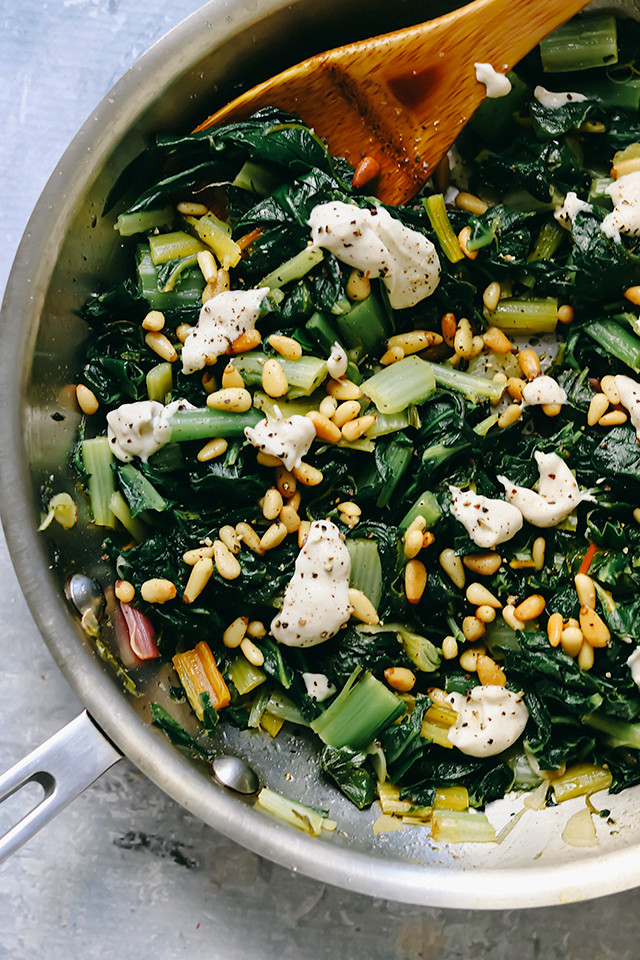 One of my biggest struggles in life, and it's looking right at you:
CHAAAARRDDD.
I love it with every fiber of my being and it is 100% my favorite of all the leafy greens. (Yes, I play favorites with my vegetables. Beets, celery, and fennel are on the no fly list, but everything else is on a spectrum of LOVE to REALLY LOVE.)
But the husband???? HE HATES IT.
I won't even grace you with the toddler's opinion because I think we all know her feelings on anything vegetal.
So instead of avoiding making chard for fear that no one but me will eat it, I pretty much make it more to try to convince them of how wrong they are. With the bright side of this being that if they continue to insist on not liking it, I get to eat their portions.
Not my worst life choice.
Unfortunately (or fortunately??) this swiss chard dish was universally loved SO I HAD TO SHARE.
What's kind of magical about this is that the chard is first boiled to remove most of its bitterness and then sauteed in a garlicky white wine-infused broth so that it almost melts in your mouth with every bite. Plus it uses both the stems and the leaves, which is a major no-waste bonus. Prior to serving it gets topped with buttery pine nuts and a lick-the-bowl-clean tahini yogurt sauce.
I served it as a part of a really simple meal (eggs + toast) but I think a nice piece of fish or a bean-based dish could be excellent accompaniments as well.
Swiss Chard with Buttered Pine Nuts, Tahini, and Yogurt
Swiss chard with buttered pine nuts and a tahini-yogurt sauce - it's the perfect side dish!
Ingredients
2¾ lb (1.3 kg) swiss chard
2½ tbsp (40 g) unsalted butter
2 tbsp olive oil
5 tbsp (40 g) pine nuts
2 garlic cloves, thinly sliced
¼ cup (50 ml) dry white wine
salt and black pepper, to taste
For the tahini and yogurt sauce
3½ tbsp (50 g) tahini paste
4½ tbsp (50 g) Greek yogurt
2 tbsp lemon juice
1 garlic clove, grated
2 tbsp water
Instructions
For the sauce
Mix together all of the ingredients in a medium bowl. Season to taste with salt and black pepper, then whisk until well combined. Set aside.
For the chard
Separate the chard stalks from the leaves and slice them into ¾-inch wide strips. Bring a large pan of salted water to a boil. Add the chard stalks to the boiling water and simmer for 2 minutes. Then add the leaves and cook for another minute. Drain and rinse with cold water. Squeeze the chard and stalks to get out as much water as you can. Set aside.
Combine half of the butter and 2 tbsp of the olive oil in a large pan over medium heat. Once hot, add the pine nut nuts and toast them until they're golden, about 2 minutes. Remove them from the pan with a slotted spoon and then add in the garlic. Saute for a minute, or until it turns golden. Pour in the wine and allow it to reduce by one third, about 1 minute. Add in the chard and the remaining butter. Cook for 2-3 minutes, or until the chard is warmed through and the butter is melted. Season to taste with salt and black pepper.
Divide the chard among serving bowls. Top with the tahini sauce and the pine nuts. Serve warm.