Cheesy spanakopita baked ziti made with loads of fresh greens, mozzarella, feta cheese, and dill.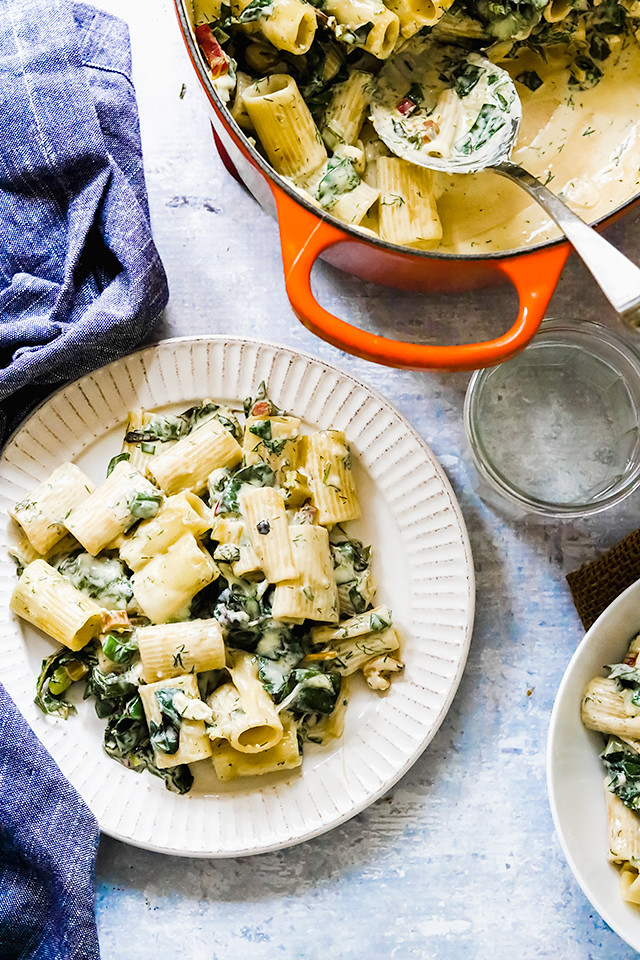 Dealing with Monday the only way I know how – ALL THE CHEESE AND CARBS.
But also pounds upon pounds of Swiss chard and dill and a ton of green also.
It's all about the balance.
I don't know about you guys, but I luuurrvvveee the flavors of spanakopita. All those greens plus the bright unique flavor of dill plus lots of tangy feta plus so much flaky filo that breaks into a gazillion pieces all over whatever you're wearing. UGH SO GOOD.
My sister-in-law makes a mean version of it, but I have the unfortunate insider info on just how much butter goes into it. Let's just say….it's a lot. And if I'm eating that much butter I'd prefer it to be in cake form. Or a really large slice of pie.
So I either have to limit myself to one small square (SO HARD because once you start, you really just can't stop) or take it upon myself to recreate the essence of spanakopita in a more hearty, filling, (?) healthy form.
Now this baked ziti is definitely not the picture of perfect health (ahem did I mention that it contains ALL THE CHEESE) but it is more of a complete meal that will leave you incredibly satisfied instead of just constantly craving "one more square".
Also it has EIGHT CUPS of greens in it. Impressive, no?
The recipe starts off by massaging salt and black pepper into the chard, dill, and scallion greens. This helps them break down a bit and removes some of their bitterness.
While those rest, you cook the pasta and make the cheese sauce! The pasta should be cooked just short of al dente because it will continue to soak up liquid and tenderize as it cooks in the oven. This is important for thickening the sauce and because no one likes mushy pasta.
The cheese sauce is a simple mixture of scallion whites, sliced garlic, cream cheese, mozzarella, and feta. (Basically, everything good.) Melt it all together on the stove top, then toss it together with the pasta and massaged greens. Top it off with more cheese, then pop it in the oven for a quick bake to melt and brown the cheese and let the whole dish come together.
It makes for a pretty magical dinner, especially when you're coming down with a case of the Monday blues.
Spanakopita Baked Ziti
Cheesy spanakopita baked ziti made with loads of fresh greens, mozzarella, feta cheese, and dill.
Ingredients
kosher salt and black pepper, to taste
8 cups swiss chard, coarsely chopped, rough stems removed
1 cup chopped fresh dill
6 scallions, trimmed and thinly sliced, whites and dark green parts separated
1 pound rigatoni
2 tablespoons unsalted butter
4 garlic cloves, peeled and thinly sliced
8 ounces cream cheese (1 cup), cut into ½-inch cubes
4 ounces mozzarella, grated
4 ounces crumbled feta
Instructions
Bring a large pot of salted water to a boil. Heat oven to 450F.
In a large bowl, toss the chard with the dill, scallion greens, 2 tsp salt, and black pepper. Massage the mixture together until the chard starts to wilt. Set aside.
Cook the pasta for 2 minutes less than the package instructions. Drain and set aside, reserving 1 cup of the pasta cooking water.
Return the pot to the stove and melt the 2 tbsp of butter in it over medium heat. Add in the scallion whites, garlic, and a pinch of salt. Saute until they are tender, about 4-5 minutes. Add in the cream cheese and hot pasta water, stirring until smooth. Add in the chard mixture, half the mozzarella, and half the feta. Stir until combined. Stir in the pasta. Season to taste with salt and black pepper.
Transfer the pasta mixture to a 9x13-inch baking pan. Top with the remaining mozzarella and feta cheese. Bake for 10-15 minutes, until the sauce has thickened and the cheese on top has started to brown. Allow to rest for 5-10 minutes before serving.