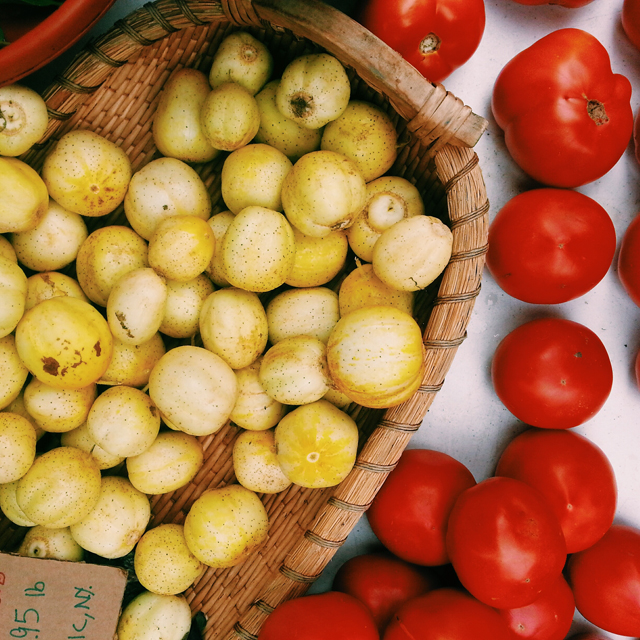 1. The best part of farmer's marketing? Bringing home random vegetables and forcing the.boy to eat things I've never heard of.
2. This week's crazy find was lemon cucumbers. Pretty much the same as regular cukes, but such a great color. And they totally freaked him out. Win/win.
3. Feeling so wedding accomplished this week now that our bridal shower invitations are sent and bridesmaids dresses are basically picked. Now I can take another two month hiatus from planning, right?
4. Are you guys watching Restaurant Start-Up? It's basically like Shark Tank for foodies. I can't tell whether I love it or hate it, but so far I just want to strangle the two guys who were on the one episode I've seen. But in an I-can't-stop-watching-it kind of way.
5. I may have gone a little bit overboard on the corn this weekend. Do we think serving it at every meal for two days straight is overkill?
6. But if I'm going to make everything on my Corn, Sweet Corn Pinterest board before summer is over, what other options do I have?!
7. Do you guys ever get stuck on a cookbook and find yourself making EVERYTHING from it? That's what's going on with me and Ready for Dessert
. This peanut butter and jelly linzertorte was my gateway drug and now I've made, like, three other recipes from it. In two weeks. Help.
8. Or just come over and pull up a fork.
9. Tomato, basil, mozzarella on bread with a drizzle of balsamic syrup = my latest obsession.
10. Imagine if I added corn on top.