Delicious summer vegetables are roasted with halloumi in a simple lemon oregano vinaigrette and then served over a bed of fresh corn polenta.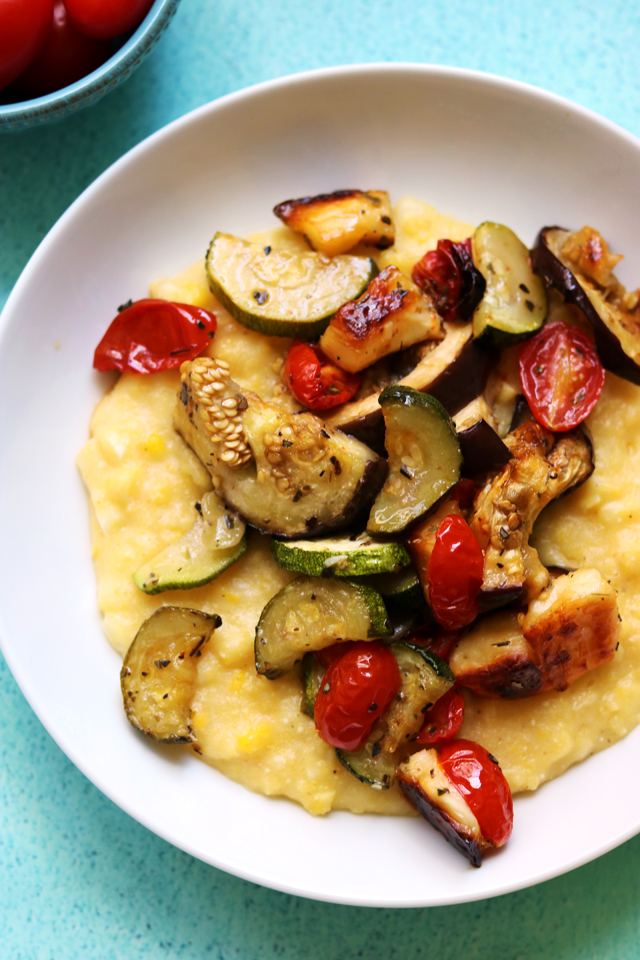 This will check off so many items on your summer vegetable bucket list!!!
Please tell me you have one of those.
Anyone??????? Just me?!?!?!?!?!
I've still yet to find really great heirloom tomatoes, but other than that I think we're really at the peak of the season for most things. It's one of the best times of year.
I get so excited seeing everything at the farmer's market that I can't help but buy it by the armful. Then, unless I have very specific plans for it, it sits in my crisper drawer until it rots. I truly have the best of intentions, but time just gets away from me. Eggplant, especially, seems to go bad in just a few days in my fridge. No idea why.
This recipe is such a great way to use up all that bounty!!
To make it, you just take everything in your fridge (hold the corn!, we'll get to that), toss it in an oregano marinade, and throw it on a roasting pan. Roast until deeply sweet and caramelized, then sprinkle with lemon juice.
The flavor is so simple, but UNREAL.
Then, while all that is baking away, you whip up a batch of polenta that is filled with fresh sweet corn!
With all of this produce being so vibrant and delicious right now, it's such a great summer meal.
Roasted Halloumi and Summer Vegetable Bake with Fresh Corn Polenta
Delicious summer vegetables are roasted with halloumi in a simple lemon oregano vinaigrette and then served over a bed of fresh corn polenta.
Ingredients
For the roasted halloumi and vegetables
3 tbsp olive oil
3 garlic cloves, minced
2 tsp oregano
2 tsp kosher salt
black pepper
14 oz zucchini
11 oz eggplant
2 cups cherry tomatoes
8 oz halloumi
juice of 1 lemon
For the polenta
4 ears corn, shucked
1 tbsp + 1 tsp Maldon sea salt
2 cups polenta
3 tbsp unsalted butter
2 oz parmesan cheese, finely grated
black pepper
Instructions
For the roasted halloumi and vegetables
Heat the oven to 450F. Line a baking pan with a sheet of parchment paper. Set aside.
In a large bowl, combine the olive oil, garlic, oregano, salt, and black pepper. Set aside.
To prep the veggies, cut the zucchini in half lengthwise and then into ½-inch half moons. Cut the eggplant into ½-inch pieces. Halve the cherry tomatoes. Cut the halloumi into 1-inch cubes. Toss all of the veggies and the halloumi together in the bowl with the dressing until they are all evenly coated in it.
Spread the veggies out on the prepared pan and roast for 20-30 minutes. Flip and then roast for 10-15 minutes more. Drizzle with lemon juice and serve.
For the polenta
Cut the corn kernels from the cobs into a large bowl. Reserve the cobs.
Break the cobs into a few pieces and place in a medium pot. Add 7 cups of water to the pot and cover. Bring to a boil, then uncover and remove the cobs.
Stir the salt into the boiling water and then slowly whisk in the polenta. Continue to whisk until the polenta starts to thicken, about 2 minutes. Turn the heat down to low and continue to cook, stirring often, for 20 minutes. Stir in the corn kernels and continue to cook for 25 minutes more.
Remove from the heat and stir in the butter and parmesan cheese. Season to taste with salt and black pepper.