Make this peach ginger biscuit pie with the sugary sweet peaches that abound right now and you won't be sorry. It will be your favorite summer pie!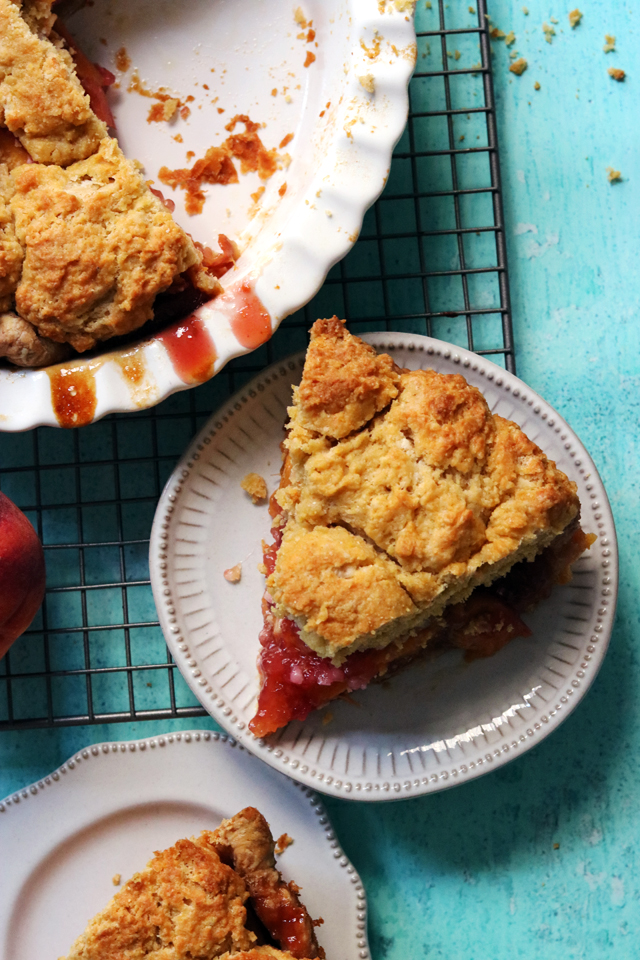 My personal goal for the summer was to bake through all the summer pies in the Sister Pie bakebook, so now you can understand why I'm working out and walking around like a maniac and all of my jeans juuuuuusssttt baarrreeelllyyy fit.
I'm halfway through (not to mention all of the cookies I've also made from this book) and let me tell you it has tasted so good.
I have no regrets.
This ginger peach biscuit pie has been the clear favorite, though.
One bite and I declared it The Official Pie of Summer, in addition to being the best peach pie I've ever made (or tasted).
It didn't hurt that my peaches tasted like candy.
I feel like, yeah you could make a pie taste pretty good with even mediocre fruit but it becomes really great when the fruit can pull it's own weight.
First let's talk pie crust!
My former favorite was the crust from Four & Twenty Blackbirds. It was an all butter crust that used a vinegar-ice water mixture to soften the dough and make it easier to roll out.
This dough is super similar, mainly because the book's author used to work in the Four & Twenty Blackbirds pie shop. It's also an all butter crust and uses an ice-water-vinegar mixture, though the ratios are slightly different. I haven't done a head to head comparison, but I can say that the Sister Pie crust is a bit easier to roll out and turns out an impossibly flaky crust that almost shatters (in a good way) when you bite into it. However, it doesn't hold its shape as well as the Four & Twenty crust. Not that big of a deal when you're covering it with a biscuit or crumble topping but if you're going for more of a decorative crust it is something to consider.
Now for the filling!
Here's the best part about this filling: the peach skins stay on.
If you've ever tried to remove the skins from peaches, then you know why this is a glorious thing. It requires you to cut an X in the peaches, then boil them for a minute, then hope that was enough time for the skins to fall off without a struggle. It sounds simple but somehow I am never able to get it right. Same with peeling tomatoes. One of my least favorite kitchen tasks.
The filling is a simple mix of peach slices (SKINS ON!), freshly grated ginger, brown sugar, white sugar, salt, and tapioca starch (though I actually used small tapioca pearls). It gets macerated while you prepare the biscuit topping. Plop it into the crust, top with the biscuits, and you are in business.
The biscuits end up slightly sweet and buttery while the filling is just perfectly gingery and fruity.
Make it while the peaches are good and you won't be sorry.
Peach Ginger Biscuit Pie
Make this ginger peach biscuit pie with the sugary sweet peaches that abound right now and you won't be sorry. It will be your favorite summer pie!
Ingredients
For the crust
2½ cups all purpose flour
1 tsp sugar
1 tsp kosher salt
1 cup unsalted European-style butter, cut into ½-inch cubes
½ cup ice
1 cup ice water
2 tbsp apple cider vinegar
For the pie filling
2 lb ripe peaches, sliced
1 tbsp freshly grated ginger
1 tbsp lemon juice
¼ cup tapioca starch
¼ cup sugar
⅓ cup brown sugar
¼ tsp kosher salt
For the biscuit topping
1½ cups all purpose flour
¾ cup fine yellow cornmeal
⅓ cup packed brown sugar
1½ tsp baking powder
¼ tsp kosher salt
½ cup + 2 tbsp unsalted butter, cubed and chilled
1 cup buttermilk, cold
Instructions
For the crust
Whisk together the flour, sugar, and salt in a large bowl. Add the cold butter cubes and toss so that they are coated with the flour. Using a pastry blender, cut the butter into the flour until the largest butter pieces are the size of peas. The rest of the mixture should look and feel like Parmesan cheese.
Place the ice in a liquid measuring cup. Add ice water until it reaches the 1 cup mark, then stir in the apple cider vinegar.
Add the ice water-vinegar mixture to the pie crust mixture by the tablespoon, mixing with your hands, until the dough comes together. Remove it from the bowl and cut it into two equal pieces. Pat each piece into a 2-inch thick disc, wrap in plastic wrap, and refrigerate for at least 2 hours or overnight.
Once chilled, roll the dough into a 13-inch round on a floured surface. Fit into a pie plate and crimp as desired. Freeze the crust for 15 minutes.
Heat oven to 450F. Remove the pie crust from the freezer and line with aluminum foil. Fill with dried beans or pie weights and place in the oven on a baking sheet. Bake for 25-27 minutes. Fold back the foil, exposing the crimps. Bake for another 5-7 minutes, or until the crimps are a deep golden brown.
Remove from the oven and let cool while you prepare the filling.
For the filling
Place the peaches in a large mixing bowl along with the ginger and lemon juice. Toss to combine. In a small bowl, whisk together the sugars, tapioca starch, and salt. Add to the peach mixture and toss with your hands to ensure even mixing.
Heat oven to 350F.
For the biscuit topping
In a large bowl, whisk together the flour, cornmeal, brown sugar, baking powder, and salt until well combined. Place the butter cubes in the bowl and toss to combine. Using a pastry blender, cut the butter into the flour mixture until most of the butter is incorporated but there are still large chunks (a little less than you would be pie crust).
Pour in the buttermilk and use a silicone spatula to stir it until just combined. Then switch to your hands and mix until it completely comes together and there are no more dry spots.
For the pie
Pour the peach mixture into the pie crust, trying as much as possible not to mound it in the center. Cover the fruit with scoops of the biscuit topping, leaving a small hold in the middle for a steam vent. Place on a parchment-lined baking sheet.
Bake for 30 minutes. Reduce the oven temperature to 325F and bake for another hour or until the pie juices start to bubble in the center and the biscuit topping is golden brown.
Remove from the oven and onto a wire rack. Allow to cool completely before serving.