Decadent butternut squash, taleggio, and sage risotto filled with rich flavors and cubes of sweet winter squash.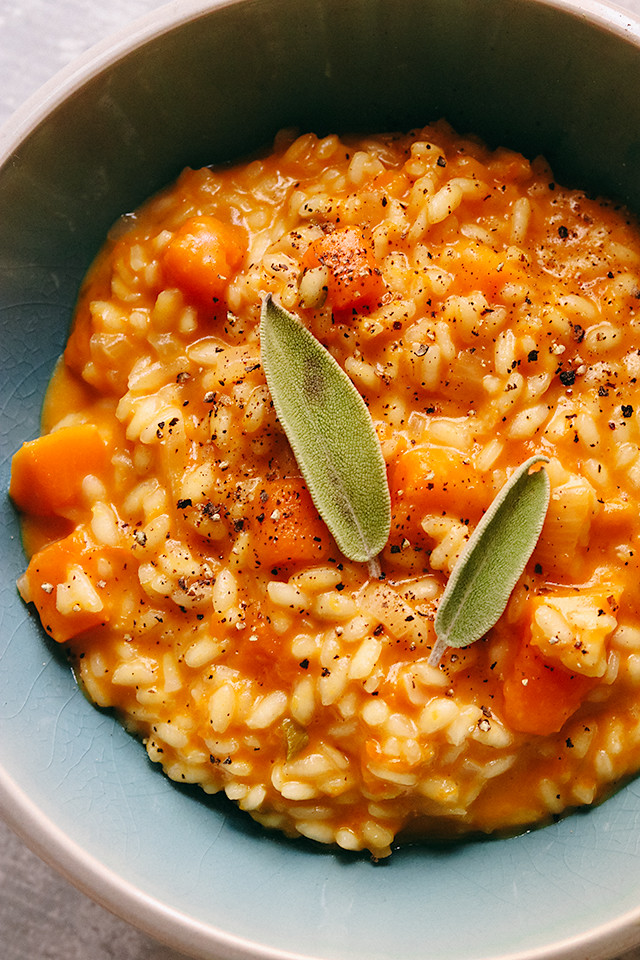 Date night at home!!! (ie every night lolz)
Things are about to get fancy around here.
We're breaking out the stinky cheese, we're standing over a pot on the stove stirring risotto for an eternity (okay, twenty minutes), we're pouring XL glasses of wine….all while wearing our best athleisure wear and a sports bra.
This is the life.
Risotto is my favorite "feels fancy but is actually really easy" food.
You guys. It's RICE. How complicated could it be?
In full disclosure, I cheat by not stirring it constantly constantly and so it might not be exactly up to Top Chef standards but…honestly it still tastes perfectly decadent to me. It also has a boatload of cheese, which will make anything taste pretty dang good.
Butternut risotto recipes are a dime a dozen, but what is special about this one is that you cook the squash in the same broth you use to make the risotto so its flavor gets infused everywhere. It's also a really easy way to doctor up store-bought broth if you're not totally in love with the flavor.
As far as the cheeses go, this recipe features pamigiano-reggiano and taleggio, which are two of my favorites. If you're not super into taleggio or can't find it, then brie is an acceptable (and equally delicious) substitute.
Butternut Squash, Taleggio, and Sage Risotto
Decadent butternut squash, taleggio, and sage risotto filled with rich flavors and cubes of sweet winter squash.
Ingredients
4-5 cups vegetable broth
4 cups diced butternut squash
1 tbsp olive oil
2 tbsp butter, divided
2 shallots, minced
1 tbsp chopped sage
1.5 cups arborio rice
½ cup dry white wine
1 tsp kosher salt, plus more to taste
freshly ground black pepper
1 cup parmigiano-reggiano cheese
4 oz taleggio, cut into ½-inch dice
Instructions
Heat the vegetable broth in a medium pot and bring to a simmer. Add the squash to the pot and cook, partially covered, until the squash is just tender, about 10 minutes. Set aside.
Meanwhile, heat the oil and 1 tbsp of the butter in a wide pot over medium-low heat. Add the shallots and sage. Saute until golden, about 8 minutes, stirring frequently. Increase the heat to medium-high, then add the rice. Saute for 2-3 minutes or until the grains become translucent. Add in the wine and cook until it is almost completely absorbed.
Add a ladleful of the warm stock and squash mixture to the rice, then add a second spoonful of mostly squash. Cook, stirring frequently, until the liquid is almost completely absorbed, then add in more stock and squash. Continue to cook the rice this way until it is creamy and tender. Add the remaining tbsp of butter along with the salt and black pepper. Stir in the parmigiano-reggiano and taleggio cheese, mixing until melted and completely combined. Season to taste again and then serve immediately.