Caramelized roasted broccoli is topped with a spicy pecan salsa and cheddar cheese.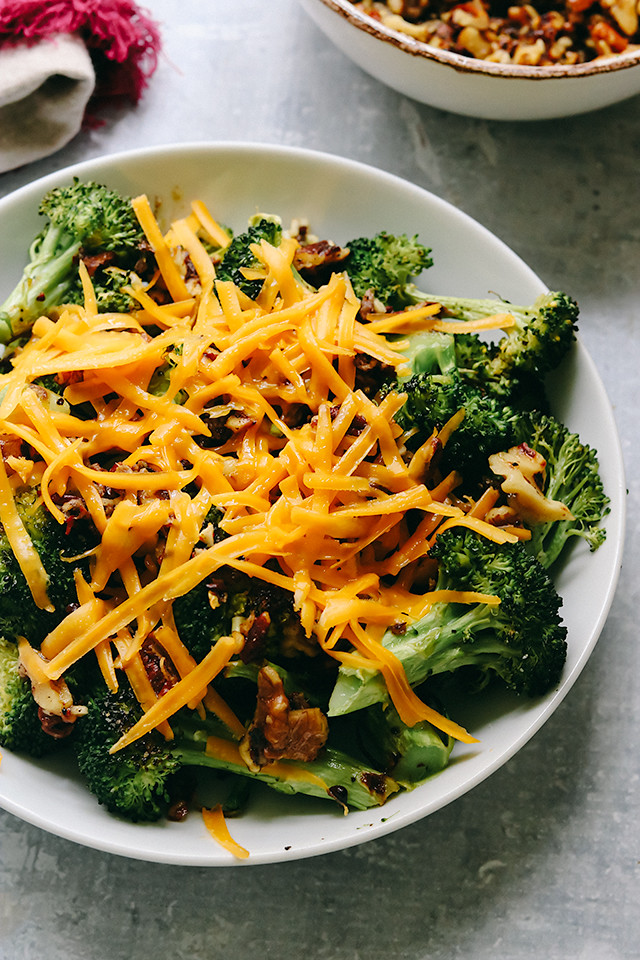 We were planning a major west coast vacation last year just as the pandemic hit. I remember being thisclose to buying plane tickets the week that the hospital I work at issued travel restrictions for all of its employees, which essentially made going anywhere impossible unless you wanted to take two weeks of unpaid leave on your return. It was March and my husband was like, yeah but SURELY we'll be able to travel by June.
Bahahahahahahah. Oh how naive we were.
We still talk with sadness about how much fun we would have had on that trip (though to be honest, I'm not too torn up about evading a 6+ hour plane ride with Miss Remy), and mostly I think about how much awesome food we missed out on eating.
One of the restaurants I would have bee-lined to, straight off the plane, jet lag and all is Bar Amá – a beacon of inventive Tex-Mex cuisine in the middle of downtown LA.
I started cooking through the Amá cookbook around the same time that we realized there was no way our trip could happen and the delicious meals were definitely a bright spot in an otherwise dreary spring. This roasted broccoli dish was one gem that we discovered within its pages and it has made its way into our regular rotation, both for ease of execution and big bold fabulous flavors.
What seemingly starts like a simple recipe for roasted broccoli turns into something more when you toss it with a nut, spice, and (secret ingredient alert!) anchovy salsa that is at once pungent, deeply savory, spicy, tangy, crunchy. Make it while the broccoli cooks and then toss it all together and top it off with a dusting of grated cheese. The original recipe calls for topping it with even more hot sauce, but this was plenty spicy for two thirds of my family's palates. I'm always firmly in the "More Spice!" camp, so do with it as you please.
Roasted Broccoli with Spicy Pecan Salsa and Cheddar Cheese
Caramelized roasted broccoli is topped with a spicy pecan salsa and cheddar cheese.
Ingredients
For the spicy pecan salsa
4 tbsp coarsely chopped pecans
1 garlic clove
4 anchovy fillets, chopped
2 tbsp minced cilantro
2 tbsp olive oil
zest and juice of ½ lime
3 dried arbol chiles, chopped
⅛ tsp ground coriander
⅛ tsp ground cumin
pinch of fine sea salt
freshly ground black pepper
For the broccoli
2 lb broccoli florets
1 tbsp olive oil
kosher salt and black pepper, to taste
4 oz finely grated cheddar cheese
Instructions
For the spicy pecan salsa
In a small skillet, toast the nuts and the whole garlic clove until fragrant, about 2-3 minutes. Place the nuts in a large bowl. Remove the garlic clove and finely chop it, then add it to the bowl with the nuts. Stir in the anchovies, cilantro, olive oil, lime zest and juice, chiles, coriander, and cumin. Season to taste with salt and black pepper. Set aside.
For the broccoli
Heat the broiler to high. Place on a parchment-lined baking sheet and toss with the olive oil, salt, and black pepper. Broil until just tender and starting to caramelize, about 10 minutes.
Add the broccoli to the bowl with the pecan salsa and toss to combine. Transfer to a serving platter and top with the cheddar cheese while still warm. Serve immediately.