This curried red lentil, kale and sweet potato soup is the perfect way to warm up from the cold snowy outsides. It is full of rich, warm spices, sweet potatoes, and lentils for the ultimate satisfaction.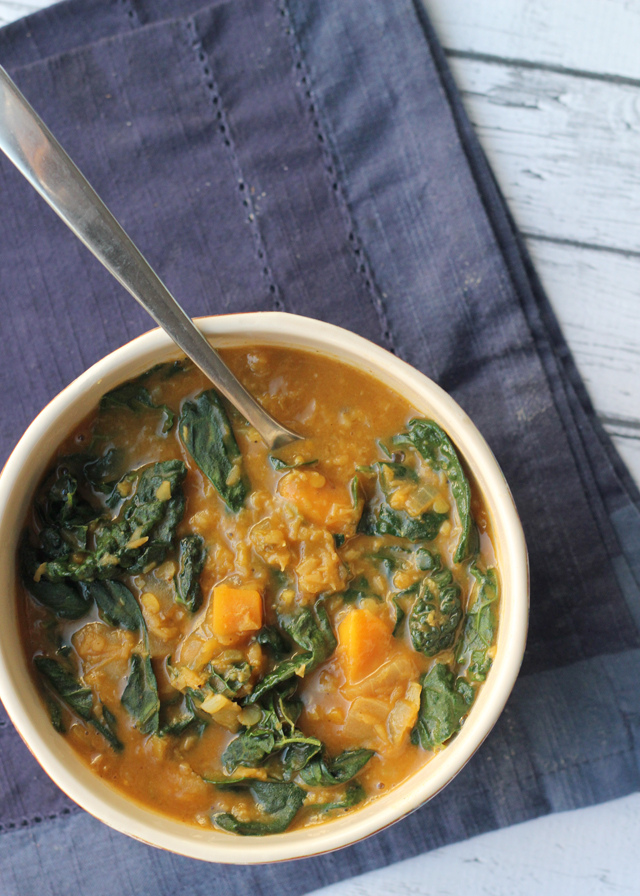 We're soup bonding.
I'll give you all the dirty details about navigating your way through the catering circles in New York City.
And you can tell me all the water cooler gossip about how the guy who sits in the cubicle next to you is rumored to be sleeping with the girl who works at the coffee cart downstairs. On your boss's desk. While he's supposedly working overtime. (SCANDALOUS!)
Obviously I don't know these people, but gossip is gossip and you gotta take what you can get sometimes. Plus you'll feel better if you get all those dirty little secrets off your chest. I just know it.
What was I talking about? Right, catering.
The.Boy and I are getting married at The Picnic House in Prospect Park and at this venue, you can only choose from one of their approved caterers.
Two of these were kosher, so they were automatically ruled out because some of us like mixing our meat with our dairy. And another one was taken off our list pretty early on (Steven Brown Caterers) because when we met their representative at an open house at the venue, she looked at us in disgust and disapproval whenever we voiced our opinions about what we wanted our wedding to be like and tried for, like, twenty minutes to convince us out of serving a plated dinner in favor of a buffet. Because "she knew better".
FYI – the bride-to-be always knows better. Always. But especially when you're trying to get her to write you a very large check.
Then there was the catering company (The Movable Feast) whose point person didn't speak English, and who persisted in telling the.boy and I totally opposite things when we spoke to her. Given that having an open line of communication is fairly crucial for any kind of relationship, business or otherwise…that just wasn't going to work.
And then there were three.
Which brings me to the worst of the worst – Bon Soir Caterers.
Not only did the man who runs this "business" say to me in the most condescending way possible, "But sweetheart, why would you want to do that?" when I told him we wanted all vegetarian appetizers. But he also expected us to sign a contract with him without serving us even a single bite of his food. As if we should just take it on blind faith that his food was as good as he said it was.
And then I read a review online that said his pumpkin ravioli was inedible. Which afforded him like, twelve strikes. 
Unfortunately, he was also the most affordable. But you get what you pay for. And I was not about to pay a still absurd amount of money for food that I could make better myself. It just wasn't going to happen.
Naturally Delicious was our second choice, though if you had asked me at the beginning of all this madness and mayhem, I would have told you we were definitely going to go with them, hands down, no holds barred. I mean, their name is basically everything I stand for.
Except their prices were more than what I make in a year. Plus tax.
So we kind of put them on a back burner as a "maybe, if we negotiate this right".
And then we met with Bartleby and Sage. And it was as if all the stars aligned.
We had found The One.
Leslie, the owner, was great. She was super into my vision for the wedding (an autumn gala, if you will), actually cared about what kind of food I like and what I wanted, had done her homework and READ MY BLOG before meeting with us.
And she told me that Ottolenghi and Deb were two of her biggest food inspirations and that she was going to London in a week and would be bee-lining it to one of Ottolenghi's restaurants immediately upon exiting the plane.
So obviously we are food soulmates.
I also know because she treated us to a meal at her restaurant where I had one of the best bowls of mac and cheese of my life. Along with my favorite cinnamon cider ale. Basically still dreaming about it.
A bit of contract negotiation and budget-finagling later (mostly a la the.boy), and there you have it. We sent in our contract and deposit last week.
It was simultaneously liberating and terrifying.
And now I'm going to need a second bowl of soup to calm my nerves. It's good like that.
One year ago…Black-Eyed Peas and Cornmeal Dumplings, Sushi with Curry-Roasted Sweet Potatoes, Avocado and Cardamom Millet Rice
Two years ago…Chipotle Squash Salad with Jicama, Goat Cheese and Avocado
Four years ago…Cheesy Zucchini, Red Pepper, and Barley Bake
Curried Red Lentil, Kale and Sweet Potato Soup
This curried red lentil, kale and sweet potato soup is the perfect way to warm up from the cold snowy outsides. It is full of rich, warm spices, sweet potatoes, and lentils for the ultimate satisfaction.
Ingredients
1 tbsp olive oil
1 onion, finely diced
½ jalapeno, seeded, diced
2 tsp grated ginger
1 large garlic clove, minced
2 tsp curry powder
1 tsp salt
3 tbsp tomato paste
5 cups water
14 oz light coconut milk
1 cup red lentils
1 medium sweet potato, peeled and diced into ½-inch cubes
2 bunches lacinato kale, stemmed and coarsely chopped
2 tbsp minced cilantro
Instructions
Heat the olive oil in a large pot. Add the onion and cook over medium heat. Add a pinch of salt and cook for about 5-8 minutes, or until onion becomes tender. Stir in the jalapeno, ginger, garlic, curry powder, and salt. Stir for about a minute, stirring frequently.
Add the tomato paste and cook for about 2-3 minutes, or until it starts to darken in color, stirring constantly. Add the water, coconut milk, red lentils, and sweet potato. Bring to a boil, and then lower to a simmer. Cook, partially covered, until the sweet potatoes are tender and the lentils are cooked through, about 30 minutes.
Stir in the kale and cook for about 5 minutes, or until wilted and tender. Stir in the cilantro and serve.
Nutrition Information
Serving size:
⅕th of recipe