Tired of feeling like a short order cook as you make breakfast all morning? This buckwheat Dutch baby with maple cranberry sauce is baked in the oven, so it requires no flipping or standing over a stove for hours while everyone else gets to eat and make merry!
Disclosure: This post was sponsored by Nespresso USA. All thoughts and opinions are my own.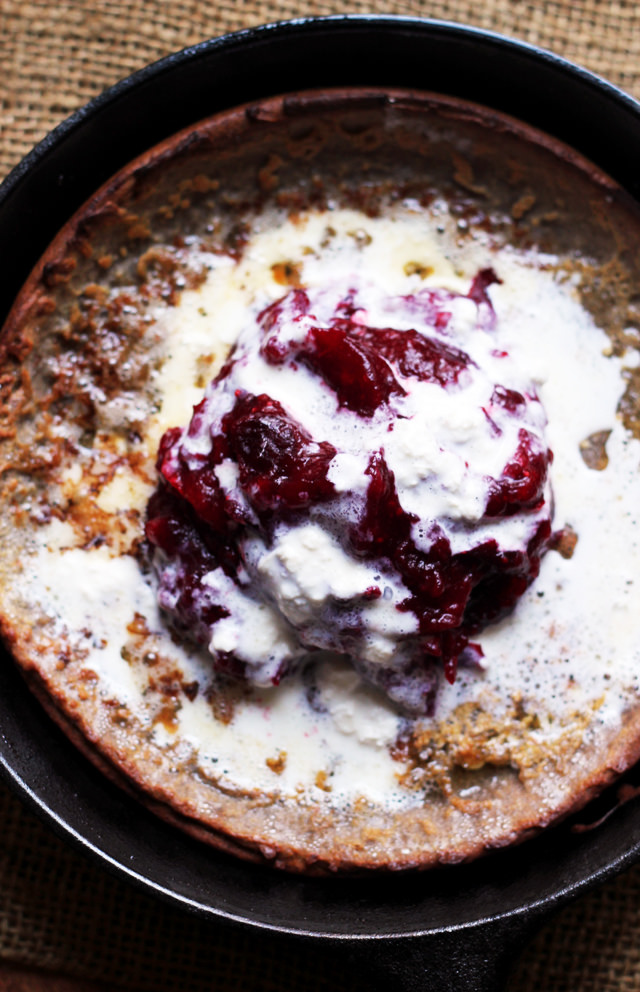 We live by few rules in my apartment but one of the most heavily enforced is this: I don't flip pancakes before I've had my coffee.
I mean, let's be honest, we're lucky that I can make it from the bedroom to the kitchen to make the coffee before I've had my coffee.
Adding flour, sugar, butter, and hand-eye coordination into the mix is just not a good idea.
This might be confusing to some of you because I have, in fact, posted pancake recipes on this here blog and so I feel it is my duty to dispel whatever fantastical reality you've imagined I live in and replace it with the grave reality:
Any and all breakfast recipes I've shared with you have almost certainly been eaten for lunch. Maybe dinner if we're feeling really whimsical.
Can you forgive me for white lying to you time and time again?
Of course, this is all well and good when you're only feeding your significant other, who goes without breakfast more often than I care to admit, but 'tis the season of entertaining.
We (and by "we" I mean "you") are going to have house guests! And they are going to expect to be nourished! Before noon!
Oy vey.
The bad news: hyperventilation is not an effective coping mechanism.
The good news: have I got a secret weapon for you.
Secret weapons, actually. The first being the Nespresso VertuoLine, which is my current new favorite kitchen appliance. By far.
I've tried and have been largely unimpressed with many of the single cup coffee machines out there, namely because (in my opinion) they make coffee that tastes like street water. So to say that I was skeptical when trying the VertuoLine is an understatement.
And then it blew me away. It makes coffee and espresso that taste like the most rich delicious coffee and espresso. Not to mention the fact that it's also totally sleek and adorable and I squeal every time I see it sitting on my counter.
You might be thinking that a single cup coffee machine isn't great for entertaining because you wouldn't you want to make all the coffee in one shot, but I beg to differ. Every person I've ever met in this world likes their coffee prepared a different way. Some like it bold, some like it light, some like it hazelnut-flavored, some like it half-caff. You're just not going to please everyone with one pot of coffee. But you can please everyone with one Nespresso machine. The machine itself takes no more than two minutes to make a cup of coffee or a shot of espresso, so it's not like having everyone make their own cup will be much of a time constraint. It may be a new addition to the Eats Well With Others kitchen, but I really can't imagine waking up in the morning without it.
BONUS – Nespresso is offering a 5-DAY SALE EVENT from TODAY through November 24th. This is MAJOR. Get on it.
My second secret weapon…is the Dutch baby.
This is basically an extra large pancake that gets baked instead of fried so all you have to do is mix up the ingredients in a blender, pour into a pan, and bake until fluffy.
No standing over the griddle for hours. No flip stress.
Just a warm, fluffy, carbalicious breakfast for everyone. This Dutch baby in particular is made with buckwheat flour, making it gluten-free and extra wholesome. I chose to top it with a maple cranberry jam of sorts, but you can go whatever topping route you'd like. The world is your pancake topping oyster, so spread your wings and fly.
This is my submission for this month's Recipe Redux, the theme of which is FOOD MEMORIES (made healthier). My family was always very "fend for yourself" when it came to breakfast, except on holidays when my dad would take the reins and make pancakes, eggs, or French toast for all of us. I would look forward to this mornings so much as a kid, partly because I really loved pancakes, and partly because it meant we were all going to sit down together to eat breakfast as a family, and that just felt special. My dad almost certainly made his pancakes Bisquick-style, but it really is so easy to make them from scratch, and this also gives you the opportunity to make them a bit more wholesome without sacrificing on comfort or tradition.
To see what other food memories were conjured up this month, check out these posts from the other Recipe Redux members:

Buckwheat Dutch Baby with Maple Cranberry Sauce
Tired of feeling like a short order cook as you make breakfast all morning? This buckwheat Dutch baby with maple cranberry sauce is baked in the oven, so it requires no flipping or standing over a stove for hours while everyone else gets to eat and make merry!
Ingredients
For the Dutch baby
2 large eggs
¼ cup plus 2 tbsp milk
½ cup buckwheat flour
3 tbsp arrowroot or cornstarch
zest from ½ lemon
⅛ tsp sea salt
2 tbsp maple syrup
1 tsp vanilla extract
1 tbsp butter, plus more for serving
For the cranberries
2 cups cranberries
2 tbsp maple syrup
Instructions
Heat oven to 400F.
In a blender, combine the eggs, milk, flour, arrowroot, lemon zest, salt, maple syrup and vanilla. Pulse until batter is smooth.
Heat an 8-inch cast-iron skillet over medium heat. Melt the butter in the skillet, swirling to coat the pan. Remove from the heat and pour in the batter. Bake for 22-24 minutes, or until golden brown and puffy.
For the cranberries, combine the cranberries and syrup in a small saucepan over medium heat. Cook until the cranberries start to break down and the sauce is thickened, 8-10 minutes. Add more maple syrup, to taste.
Serve the Dutch baby covered in the cranberry sauce and a drizzle of heavy cream.
Nutrition Information
Serving size:
¼ of recipe
 For more special occasion breakfasts, check out these: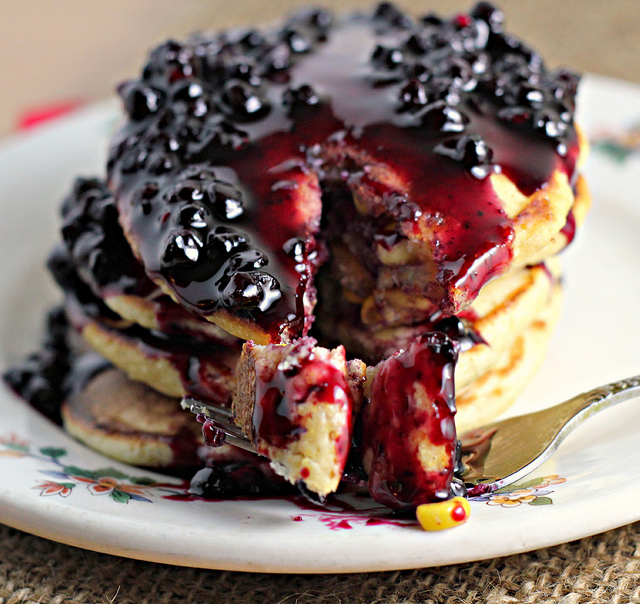 Sweet Corn Pancakes with Blueberry Balsamic Sauce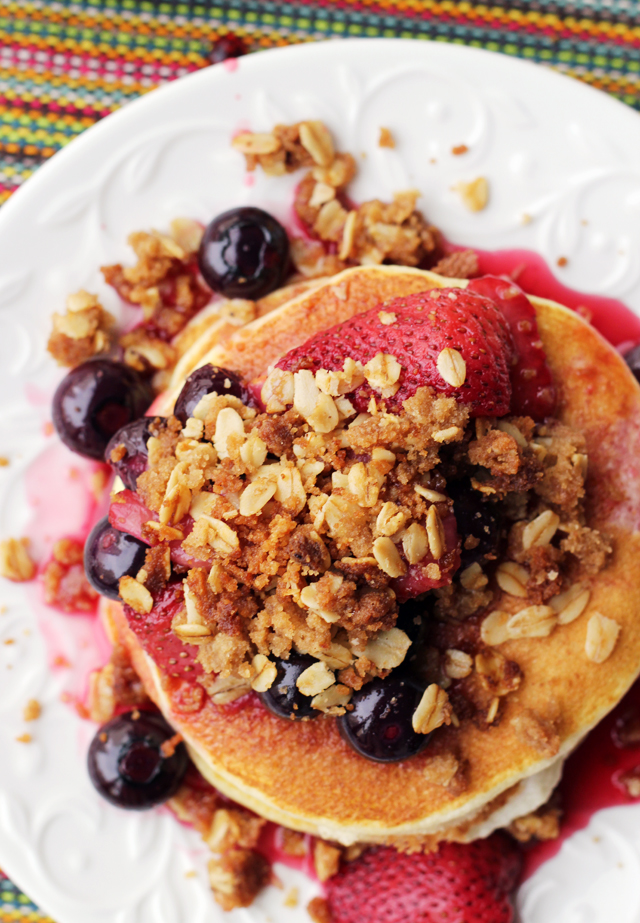 Berry Crisp Lemon Ricotta Pancakes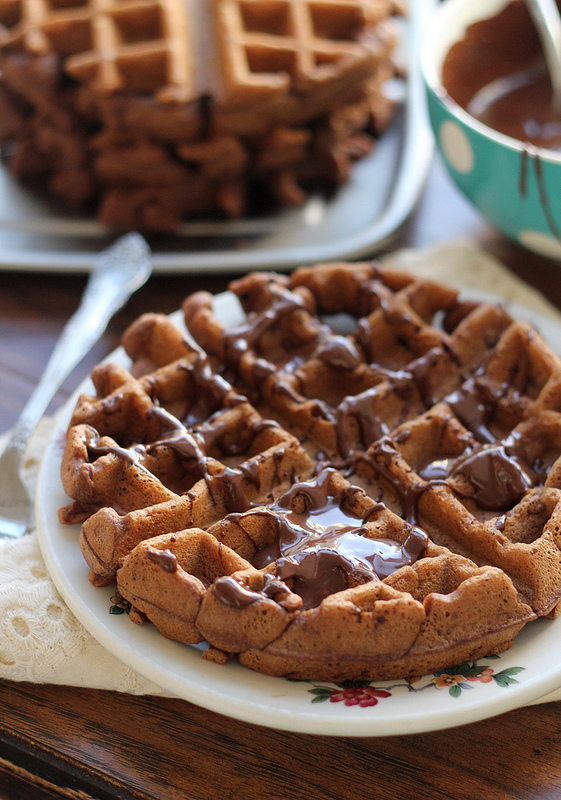 Chocolate Stout Waffles with Chocolate Peanut Butter Syrup
From Around the Web:
Leftover Cranberry Sauce Parfaits from The Law Student's Wife
Light and Fluffy Waffles with Chantilly Cream and Maple Pecans from The Flourishing Foodie
Apple Pie Waffles from Very Culinary
Cinnamon Roll Oatmeal with Cookie Streusel from Whole and Heavenly Oven
Salted Caramel Apple Cinnamon Rolls from Blahnik Baker