The bright flavors of sweet summer corn and pan-roasted tomatoes make this corn and cherry tomato quiche the epitome of summer eating.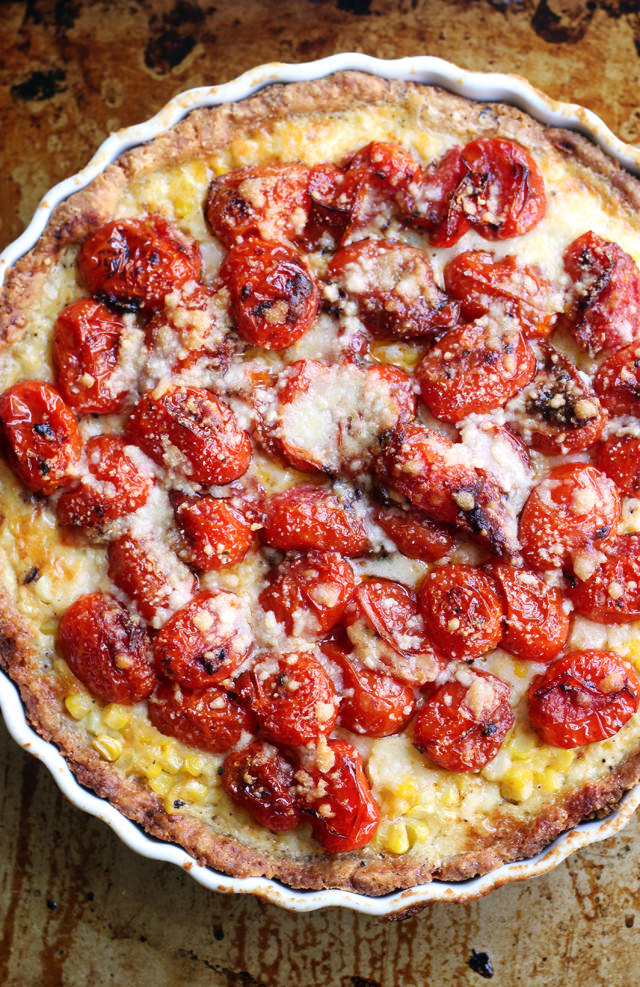 I need you to drop everything you're doing, call in sick to work, and spend your day making this quiche.
Not to be melodramatic or anything…but your summer eating happiness kind of depends on it.
This was one of those meals where, after just one bite, I was absolutely CERTAIN that it would be the best thing that came out of my kitchen for the rest of 2015.
Case closed.
Mission accomplished.
End of story.
The pie crust is impossibly flaky and buttery with just a hint of sweetness while the filling is full on savory.
It's stuffed with everything you can't help but love about summer – juicy corn and caramelized tomatoes, along with a creamy egg custard that I guarantee will blow your mind.
I'm not saying your life won't be complete if you don't make this for dinner tonight…but I'm also not saying it will be. So maybe just do it. To be on the safe side.
Corn and Cherry Tomato Quiche
The bright flavors of sweet summer corn and pan-roasted tomatoes make this corn and cherry tomato quiche the epitome of summer eating.
Ingredients
For the pie crust
2 cups all purpose flour
¼ cup sugar
½ tsp baking powder
¾ tsp kosher salt
1 cup cold unsalted butter, cubed
¼ cup cold water
For the quiche
4 tbsp olive oil
1¼ cups fresh corn
1½ tsp kosher salt
1 garlic clove
2 cups cherry tomatoes
1 pinch red pepper flakes
3 large eggs
¾ cup + 2 tbsp creme fraiche
¾ cup + 2 tbsp heavy cream
¾ tsp freshly ground black pepper
2-3 tbsp parmesan cheese
Instructions
In the bowl of a food processor, pulse together the flour, sugar, baking powder, and salt to blend. add the butter and pulse 3 times or until pea-size pieces form. Pour the water into the bowl and pulse another three times until the dough just starts to come together.
Dump the dough onto a clean work surface and gather it together by hand, kneading slightly until just starting to hold together. Press the dough into a ¾-inch thick disc and wrap in plastic wrap. Refrigerate for at least one hour.
Roll the dough into a 15-inch square. Gently transfer to a greased 10-inch tart pan, allowing the edges to drape over the sides. Gently press into the pan, making sure to get it into all the corners. Trim any excess dough. Freeze for at least 1 hour.
Heat oven to 350F.
Line the inside of the frozen shell with parchment paper and then fill with pie weights or dried beans. Bake for 35 minutes, until the outer edge starts to brown. Remove the parchment and pie weights and bake for another 15-20 minutes, or until lightly browned.
Meanwhile, heat 2 tbsp olive oil in a medium pan over medium-high heat. Add the corn and ¼ tsp salt. Saute for 1-2 minutes. Transfer to a plate and set aside.
Add the remaining olive oil, then saute the garlic for 1 minute, or until fragrant. Add the tomatoes, ½ tsp salt, and the chile flakes. Raise the heat to high and cook, covered, for 3 minutes or until the tomatoes start to burst. Remove the lid and continue cooking, allowing to thicken for 3-4 minutes. Transfer the tomatoes to a plate.
Increase the oven to 450F.
In a medium bowl, whisk together the eggs, creme fraiche, cream, remaining ¾ tsp salt, and the black pepper.
Sprinkle the corn over the bottom of the cooked shell. Top with the cooked tomatoes. Pour the egg mixture over the top, making sure it doesn't spill over the edge. Top with the parmesan. Bake for 25 minutes, or until set and golden. Serve warm or at room temperature.
Notes
Adapted slightly from
Huckleberry: Stories, Secrets, and Recipes From Our Kitchen