The EASIEST chickpea and vegetable stir fry you'll ever make! So perfect for weeknight dinners when time is at a premium.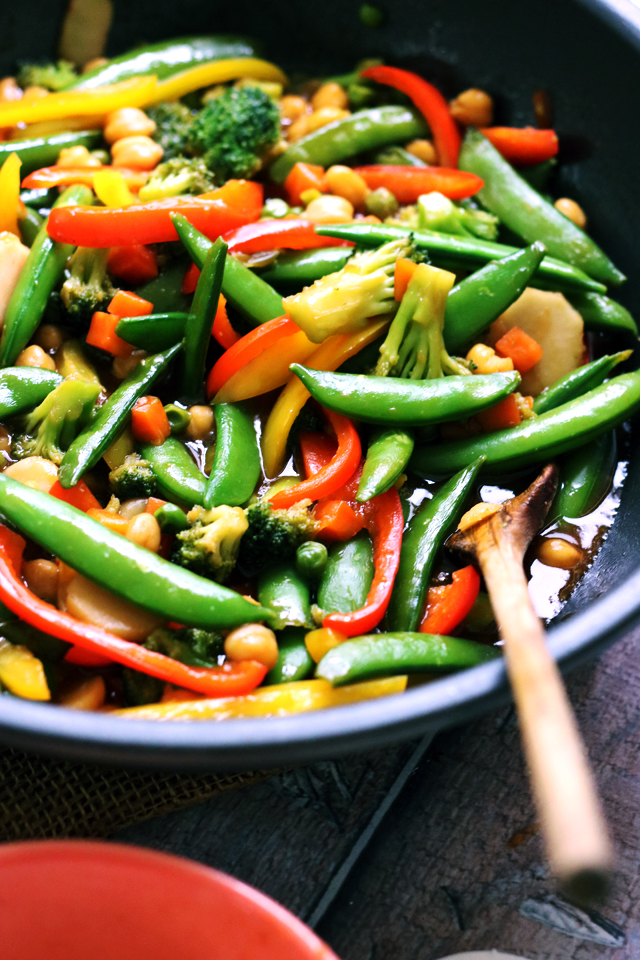 So, this whole weeknight dinner SITUATION.
Every night I'm like, wait didn't we just feed you last night? And you just threw it on the floor and didn't eat anything?
WHY ARE YOU INSISTING THAT YOU WANT FOOD AGAIN?!?!?
We all know how this is going to end.
It burns especially much when I've basically slaved over a dinner only to have it flatout rejected, without a certain child of mine even taking ONE BITE.
She even went so far as to claim she hated mac and cheese last week. I mean, is nothing sacred??
New plan: cook really simple, really quick meals so I won't feel quite so bad when 90% of it gets thrown on the floor.
Hello stir fry, my new best friend.
I honestly can't even take credit for this, it comes from the masterminds over at Two Peas and Their Pod. Maria and Josh have TWO kids, so they know how to navigate weeknight cooking far better than I do.
This recipe is THE definition of a 30 minute meal, from the time that you pick up your knife to start chopping veggies to the time that you take your first bite. I made use of lots of frozen veggies for this to minimize chopping time and I bet you could do even more of this. The stir fry sauce itself can be whisked up in less than 2 minutes and then cooks up super quickly. It's seriously so fast.
Weeknight dinners SAVED.

30 Minute Weeknight Chickpea and Vegetable Stirfry
The EASIEST chickpea and vegetable stir fry you'll ever make! So perfect for weeknight dinners when time is at a premium.
Ingredients
For the sauce
⅔ cup soy sauce
½ cup vegetable broth
⅓ cup rice vinegar
1 tsp sesame oil
1 tbsp brown sugar
2 tsp gochujang
1 tsp grated ginger
2 tbsp cornstarch
For the stir fry
1 tbsp grapeseed oil
10 oz frozen broccoli florets
10 oz frozen peas and carrots
1 red bell pepper, thinly sliced
1 yellow bell pepper, thinly sliced
2 cups sugar snap peas
1 (8 oz) can sliced water chestnuts, drained
1 (15 oz) can chickpeas, drained
cooked rice, for serving
Instructions
For the sauce, whisk together the soy sauce, vegetable broth, rice vinegar, sesame oil, brown sugar, gochujang, ginger, and cornstarch in a small bowl until well combined. Set aside.
For the stir fry, heat the oil in a large wok or nonstick skillet over high heat. Add the broccoli, peas and carrots, bell peppers, and sugar snap peas to the pan. Cook until veggies are tender but not mushy, about 5 minutes. Stir in the water chestnuts and chickpeas and cook until warmed through, about 1-2 minutes. Add the sauce and cook until thickened, tossing to make sure the veggies get evenly coated.
Serve warm over rice.
More of my favorite stir fries: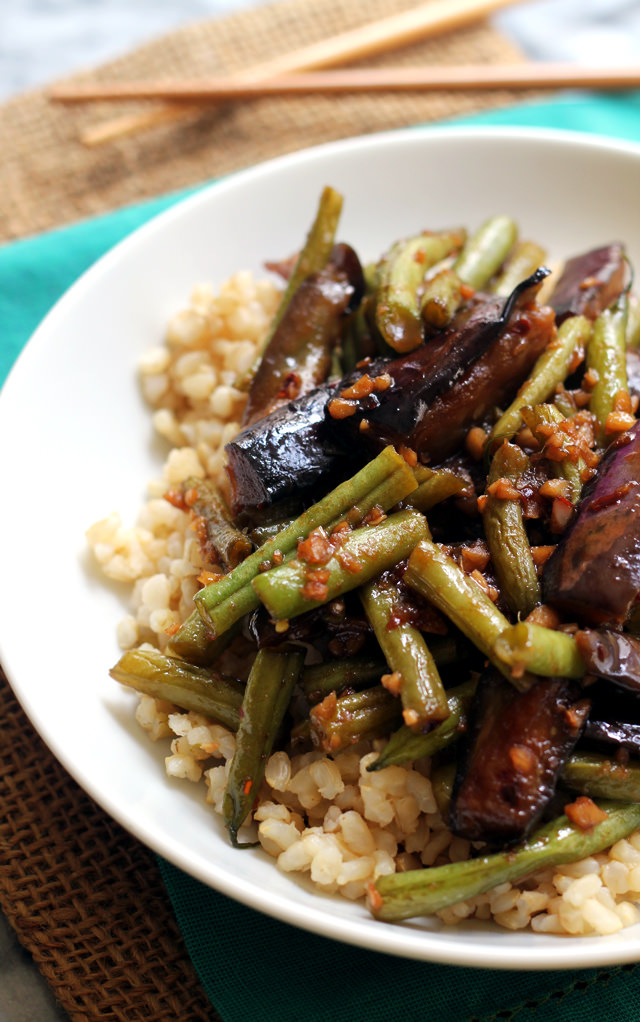 Szechuan Spicy Garlic Eggplant and String Bean Stir Fry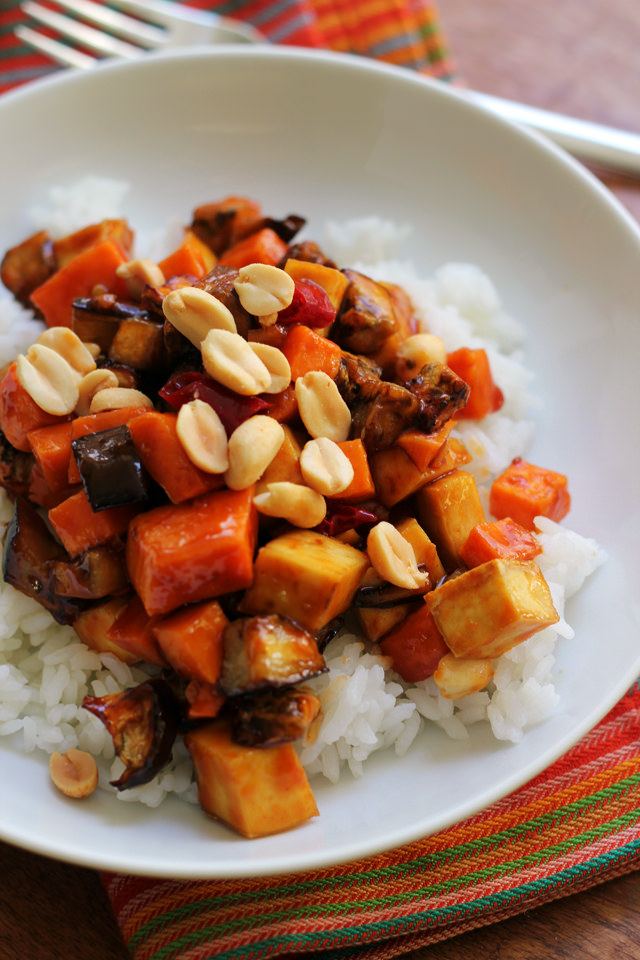 Crispy Kung Pao Tofu and Vegetable Stir Fry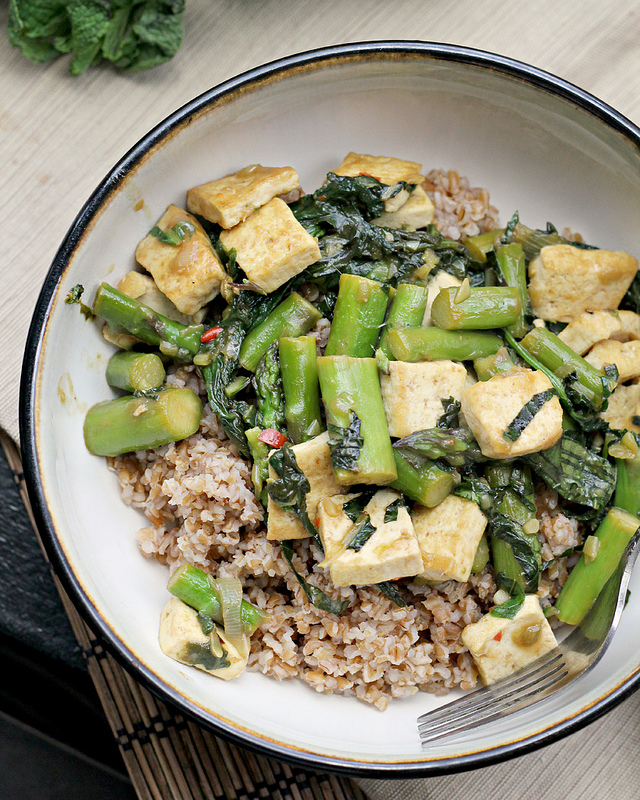 Green-Packed Stir Fry with Fresh Herbs