An easy weeknight dinner – pesto and goat cheese pasta tossed with wilted baby swiss chard.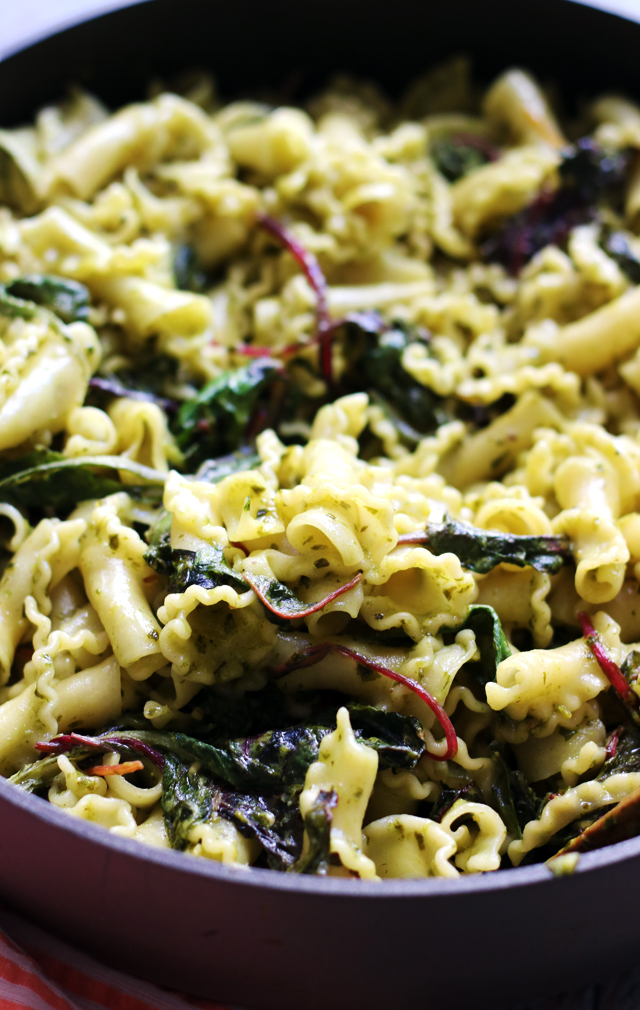 But HOW CUTE are these pasta shapes?!
(Really I'm just trying to distract you from the fact that this recipe is embarrassingly easy and barely a recipe at all with pasta eye candy.)
(IS IT WORKING?????)
Honestly, I'm such a sucker for fun pasta.
Yes, I realize it all tastes the same, but also yes please take my money in exchange for stocking my pantry with every pasta type known to man.
If you've ever been to Eataly (<– big fancy Italian supermarket owned by Mario Batali and Lidia Bastianach) or any Italian specialty store then you know exactly what I mean. They have types of pasta that you never knew existed in the world, but apparently that you NEED RIGHT NOW.
Thankfully Trader Joe's has recognized this insatiable desire in many of us and is now stocking some of these more out there pasta shapes but for ridiculously cheap prices. Big heart eyes.
So basically, I stocked my pantry with those instead, my credit cards didn't stage a revolt, and here we have this pesto and goat cheese pasta!
It takes ridiculously little time to make and almost no effort. You cook the pasta, you stir together the sauce ingredients quicksnap, and then you have dinner for daaayyyyyyyssss.
It's even toddler approved!!! At least, for this week.
Pesto and Goat Cheese Gigli Pasta with Swiss Chard
An easy weeknight dinner - pesto and goat cheese pasta tossed with wilted baby swiss chard.
Ingredients
1 lb gigli or fusilli pasta
8 oz pesto
4 oz goat cheese
5 oz baby swiss chard
salt and black pepper, to taste
Instructions
Bring a large pot of salted water to a boil. Cook the pasta according to package directions. Drain, reserving 1 cup of pasta cooking water, and set aside.
While the pasta cooks, combine the pesto and goat cheese in a medium nonstick skillet over medium heat. Cook until the goat cheese has melted into the pesto, stirring frequently.
Add half of the swiss chard to the pan, along with ¼ cup of the pasta water. Cook until chard has wilted, about 2-3 minutes. Stir in the remaining chard and another ¼ cup of pasta water, cooking again until the chard has wilted. Season sauce to taste with salt and black pepper.
Toss the pesto-goat cheese sauce with the cooked pasta, adding more of the reserved pasta water as needed to loosen the sauce. Serve warm.
Notes
An Eats Well With Others Original
More delicious ways to enjoy pesto: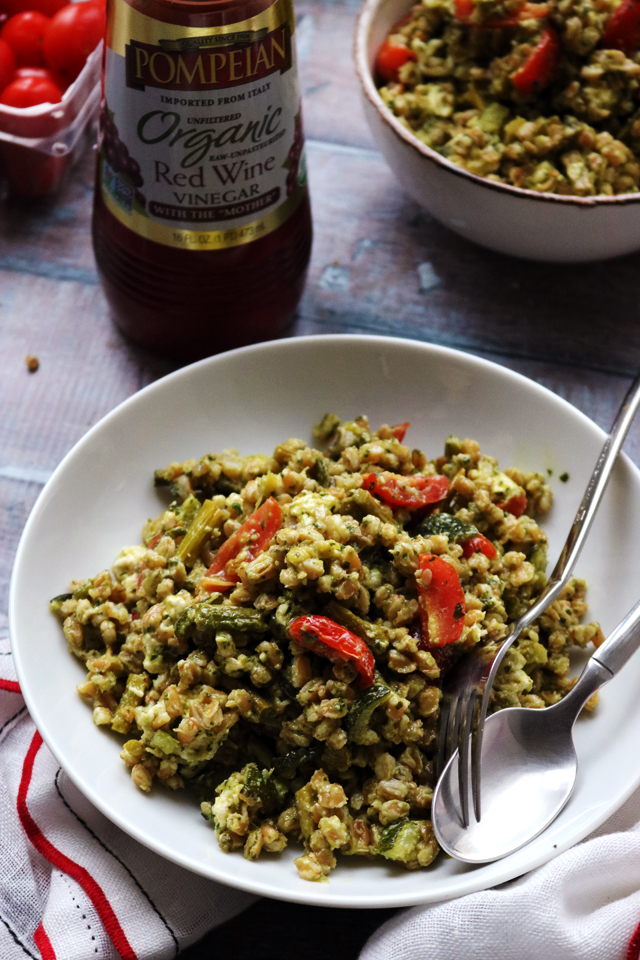 Roasted Spring Vegetable Farro Bowls with Thai Green Curry Pesto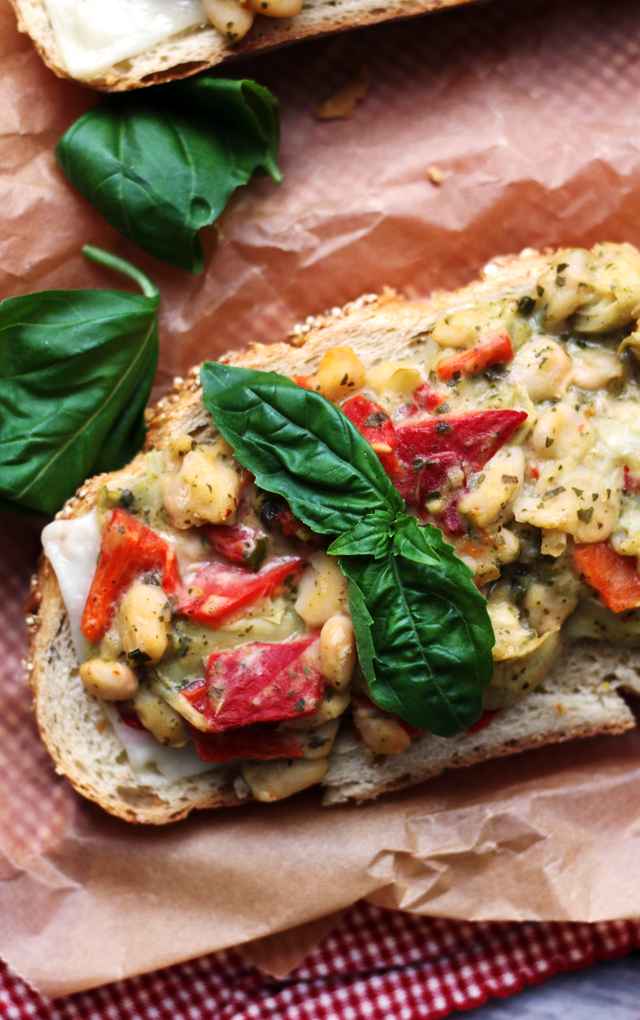 Open-Faced White Bean, Artichoke, and Pesto Salad Sandwich Melts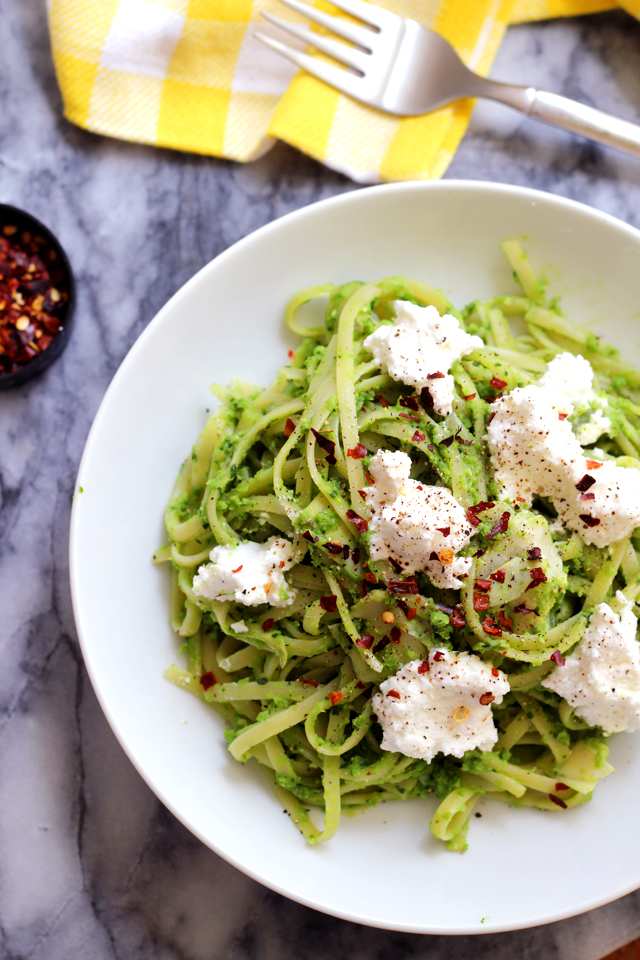 Linguine with Lemony Pea Pesto, Artichokes, and Ricotta