Lunches don't get better than warm gooey cheesy open-faced white bean, artichoke, and pesto sandwich melts!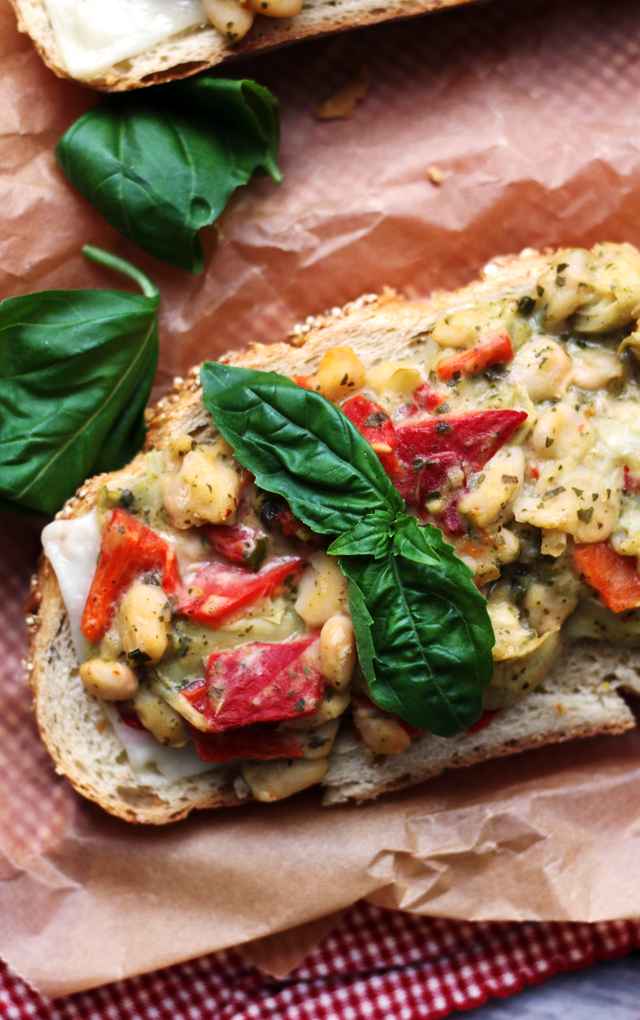 Current life goals include:
sleeping more than 2 contiguous hours every night (<– thanks sweet child of mine)
showering daily (<– also Remy's fault)
teaching myself to order and interpret morning labs for patients while asleep (<– I WOULD BE SO RESTED)
getting all my patient notes written before noon (<– HA)
making sooooooooo many open-faced sandwiches in my future because HOLY MELTED CHEESY GOOEY GOODNESS
They are life.
And also the only thing on that list that I have a chance in hell of achieving. So there's that.
I wasn't aware of just how deep my love of open-faced sandwiches ran until it hit me:
they are basically grilled cheese
with lots of stuff on top (like veggies! so you can pretend they're healthy)
and lots of crispy edges
and did I mention the melty cheese?!?!?!
These are a totally Mediterranean take on them in which you take all the best things from your pantry (i.e. white beans, artichokes, roasted red peppers, pesto), mix them in a bowl, and call them a salad!
And then place them atop cheese on a slice of bread and toast them until gooey.
The only (and I mean ONLY) downside to them is that they're a little bit of a hot mess (but in a good way!) so you might end up with pesto all over hands, which is nothing that a good finger lick can't fix.
Open-Faced White Bean, Artichoke, and Pesto Salad Sandwich Melts
Lunches don't get better than warm gooey cheesy open-faced white bean, artichoke, and pesto sandwich melts!
Ingredients
6 thick slices of good crusty bread
2 cups white beans
1 (14 oz) can artichoke hearts, drained and chopped
2 cups roasted red peppers, seeded and coarsely chopped
8 oz pesto sauce
salt and black pepper to taste
9 slices mozzarella or asiago cheese
Instructions
Heat oven to 400F.
Meanwhile, in a large bowl toss together the white beans, artichoke hearts, roasted red peppers, and pesto. Season to taste with salt and black pepper.
Top bread slices with cheese and then evenly divide the white bean salad atop the cheese.
Place on a parchment-lined baking sheet and bake for 10-15 minutes or until bottom is crisp and cheese is melted. Serve warm.
Notes
An Eats Well With Others Original