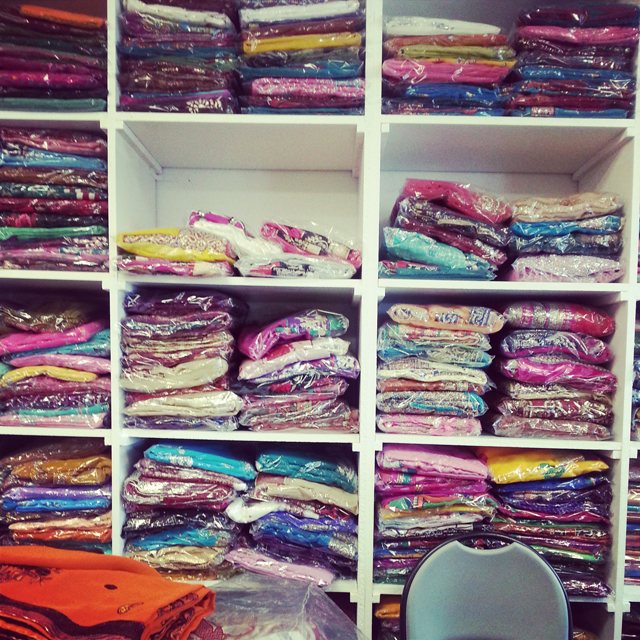 1. Choosing the perfect sari for your best friend's wedding is like finding a needle in a haystack (see above photo). Thankfully, Anu's mother is a wise woman who advised us to just get two. Such an enabler. I love it.
2. Also, saris are COMPLICATED. Between the blouse and the petticoat and ALL THE SAFETY PINS…I'm going to need someone to follow me around the whole night to make sure I stay tucked in in all the right places. Especially because I have a feeling the.boy's goal is going to be to untuck me in all the wrong places.
3. But who is going to come to NYC before the Big Day and give me lessons on how to pee while sari-wearing?! You will be my savior.
4. Other things I did this weekend? Saw the new Captain America movie and got officially hooked on the whole Avengers series. There's something really compelling about a team of secret superheroes who are constantly saving the world from imminent apocalypse.
5. I want to hear your favorite ways to consume strawberries. Other than just sitting home alone on a Thursday night and consuming an entire pound by yourself. Because, that happened. It was not my finest moment.
6. After taking all of last week off from exercise so that I could cure myself of my wheezing cough (it worked), I am craving a good sweat like there's no tomorrow. Getting on the elliptical yesterday felt like a breath of fresh air. Sweaty smelly fresh air…but fresh air nonetheless.
7. Now I just need to get ready to run another half marathon in two weeks. And then another one the week after that. And take our engagement photos somewhere in-between.
8. May is eating me alive.
9. This man is my hero.
10. Although that kind of reminds me of the time the.boy and I went for a wedding cake tasting at Baked and legitimately tried to eat all twelve cupcakes that they served us. It was not pretty.