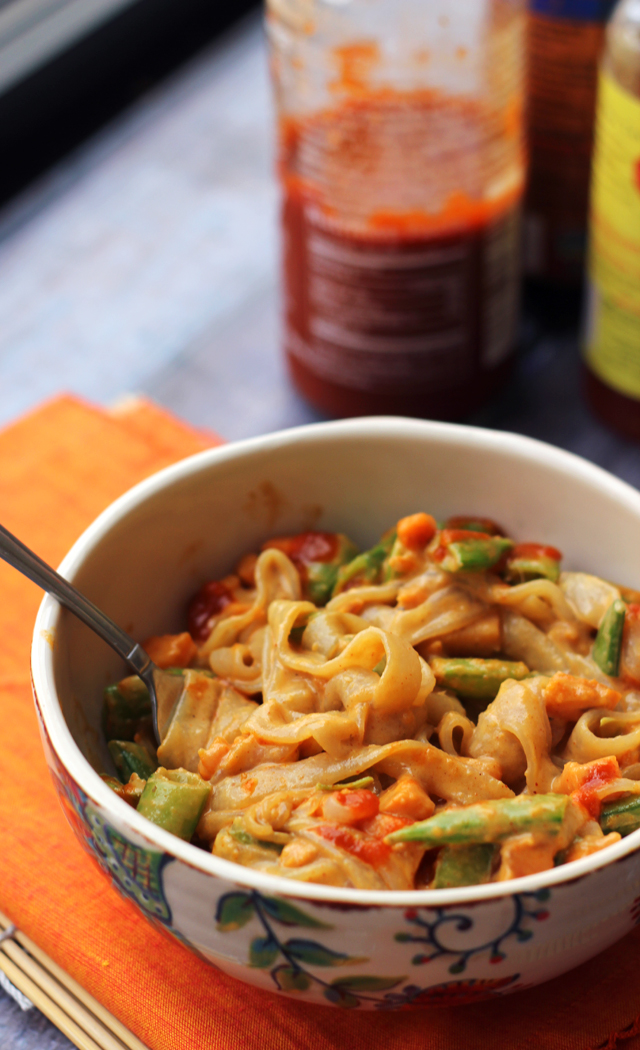 I feel like we should talk about my noodle problem.
It's kind of an elephant-in-the-room, bull-in-a-china-shop, peanut-sauce-all-over-my-face-and-why-didn't-anyone-tell-me situation.
So, fairly obvious.
To sum it up: if you try to come in-between me and my peanut noodles, I will probably bite you. Or, if you are the.boy, scratch your belly with my engagement ring.
I mean, that part really was an accident.
But proof that if you would like to keep your epidermis intact, you should probably keep a five foot radius when there's a noodle bowl in front of me. I just cannot be held responsible for the defensive arm flailing that will almost certainly occur.
So now you're probably thinking okay, but….WHAT IS SO DANG GREAT ABOUT THESE NOODLES?!
And I am giving you my most very confused look because did I mention that they were peanut noodles?!
Sweet salty spicy curried melt in your mouth but not in your bowl peanut noodles.
Tossed with sweet potato cubes, the crispiest juiciest sugar snap peas that summer has to offer and tofu cubes that soak up all that saucy goodness.
See what I mean? Great.
Spicy Thai Peanut Vegetable Curry Noodles
Ingredients
½ cup coconut milk
½ cup peanut butter
1 tbsp thai red curry paste
2 tbsp hoisin sauce
1 tbsp brown sugar
1 tbsp sriracha, plus more to taste
1 tbsp soy sauce
¼ tsp ginger
2 tbsp sesame oil
12 oz extra firm tofu, cut into ½-inch dice
2 medium sweet potatoes, peeled and cut into ½-inch dice
1 lb sugar snap peas, trimmed and coarsely chopped
1 lb shirataki fettuccine, drained and rinsed
Instructions
In the bowl of a food processor, combine the coconut milk, peanut butter, red curry paste, hoisin sauce, brown sugar, sriracha, soy sauce, and ginger. Pulse to combine until smooth. Season to taste with more soy sauce and sriracha. Set aside.
Heat the oil in a large pan or wok over medium-high heat. Add the tofu and sweet potatoes to the pan and saute, stirring frequently, until sweet potatoes are tender, about 8-10 minutes. Stir the sugar snap peas into the pan and saute or a minute or two, until bright green. Add in the noodles and saute until heated through.
Stir the sauce into the pan and cook for a few minutes to heat through, stirring frequently. Serve with more hot sauce at the table.
Notes
An Eats Well With Others Original