The fresh flavors of summer get to shine in this kale salad with peaches, corn, and basil-honey vinaigrette.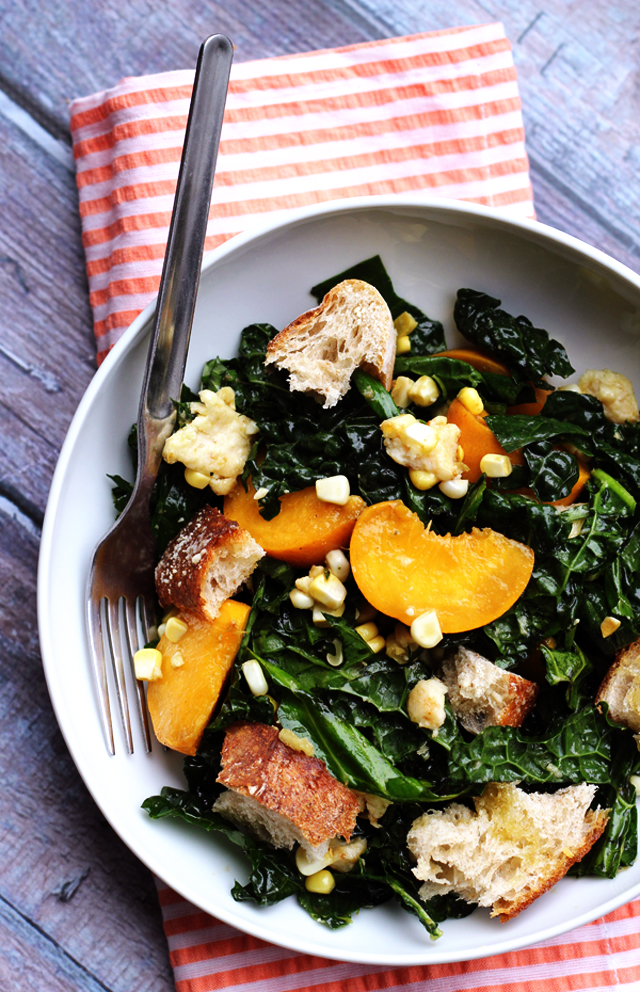 Kale salads may be a dime a dozen around here, but it's not exactly everyday that the.boy requests to have the leftovers for lunch.
In fact, that would be more of a "when pigs fly" or "when hell freezes over" kind of situation, bribe cajole force-feed try as though I might.
So I'm not sure whether it was the sweet herbal notes of the basil-honey vinaigrette or the tart tangy fig-infused honey goat cheddar bites scattered throughout.
The deeply sweet peach slices or the juicy pops of fresh corn.
The crunchy carbalicious croutons or the earthy slivers of massaged kale.
Or, you know. Whether his tongue was overtaken by alien tastebuds.
But whatever had him reaching for that second bowl?
I'm into it. Very into it.
Honestly, I'm not entirely surprised that of all the kale salads in the world, this is the one that struck his fancy. After all, the recipe is loosely based on one from Julia Mueller's new cookbook – Let Them Eat Kale!
, which incorporates everyone's favorite superfood into every meal of the day in delicious and fun ways.
Julia is one of my favorite bloggers who writes over at The Roasted Root and given how frequently I drool over her recipes, it makes total sense that if anyone was going to get the.boy to go gaga for kale, it was her.
Julia's recipe originally called for grilling the kale, corn, and peaches, but since I am grill-deprived, I just went with them in their raw state. I have no doubt that the extra smokiness some time on the grill would impart would do wonders to amp up the flavor of this salad, but I was pretty content with it as is. It's the kind of health food that is so good that it makes you forget that it's health food. Which is basically the best kind.
There are so many other recipes in this book that I can't wait to try, including Savory Cheesy Kale Pancakes, Cheddar Kale Skillet Cornbread, Massaged Kale Salad with Rosemary Candied Walnuts and Creamy Blueberry Vinaigrette, Creamy Sweet Potato and Kale Soup, Barbecue Black Bean Kale and Sweet Potato Veggie Burgers, and Roasted Garlic Kale Hummus, to name a few! So if you're looking to include more kale in life, or win over the more dubious kale-eaters among us, then I would say that this book is a worthwhile addition to your library!
Kale Salad with Peaches, Corn, and Basil-Honey Vinaigrette
The fresh flavors of summer get to shine in this kale salad with peaches, corn, and basil-honey vinaigrette.
Ingredients
For the salad
1 large bunch of lacinato kale, stems removed and leaves thinly sliced
1 tbsp olive oil, plus more for drizzling
large pinch of salt
3 peaches, pitted and thinly sliced
3 ears of corn kernels
4 oz honey cheddar goat cheese or other goat cheese
1 loaf ciabatta bread, cubed
4 tbsp parmesan cheese
For the dressing
1 tbsp olive oil
1 tbsp balsamic vinegar
1 tsp whole grain mustard
1 tsp honey
4 basil leaves, minced
salt and black pepper, to taste
Instructions
Heat oven to 400F.
In a large bowl, toss the kale with a tablespoon of olive oil and salt. Massage until kale volume reduces by half and kale turns a dark green.
Toss the kale with the peaches, corn kernels, and cheese.
Arrange the bread cubes on a parchment lined baking sheet. Drizzle with olive oil and sprinkle with parmesan cheese. Roast for 10 minutes.
Meanwhile, whisk together the olive oil, balsamic vinegar, mustard, honey, and basil. Season to taste with salt and pepper. Toss with the salad.
Serve the salad topped with the parmesan croutons.
For more kale salads, check out these: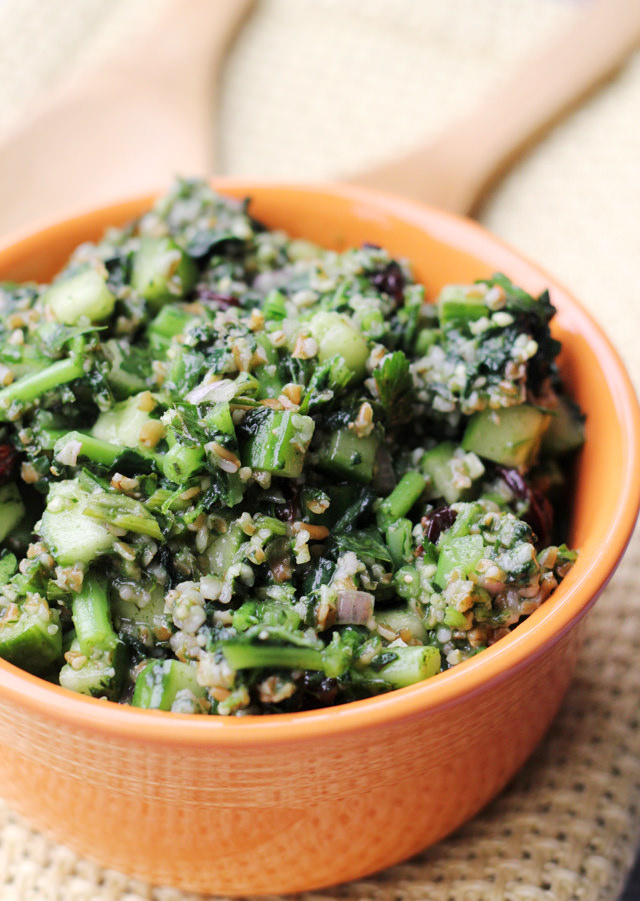 Kale Tabbouleh with Sour Cherries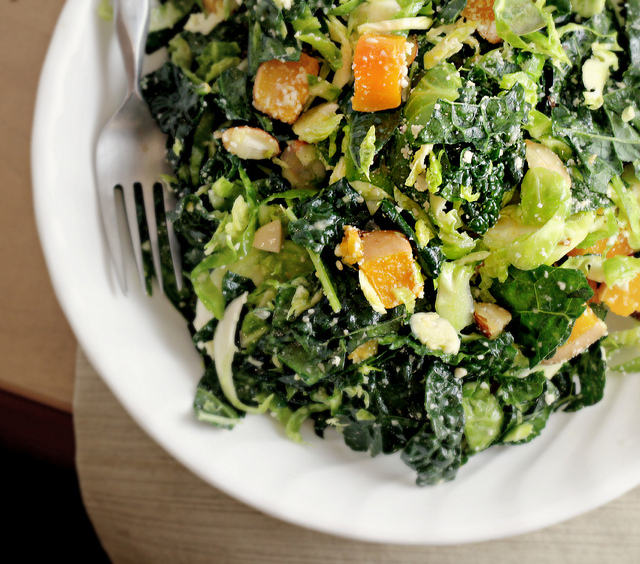 Kale and Brussels Sprout Salad with Butternut Squash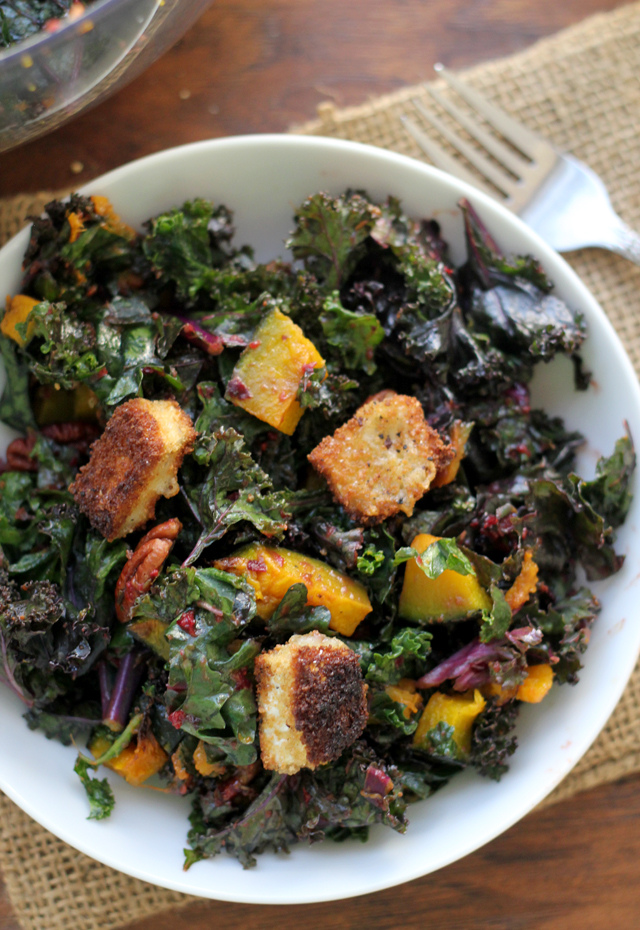 Kale Salad with Brie Croutons, Cumin-Spiced Pecans, and a Cranberry Dressing
From Around the Web:
Chopped Thai Salad with Sesame Garlic Dressing from Pinch of Yum
Grilled Corn and Kale Salad from A Thought For Food
Kale Market Salad from 101 Cookbooks
Chopped Kale Salad with Chickpeas, Toasted Almonds, Sesame Seeds and a Honey Ginger Dressing from What's Cooking Good Looking
Kale Salad with Strawberries, Goat Cheese, and Strawberry-Mint Vinaigrette from The Roasted Root