A favorite healthy Middle Eastern dip goes green in this lime-dressed kale tabbouleh with sour cherries!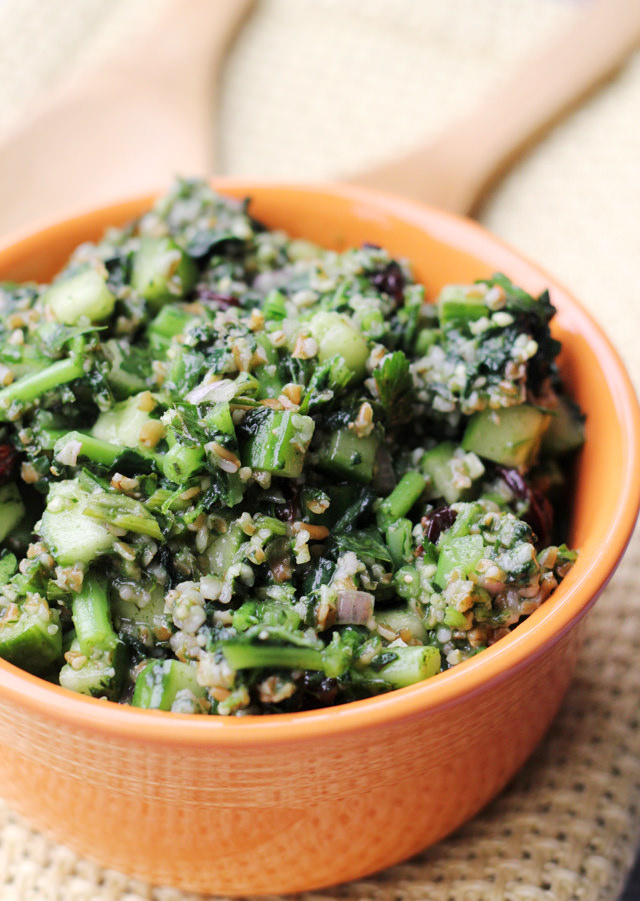 I was always picked last in kickball.
I'm telling you this not to elicit some kind of sympathetic reaction, but as a point of comparison.
In my life, I have run four marathons (one at an 8 minute/mile pace), countless halfs, and have gone through more pairs of running shoes than my credit card cares to remember.
But I was also the "big boned", plus-sized girl who was always picked last in kickball and didn't do a single minute of exercise until I was a junior in college.
So it wasn't some innate ability that I was born with, but a desire to achieve a goal and the work I did to attain it. And if I can do it, you can too.
Recently, a reader asked if I would write a post on how I started running, so I thought I would detour a bit from my usual antics today and do just that.
As I mentioned before, I was not an athlete. I think my best friend was convinced I had a fever the first time I told her I was going to the gym, because that's how out-of-character it was.
But I was tired of feeling like nothing fit me right, and I realized that if I was unhappy with how I looked, I should just do something about it. So I did.
I started out as a diehard elliptical-er, and lived in fear of the treadmill and all things running-related. That just wasn't me. I wasn't a runner, I was convinced.
Then as time went on, I got a little bit bored, and that same best friend kept hinting suggestively that maybe I should try getting on a treadmill, just for a few minutes, and hey! Maybe I would like it.
So I started. Slow.
The key to running is to not try to do five miles your first time out. I did (and still do!) a lot of run/walking intervals, increasing my run/walk ratio each time I got on the treadmill.
This helped it to not be so overwhelming. After all, I figured that I could definitely run for one minute straight – totally doable.
And then the next day, I thought that since I could run for 1 minute at a stretch, I could probably run for a minute and thirty seconds. And so on, until you realize you've run a whole mile at a time! And you didn't even feel like dying afterward!
After that, the world is basically your oyster.
Because once you run one mile, you can run two. And once you can run two, you can do a 5K. And after that, a 10K doesn't really sound so bad. By then, you're hooked and you're hellbent on a half marathon. And, well, you've come this far so you might as well do the whole 26.2.
So there you have it. I was never the kid who was going to grow up to run marathons, and now I've run four.
It's really addictive to keep challenging yourself time and time again, and the endorphin rush you get after achieving one of your goals is just as bad as any controlled substance.
That's not to say that running ever really gets easy. There are always going to be some aches and pains, new challenges or hills to test yourself on.
After all, if it wasn't "work" they wouldn't call it a "workout".
But after some time, you will have those runs that are just so good, they make you feel like you can do anything. And those are the runs that keep you running and thirsting for more.
Of course, the more you start seriously running and training, the more you start to think about what you're putting in your body and how it will affect how you feel on your next run.
That's where this tabbouleh comes in.
Full of whole grains and fresh leafy greens, it is chock full of the nutrition your body needs to get you through a tough workout. Plus it's just darn tasty. With a sour bite from the lime vinaigrette dressing, and a hint of sweetness from the sour cherries, it is just full of fresh, delicious flavor. You can serve it as a side, spread it on bread or pita as an appetizer, or add some chickpeas into the mix to turn it into a hearty main dish salad. However you decide to eat it, it is bound to be a feel-good meal.
*DISCLAIMER – I am a not a doctor or a running expert by any means, but these are my experiences with learning how to run. Feel free to email me with any questions you have, but make sure you also consult your doctor before starting any new workout regimen.
Kale Tabbouleh with Sour Cherries
A favorite healthy Middle Eastern dip goes green in this lime-dressed kale tabbouleh with sour cherries!
Ingredients
½ cup bulgur
1½ cups water
1 lb lacinato kale
½ cup salt
1 tsp baking soda
1 shallot, minced
1 garlic clove, minced
1 cup chopped parsley
¼ cup chopped mint
1 European cucumber, seeded and diced
½ cup dried sour cherries
¼ cup olive oil
2 tbsp lime juice
pinch of sugar
salt and black pepper, to taste
Instructions
In a medium pot, combine the bulgur with 1½ cups of water. Bring to a boil, then simmer for three minutes. Cover and remove from the heat. Let stand for 15 minutes. Simmer off any remaining liquid.
Meanwhile, in a large pot, bring 16 cups of water, ½ cup salt, and baking soda to a boil. Add in the kale and cook for 3 minutes. Drain and then coarsely chop. Set aside.
In a large bowl, toss together the shallot, garlic, parsley, mint, cucumber, dried cherries, olive oil, lime juice, and a pinch of sugar. Stir in the kale and bulgur. Season to taste with salt and pepper.