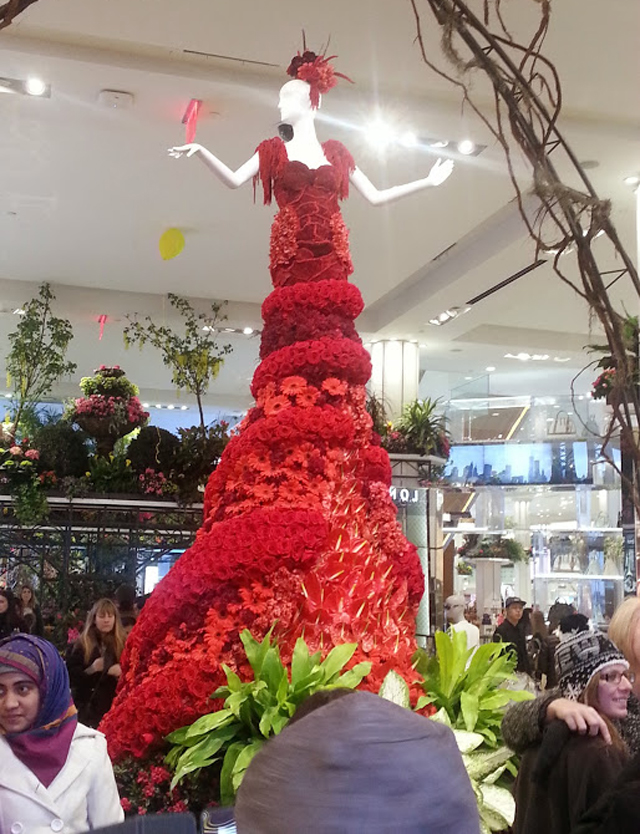 1. They say you can never go prom dress shopping again, but oh. You can. When your sister is almost a decade younger than you, you may just find yourself in Macy's at dinnertime on a Sunday surrounded by dresses that are too short/tight/sparkly/bedazzled/revealing trying to decide whether a gray/silver or salmon pink high low dress goes better with the hair color she hopes to have by June.
2. Spoiler alert – we decided to go with the "buy both, return one later" method of decision-making. Otherwise known as the "procrastinate making important decisions" method. I'm such a good older sister influence.
3. The best part of going into the Macy's in Herald Square (yes, the Thanksgiving Day parade Macy's) on a weekend? The flower show. I'm a little flower obsessed at the moment in general and keep buying them for myself on a weekly basis. But that mannequin above takes it to a whole new level of love.
4. Sometimes my day job gets in the way of all the fun stuff. Remember last year, when I participated in a fabulous baking/chocolate-centric fundraiser to benefit C-CAP (Careers through Culinary Arts Program) – a program that works with public schools across the country to prepare underserved students for college and careers in the restaurant industry? Well THIS year I got invited to attend their annual culinary competition, in which students have to prepare a two-course French meal FROM MEMORY to compete for a culinary college scholarship. I can barely remember what I had for breakfast, so kudos to them. I was super psyched about going because I figured it would kind of be like Top Chef – "The Adolescent Addition", but alas, work. Maybe next year!
5. I kind of have a basal level of peanut butter addiction going on in general, but this cake. I die.
6. Do you think we can get the.boy to celebrate his birthday again so I have an excuse to make it? Or maybe I can try to convince him that he got our anniversary all wrong and it's actually this weekend and thus I must make this cake. Hmmm.
7. I just got this cookbook
to review and I seriously can't put it down. I've been reading it as a pre-bedtime story to calm myself down after an episode of Breaking Bad, but I think the contact sugar high is probably not helping. Imagine what's going to happen what I finally bake from it…
8. The.Boy, my mom, my brother, my sister and I went to go see Billy Joel at Madison Square Garden on Friday! That man is a musical god. And so I felt really justified in shaving my legs and washing my hair beforehand. He deserved it.
9. Speaking of music from the 90s. Have you heard the rumor that The Backstreet Boys and The Spice Girls might have a reunion tour together?! I would wait in line FOREVER for tickets. Except people don't do that anymore.
10. I will get CARPAL TUNNEL SYNDROME clicking FOREVER for tickets on Ticketmaster. So there.