Get this butternut squash and spinach lasagna on the menu before the cold weather goes away for good! It is cheesy, feel-good comfort food done right.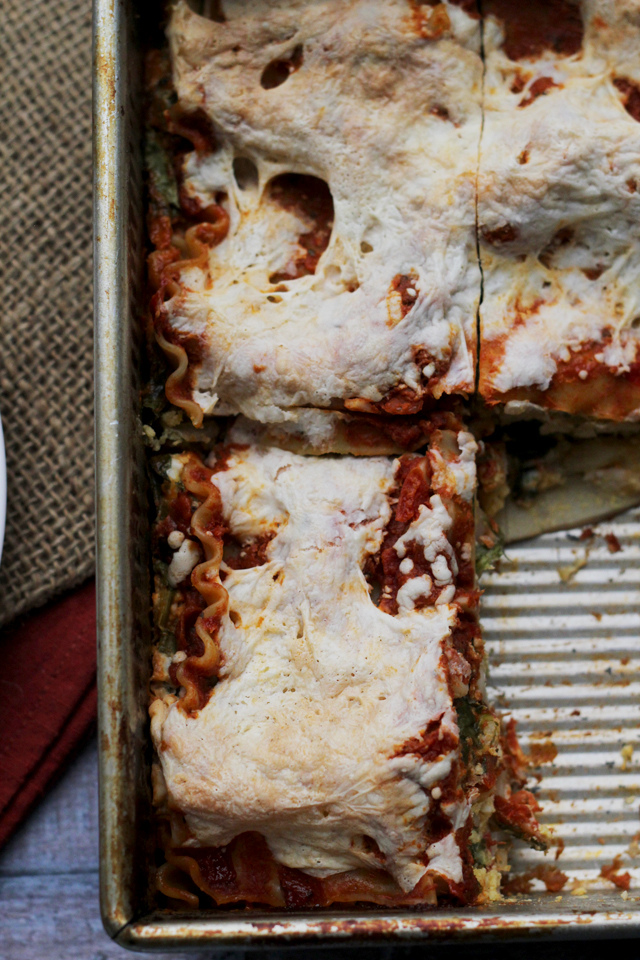 This is our last chance meal.
Like, on The Biggest Loser, there are the last chance workouts where all the contestants starve themselves for 24 hours, take diuretics to pee out as much water weight as possible, and come close to cardiac arrest at the gym.
Except opposite because our "last chance" involves ricotta, mozzarella, pasta, and BUTTERNUT SQUASH.
All things that are very much not allowed on "last chance workout" days but very much encouraged on "last chance meal" days. Do you see the difference?
"Last chance", in this case, because soon we will be way too sweltering to turn on our ovens (<–wishful thinking from the girl who saw snow fall from the sky yesterday morning) and far too focused on heirloom tomatoes and sweet summer corn to give a second glance at our once favorite orange vegetable.
Fine, it's still our(/my) favorite. But absence makes the heart grow fonder and if it means I can leave my apartment with fewer than five layers on and not risk frostbite, I'm willing to say goodbye for a few months.
Butternut, it's been real. Until mid-August September!
(I'll try to wait that long this year. Really. Pinky swear.)
(But probably more like the end of July.)
Butternut Squash and Spinach Lasagna
Get this butternut squash and spinach lasagna on the menu before the cold weather goes away for good! It is cheesy, feel-good comfort food done right.
Ingredients
1¼ lb butternut squash, peeled and cut into ½-inch cubes
3 tbsp olive oil, divided
salt and black pepper, to taste
1 onion, diced
½ lb roasted red peppers, diced
4 cloves garlic, minced
½ tsp Tuscan seasoning
8 oz ricotta cheese
2 eggs, lightly beaten
1 lb fresh mozzarella, shredded, divided
2 cups marinara sauce
1 lb lasagna noodles
5 oz baby spinach leaves
Instructions
Preheat the oven to 400. Toss the butternut squash with 1 tbsp olive oil, salt and black pepper. Roast for 25-30 minutes or until tender.
Meanwhile, heat the remaining olive oil in a large pan over medium heat. Saute the onion, roasted peppers, garlic, and tuscan seasoning with a pinch of salt until tender, about 5 minutes. Set aside.
In the bowl of a food processor, combine the butternut squash, ricotta, and eggs until smooth and creamy. Remove to a bowl and stir in ½ cup mozzarella, the onion, roasted red pepper, and garlic mix. Season to taste with salt and black pepper.
Lower oven to 375.
Spread about ½ cup of the sauce on the bottom of a 9x13-inch baking pan. Spread a layer of the lasagna noodles over the bottom. Cover with half of the ricotta mixture, a layer of sauce, ⅓ of the mozzarella, and half of the spinach. Cover with another layer of noodles, followed by the remaining ricotta, another layer of sauce, ½ of the remaining mozzarella, and the remainder of the spinach.
Cover with a final layer of noodles, a generous layer of sauce and the rest of the mozzarella.
Cover the pan tightly with aluminum foil and bake for 30 minutes. Remove the foil and bake for another 20 minutes, or until cheese is starting to brown and bubble. Let rest for 5-10 minutes before serving.
For more veggie-licious lasagnas, check out these!
Veggie Lasagna…Baked Bree
Free-Form Vegetarian Lasagna…Bev Cooks
Zucchini Lasagna…Running to the Kitchen
Asparagus and Sun-Dried Tomato Pesto Lasagna…Eats Well With Others
Sweet Potato Spinach Pesto Lasagna Rolls…Eats Well With Others