Creamy spinach and gouda macaroni and cheese made on the stovetop – weeknight comfort at its best!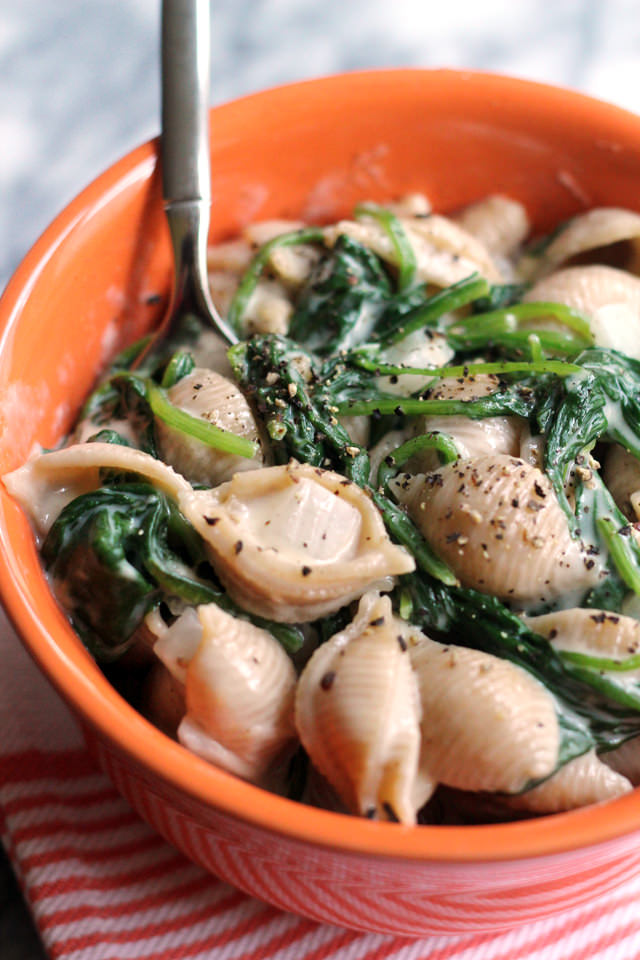 There is nothing red, white, or blue about any of this and while some would certainly decry that as a Memorial Day FOOD BLOGGER FAIL, I'm gonna beg to differ.
Because mac and cheese. On a MONDAY.
We are living wild, people.
Further proof that I am going a little bit bonkers crazy in the kitchen lately: twice now I've wanted to make a recipe from my friend Erin's new cookbook, The Easy Vegetarian Kitchen
, and twice I've come home from the grocery store missing a totally crucial ingredient (sometimes two)…forcing me to WING IT. Which is great when you want to develop an original recipe and terrible when you want to review someone's cookbook. Arrgh.
Thankfully, the whole point of Erin's cookbook is to encourage this kind of seasonal, on-the-fly cooking, so maybe I'm actually doing it right? Basically, the cookbook consists of 50 basic recipes that Erin then provides 4 variations on, one for each season. For example, in the book you'll find a recipe for Creamy Mac and Cheese, followed by this Spinach and Gouda twist for spring, Sweet Corn and Pepper for summer, Sweet Potato and Rosemary for fall, and Mushroom and Onion for winter. Basically, there's endless inspiration in here and it really makes you feel like creative, vegetarian cooking is doable even when you don't necessarily have loads of time or expertise.
The first recipe I planned on making was Erin's spring twist on stuffed peppers, filled with cheesy broccoli and barley…until I forgot to buy the broccoli. And the barley. And ended up stuffing them with random odds and ends from my refrigerator that were tasty except that I didn't measure anything, making sharing the recipe pretty difficult. Sigh. Moving on.
Then, because I can never resist mac and cheese…I made her mac and cheese. Filled with fresh spinach and smoky gouda, this is totally indulgent without making you feel like you're in a food coma after eating it. I chose to keep it as a stovetop mac and cheese in lieu of baking it (because that's how I was raised), but you can do what floats your boat. If you opt to stick with the stovetop version, it will come together in as much time as it takes to boil water, making it perfect for any occasion where you need to get food on the table and fast: 
weeknight eating, midnight snacking, OHMYGOSH guests are coming over in twenty minutes and I have nothing to feed them panicking. I don't discriminate. Or judge.

Spinach and Gouda Macaroni and Cheese
Creamy spinach and gouda macaroni and cheese made on the stovetop - weeknight comfort at its best!
Ingredients
1 lb whole wheat pasta shells
8 oz baby spinach
2 tbsp unsalted butter
1 medium yellow onion, diced
½ tsp sea salt
¼ tsp black pepper
2 tbsp all purpose flour
1½ cups whole milk
8 oz smoked gouda, shredded
Instructions
Bring a large pot of salted water to a boil. Add teh past and cook until just tender, 7-8 minutes, adding the spinach in the last minute of cooking. Drain and set aside.
In a saucepan, melt the butter and add the onion, salt, and black pepper. Cook until the onions are translucent, 7-8 minutes. Add in the flour and cook for a minute, stirring constantly. Stir in the milk slowly and heat until thickened, about 5-6 minutes. Remove from the heat and stir in the cheese.
Toss the cheese sauce with the pasta and spinach. Serve warm.
Notes
Adapted from
The Easy Vegetarian Kitchen
Nutrition Information
Serving size:
⅙th of recipe
More mac and cheese comfort: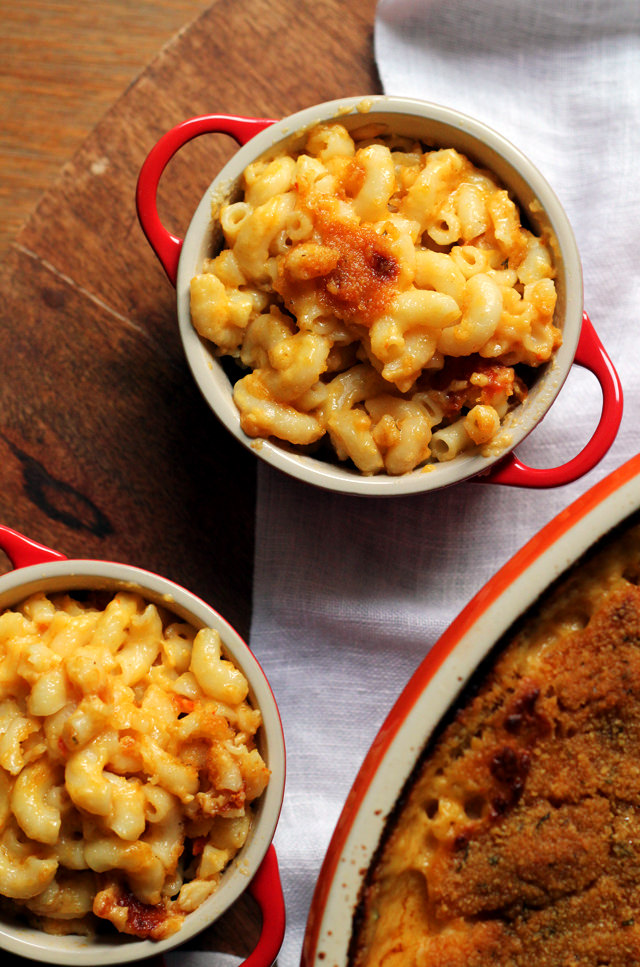 Spicy Harissa Macaroni and Cheese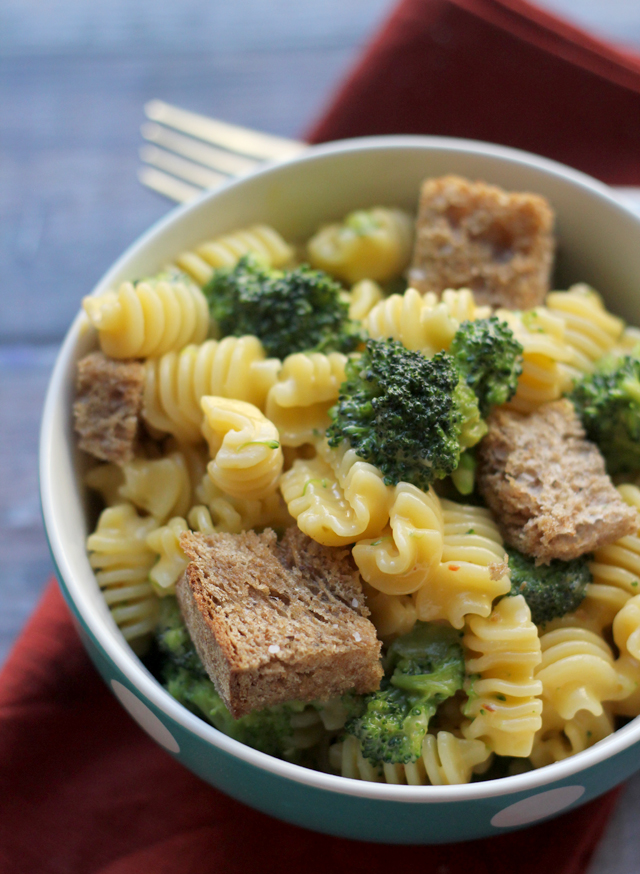 Buffalo Cheddar Mac and Cheese with Garlic Croutons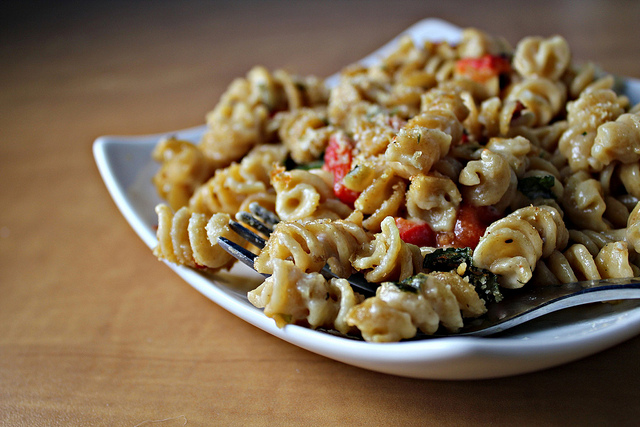 Macaroni and Goat Cheese with Roasted Red Peppers
From Around the Web:
Mason Jar Veggie Macaroni and Cheese from Framed Cooks
Hot Jalapeno, Corn, and Cholula Skillet Mac and Cheese from Veggie and the Beast
Easy Stovetop Macaroni and Cheese from Just A Taste
One Pot Spinach and Feta Macaroni and Cheese from Diethood
Cauliflower, Pea, and Edamame Mac and Cheese from Healthy Seasonal Recipes