This vegetable and cheddar strata is a savory bread pudding made with eggs, cheese, and LOADS of veggies. It's the perfect make-ahead meal for a brunch or lazy weekend breakfast.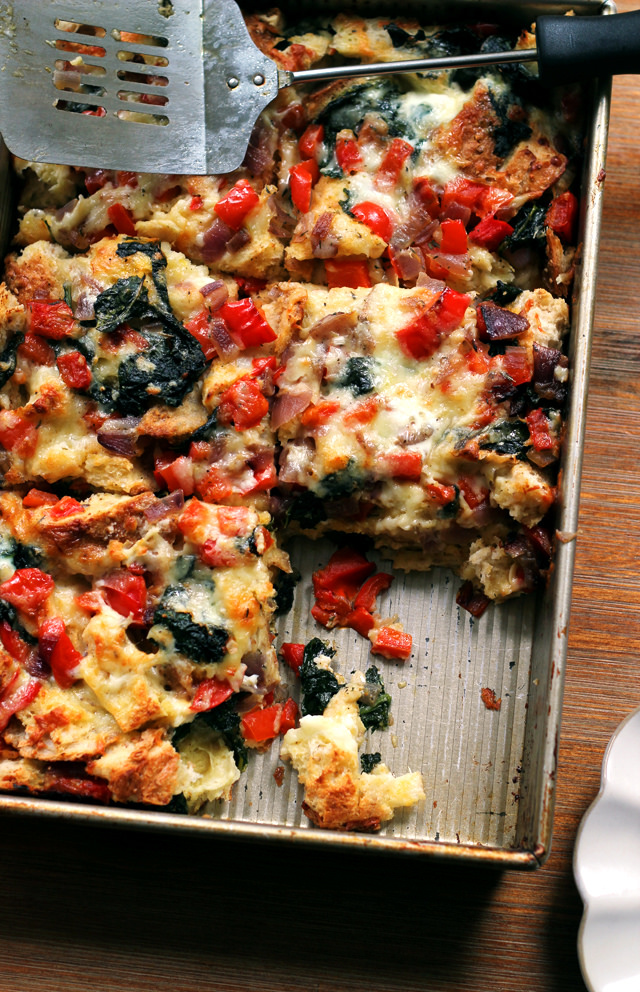 Things are about to get brunchy!!
Which I love because it is pretty much my favorite meal of the day.
I mean, DAY DRINKING.
What more of a reason do you need?
Really, though, brunch is just good old-fashioned FUN. You can have dessert for breakfast, breakfast for breakfast, lunch for breakfast…or ALL OF THE ABOVE.
There is no judgment at brunch. Order like you mean it.
I always feel like spring brings out the bruncher in me. I suspect this is because I have no desire leave my apartment when it's below 50F, but as soon as the warm weather hits, I want to be out and about, nibbling on a Nutella donut appetizer with the sun on my face and a bloody Mary in both hands. It doesn't hurt that spring also has so many brunchy holidays: Easter, Mother's Day, Random 70 Degrees and Sunny Tuesday. How can I help but be in the mood?!
In addition to being my favorite meal to eat, brunch is also my favorite meal to host. Lately, I've been really into throwing together big make-ahead breakfast casseroles that you can just bake off in the morning before everyone arrives. Totally low stress so you can focus on the important stuff (i.e tequila and coffee).
This vegetable and cheddar strata comes from the new Cabot Creamery Cookbook
 and it has quickly become a new favorite in this category. Filled with loads of veggies, a major amount of cheese, and all the carbs my heart desires it is totally brunch comfort food, but the kind that will give you enough energy to go about your day without putting you into a food coma. This strata is just one of many gems from this cookbook that get me excited to grab a block of cheddar and get munching cooking. In the brunch category, there's also Quick Maple-Cinnamon Rolls that I drool over more frequently than I'd care to admit, Raspberry Cream Cheese Coffee Cake that puts anything you can buy at the supermarket to shame, and Red Pepper and Cheddar Egg Cups that are just too cool for school. And that's just the first chapter! I love that all of the recipes in the book are tried and true favorites from the families that run the dairy farms that fuel Cabot Cheese production. By reading through the stories in the cookbook and making the recipes that accompany them, you actually start to feel like you know the people who are making your food…and that is definitely a good feeling.
Cabot has generously offered to give away a copy of the Cabot Creamery Cookbook
 to one of my readers, along with a $25 Cabot gift box! See the widget below for details on how to enter!
Vegetable and Cheddar Strata
This vegetable and cheddar strata is a savory bread pudding made with eggs, cheese, and LOADS of veggies. It's the perfect make-ahead meal for a brunch or lazy weekend breakfast.
Ingredients
1 tbsp olive oil
1 red onion, diced
2 red bell peppers, diced
1 bunch of kale, stems removed and leaves torn
3 garlic cloves, minced
1 tsp dried thyme leaves
⅛ tsp ground nutmeg
8 cups 1-inch cubes of bakery style whole grain bread
1½ cups shredded sharp cheddar
6 large eggs
3 cups milk
Instructions
Spray a 9x13-inch baking dish with cooking spray. Set aside.
Heat oven to 350F.
Heat oil in a large skillet over medium heat. Add in the onion and bell peppers, stirring frequently until soft, about 5-7 minutes. Add in the kale and cook until wilted, about 5 minutes. Add in the garlic and cook until fragrant, about 30 seconds. Stir in the thyme and nutmeg, and season to taste with salt and black pepper. Remove from the heat and set aside.
Place half of the bread cubes in the prepared baking dish. Top with half of the veggies and half of the cheese. Repeat with remaining bread, veggies, and cheddar.
In a large bowl, whisk together the eggs and milk. Season to taste with salt and black pepper. Pour the egg mixture into the prepared baking pan, over the bread, veggies, and cheddar. Press down to make sure it soaks into the bread cubes. Do this every 10 minutes for 30 minutes or put it in the fridge overnight to soak.
Bake, uncovered, for 45-60 minutes or until golden brown and set.
Nutrition Information
Serving size:
⅛th of recipe
More savory breakfasts: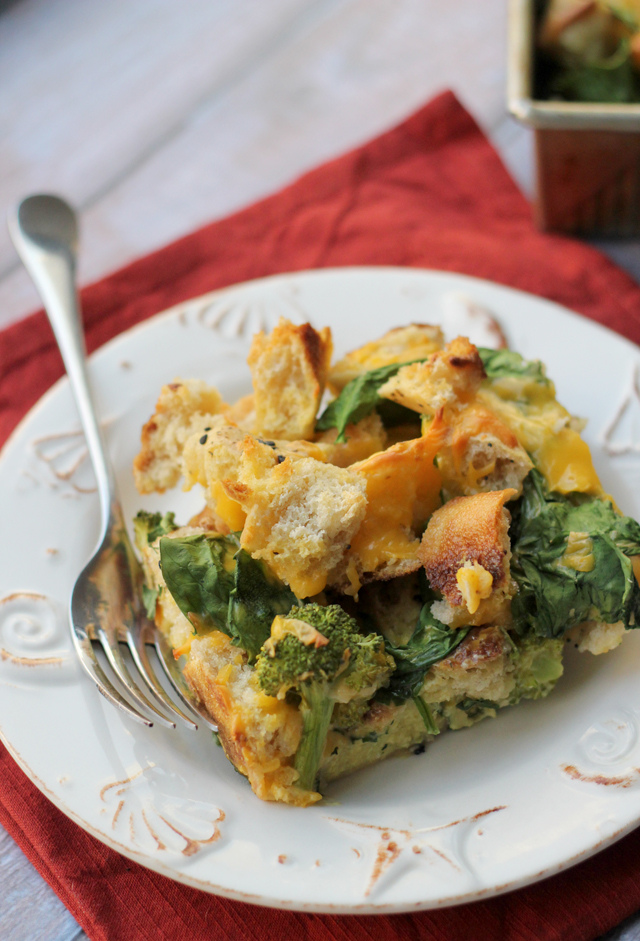 Bagel, Broccoli, and Spinach Strata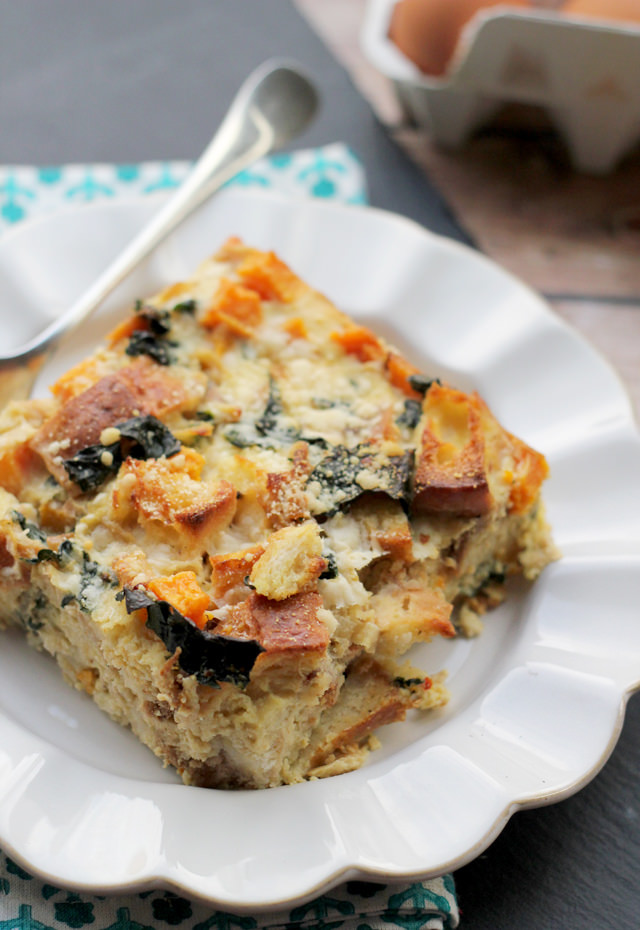 Butternut Squash and Kale Strata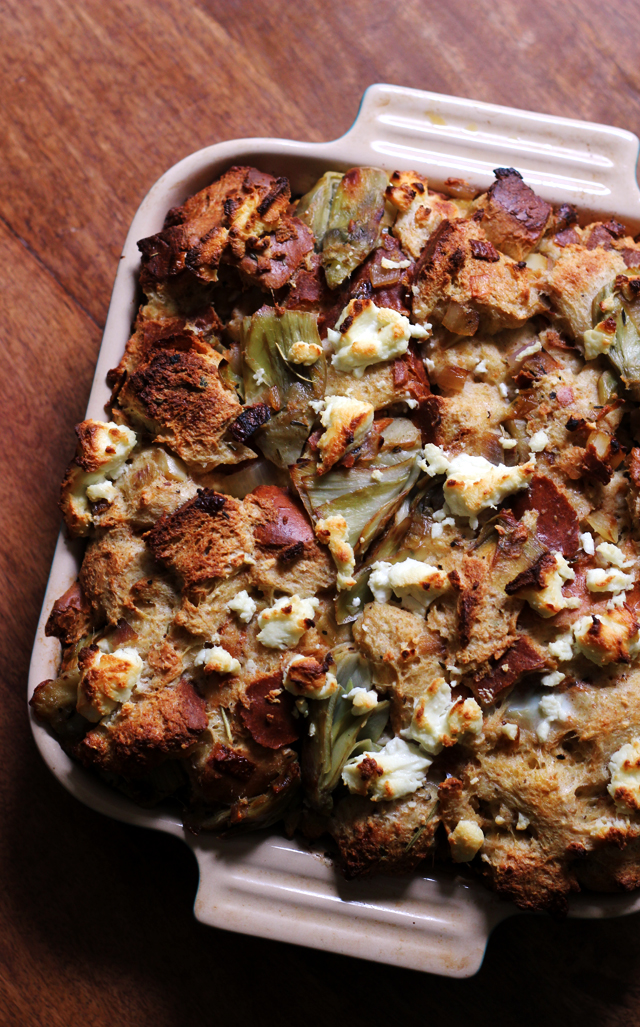 Artichoke and Goat Cheese Strata
From Around the Web:
Corn, Cheddar, and Scallion Strata from Smitten Kitchen
Overnight Breakfast Enchiladas from Diethood
Spiced Lentils with Poached Eggs from Girl Versus Dough
Sunburst Spring Vegetable Quiche from Well Plated
Loaded Greek Asparagus Omelets from Whole and Heavenly Oven