This very vanilla tres leches cake is soaked in a decadent creamy milk sauce and topped with whipped cream.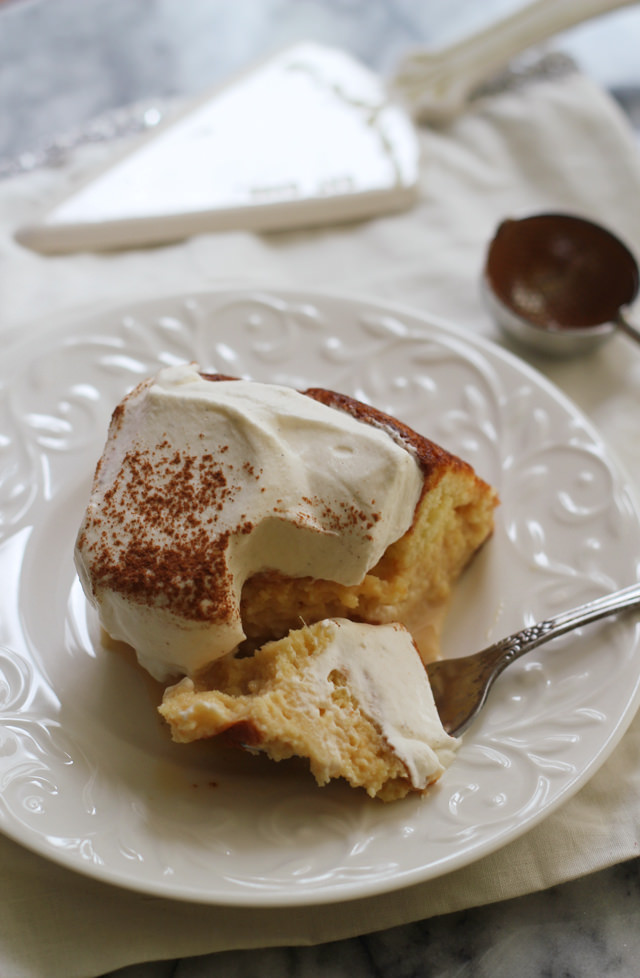 Allow me to introduce you to: The Original Poke Cake.
Before you crazy kids came up with all of these new-fangled flavors, there was just…
…vanilla. On vanilla. On vanilla.
(And it was glorious.)
So today we're going back to basics. There are no crazy twists, surprise fillings, or totally random toppings.
It's just vanilla. On vanilla. On vanilla. With a hint of cinnamon.
(And it is glorious.)
If you've never had tres leches cake (or any kind of poke cake) before, you are in for a real treat. It's basically cake that has been poked all over and doused in some kind of sweet liquid, in this case: sugar milk.
My mother was so confused at how this could be the "sauce", because it tastes. so. good.
Every five minutes, she would ask, "BUT WHAT IS THIS SAUCE."
And I would reply, very emphatically, "IT IS MILK. WITH SUGAR."
I'm not sure I ever got through to her.
Anyways, the cake gets soaked and becomes impossibly moist to the point that you're pretty sure this is what heaven tastes like. And then you top it with a barely sweetened whipped cream and cinnamon sprinkle.
And then you die. Of happiness. It's a good thing.
Tres Leches Cake
This very vanilla tres leches cake is soaked in a decadent creamy milk sauce and topped with whipped cream.
Ingredients
For the cake
1 cup all purpose flour
1½ tsp baking powder
¼ tsp salt
⅓ cup whole milk
2 tsp vanilla extract
5 large eggs, separated
1 cup sugar, divided
For soaking the cake
1¼ cups evaporated milk
1 cup sweetened condensed milk
¼ cup heavy cream
For the topping
1¾ cup heavy cream
2 tbsp sugar
1 tsp vanilla extract
1 tsp vanilla bean paste
cinnamon, for dusting
Instructions
Heat oven to 350F. Grease a 10-inch springform pan.
Whisk together the flour, baking powder, and salt in a medium bowl. Microwave the milk for 1 minute. Stir the vanilla into the hot milk.
In a clean stand mixer bowl, beat the egg whites on medium-high speed until they form soft peaks. Pour in ¼ cup of the sugar and beat until the mixture holds stiff peaks. Remove to a clean bowl and return the mixer bowl to the stand mixer.
In the mixer bowl, beat the egg yolks with the remaining ¾ cup of sugar until light in color and doubled in volume, about 3 minutes. Reduce speed to low and stir in the milk.
Slowly add in the flour mixture, mixing until just a few floury streaks remain, then mix by hand until well combined.
Fold a third of the egg whites into the batter to lighten it, then gently fold in the remaining egg white mixture. Pour into the prepared pan and smooth the top with a spatula.
Bake until the cake is a deep golden brown and a toothpick inserted comes out clean, about 30-45 minutes. Transfer to a wire rack and allow to cool completely, about 1 hour.
Place the cake in a shallow serving bowl. Pierce all over with a fork or skewer.
In a medium bowl, whisk together the evaporated milk, sweetened condensed milk, and heavy cream. Pour all over the cake, lifting it to make sure it gets underneath as well on top. Let rest until the liquid is absorbed, a few hours or overnight in the fridge.
To make the topping, beat together the cream, sugar, vanilla extract, and vanilla bean paste until the mixture forms stiff peaks. Cover the cake with the whipped cream. Serve immediately.
Notes
Recipe from
Pure Vanilla: Irresistible Recipes and Essential Techniques
CAKE. Because, Friday: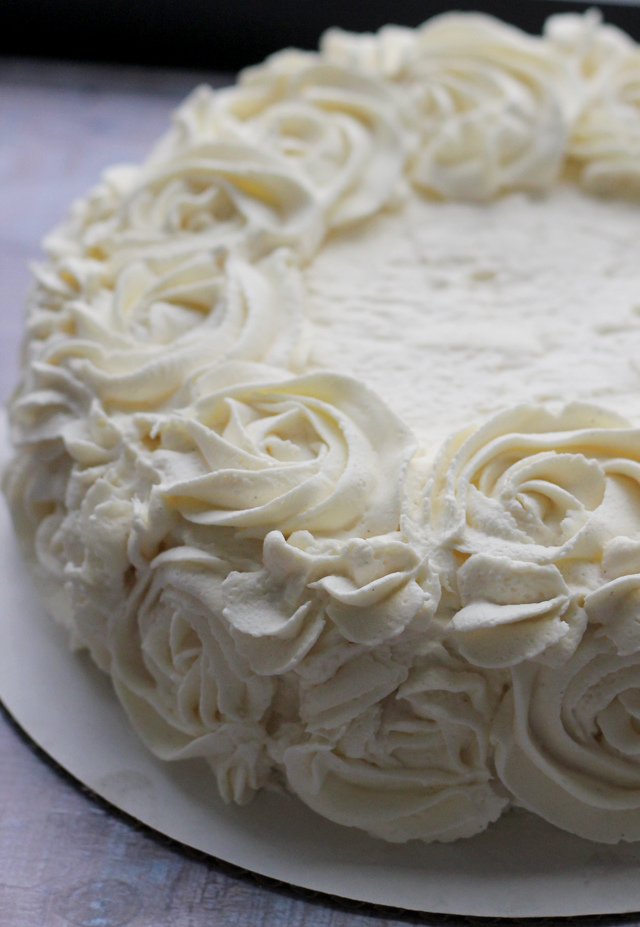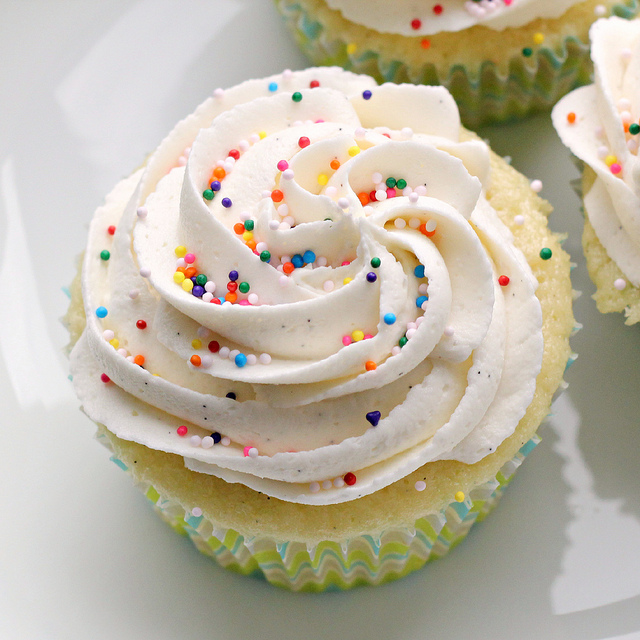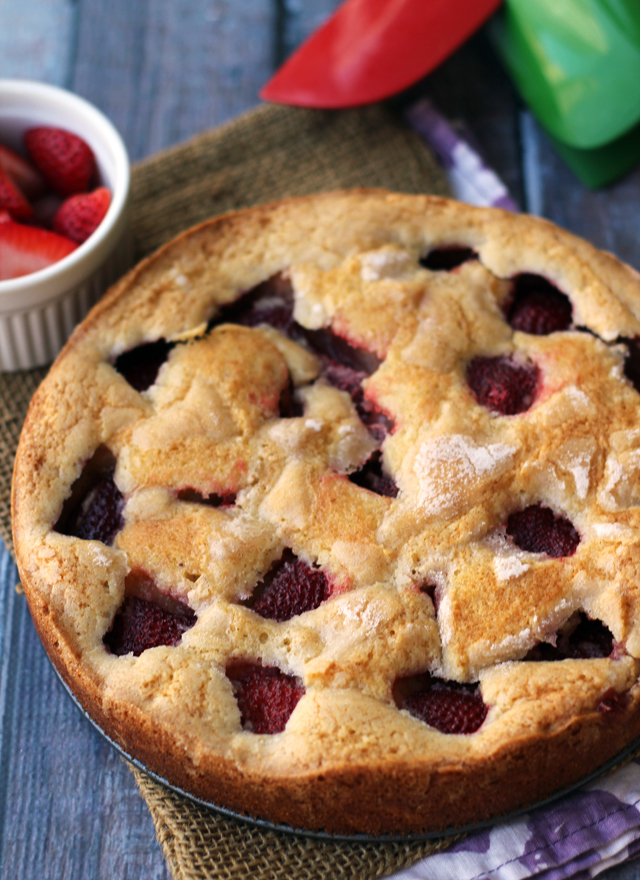 Strawberry Vanilla Bean Buttermilk Cake
From Around the Web:
Vanilla Birthday Cake from Sweetapolita
Strawberry Vanilla Donuts from Annie's Eats
Vanilla Bean Sweet Potato Waffles from Joy the Baker
Cardamom Vanilla Cake from My Name is Yeh
Glazed Vanilla Bean Scones from My Baking Addiction