Vegetarian antipasto salad filled with crispy oregano-spiced chickpeas, roasted red peppers, marinated artichoke hearts, kale, and feta cheese.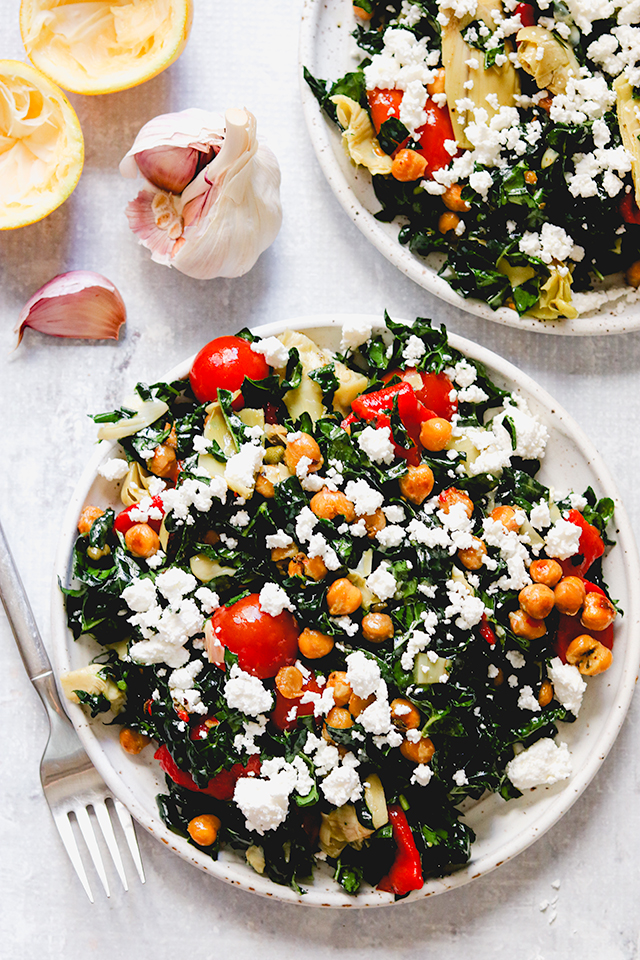 What's colorful and nutritious and the perfect salve for your sugared out tastebuds after eating birthday cake for multiple meals the past few days (<– no regrets)?
THIS SALAD, that's what.
Packed with all of our briny, salty antipasto favorites, kale (for good karma), crispy chickpeas, and feta cheese it is a mouthful, but in the best way. The kind of salad that you can't even get bored of eating because there is so much going on in every bite.
Even better is that this salad keeps in the fridge for DAYS. Dare I say it even gets better as it ages? It does, it really does.
Let's dissect.
To make this salad, we're nixing the cured meats typically found on the average antipasto platter and instead filling up our plates with all of the best veggie components. Roasted red peppers, marinated artichokes, and capers bring a little bit of salt and sweetness, while cherry tomatoes are the perfect pop of freshness.
Very thinly sliced lacinato kale forms the base of the salad and, before I get too much side eye from the kale salad skeptics out there, I need you to take a step back and reflect on the kale salads you've tried in the past. If they were made with any type of kale other than lacinato (sometimes also called dinosaur or Tuscan kale), then you need to forget everything you think you know about kale salad and give this one a try. Whereas other types of kale can have a strong bitter flavor and abrasive texture, lacinato kale is much more mild in both of these aspects. 
The part of this salad that I'm probably the most obsessed with, though, is the crispy chickpeas. THESE ARE INSANE. I could have just stood by the pan and eaten them as a snack. They are simply seasoned with oregano and paprika, tossed with a bit of olive oil and salt, and then roasted until they become the perfect crispy nuggets. Try to keep them separate from the rest of the salad components until right before you're ready to eat or they will lose their crispiness. 
Finally, the dressing! This is a a really straightforward white balsamic vinaigrette made with lemon juice, dijon mustard, a bit of garlic, honey, and olive oil. White balsamic tends to be a bit sweeter and less acidic than regular balsamic vinegar, so be mindful of that if you plan on substituting one for the other. I tend to prefer white balsamic in salads for these reasons, but it can be harder to find in the supermarket, so feel free to switch them out if you need to.
Vegetarian Antipasto Salad with Crispy Chickpeas, Kale, and Feta
Vegetarian antipasto salad filled with crispy oregano-spiced chickpeas, roasted red peppers, marinated artichoke hearts, kale, and feta cheese.
Ingredients
For the salad
10 oz lacinato kale, stems removed and leaves thinly sliced
1 tbsp olive oil
1 (16 oz) jar roasted red peppers, drained and thinly sliced
1 (12 oz) can marinated artichoke hearts, drained and chopped
12 oz cherry tomatoes, halved
1 tbsp capers
6 oz feta cheese, crumbled
For the chickpeas
2 (14.5 oz) cans chickpeas, drained, rinsed, and dried well
1 tsp kosher salt
2 tsp oregano
½ tsp paprika
1 tbsp olive oil
For the dressing
1 garlic cloves, grated
2 tbsp lemon juice
4 tsp white balsamic vinegar
4 tsp dijon mustard
4 tsp honey
8 tbsp olive oil
salt and black pepper, to taste
Instructions
For the salad
In a large bowl, combine the sliced kale and the olive oil. Massage until the kale has reduced in volume by about half. Add in the roasted red peppers, artichokes, cherry tomatoes, capers, and feta cheese. Toss to combine.
For the chickpeas
Heat oven to 400F.
In a large bowl, toss the chickpeas with the salt, oregano, paprika, and olive oil. Spread on a rimmed baking sheet in an even layer and roast for 20-25 minutes or until crispy.
For the dressing
In a medium bowl, whisk together the garlic, white balsamic vinegar, dijon mustard, honey, and olive oil until completely emulsified and well combined. Season to taste with salt and black pepper.
To assemble
Pour the dressing into the bowl with the salad ingredients and toss to combine. Divide among serving bowls and top with the roasted chickpeas. Serve immediately.
Notes
An Eats Well With Others Original