Creamy butternut squash soup topped with caramelized pistachios and a fresh herb oil.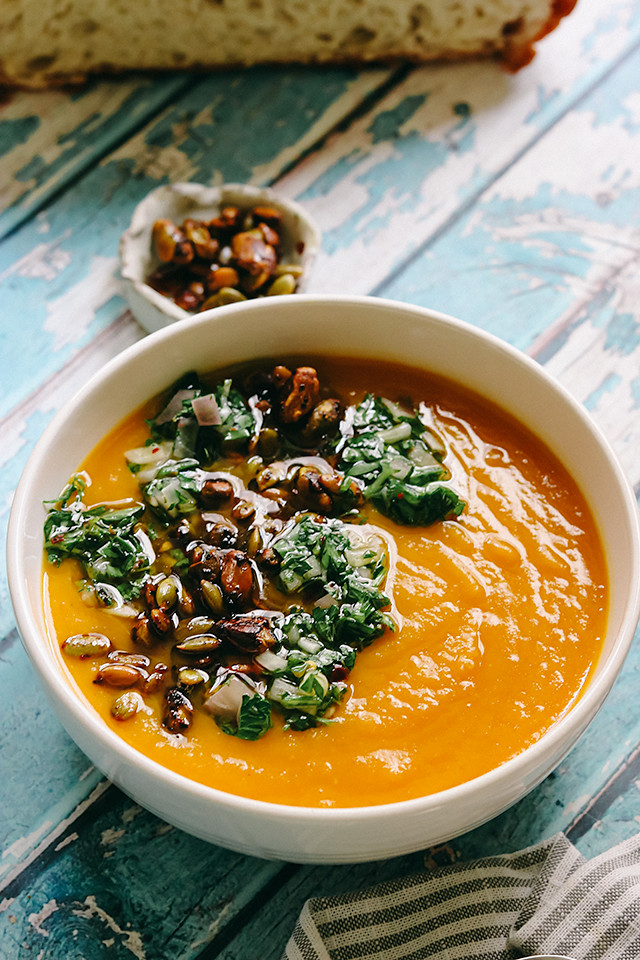 Is it even fall if you didn't make a butternut soup?
Clearly you know which side of that debate I stand on.
Butternut soups fall firmly into two camps: there are the soups that kind of taste like dessert and then there are the ones that are deeply and unapologetically savory.
I maintain that both have a place in the world (and in my dinner rotation) BUT….this is the latter.
I'm not mad about it.
It is from Sami Tamimi's Falastin cookbook and as such has a little bit of Middle Eastern flair to it.
The soup is fairly simple, spiced with paprika and saffron (no pumpkin spice flavors here!). In addition to the squash, it features loads of alliums as well as an errant potato, which makes the soup creamy but without any cream.
The real stars here though are the toppings (isn't that always the case).
Maple caramelized nuts (I used a mix of pistachios and pepitas) form a brittle whose sweetness is accented perfectly by a refreshingly tart herb oil drizzle.
Each spoonful is a mix of sultry, crunchy, sweet, tart, tangy, creamy and after this I may never butternut soup any other way.
Butternut Squash and Saffron Soup with Caramelized Pistachios and Herb Oil
Creamy butternut squash soup topped with caramelized pistachios and a fresh herb oil.
Ingredients
For the soup
2½ tbsp olive oil
2 large onions, roughly chopped
5 garlic cloves, minced
2 lb butternut squash, peeled, seeded, and cut into ½-inch dice
1 large potato, peeled and chopped into ½-inch dice
1 tsp paprika
¼ tsp saffron threads
1 quart vegetable broth
salt and black pepper, to taste
For the caramelized pistachios
1 cup mixed pistachios and pumpkin seeds
1 tsp urfa chili flakes
2 tsp light corn syrup
2 tsp maple syrup
1 tbsp olive oil
¼ tsp flaky sea salt
For the herb oil
¾ cup parsley, finely chopped
½ cup oregano, finely chopped
1 shallot, minced
½ tsp red pepper flakes
½ cup olive oil
1 tbsp apple cider vinegar
salt and black pepper, to taste
Instructions
Heat oven to 350F. Line a baking sheet with parchment paper and set aside.
For the soup, pour the olive into a large pot over medium heat. Add the onions to the pot and cook for 12 minutes, stirring frequently. Add in the garlic and cook until fragrant, about 30 seconds. Add in the squash, potato, paprika, saffron, vegetable broth, 2 tsp of salt, and black pepper to taste. Bring to a boil. Decrease heat to low and simmer for 25 minutes, covered, or until vegetables are tender. Let cool for a few minutes, then pour into a blender and puree until smooth.
Meanwhile for the caramelized nuts, toss all of the ingredients together in a bowl, mixing until well combined. Pour onto the prepared baking sheet and spread into a single layer. Bake for 15 minutes, or until golden, stirring halfway through. Remove from the oven to cool completely. Roughly chop the nuts or break into small pieces. Set aside until needed.
For the herb oil, combine all of the ingredients in a medium bowl along with ¼ tsp of salt and black pepper to taste. Stir and set aside until ready to use.
Pour the soup into individual serving bowls. Top with the caramelized nuts and a drizzle of the herb oil. Serve immediately.