Macarons get PATRIOTIC! Red and blue shells sandwich vanilla buttercream in these red, white, and blue macarons.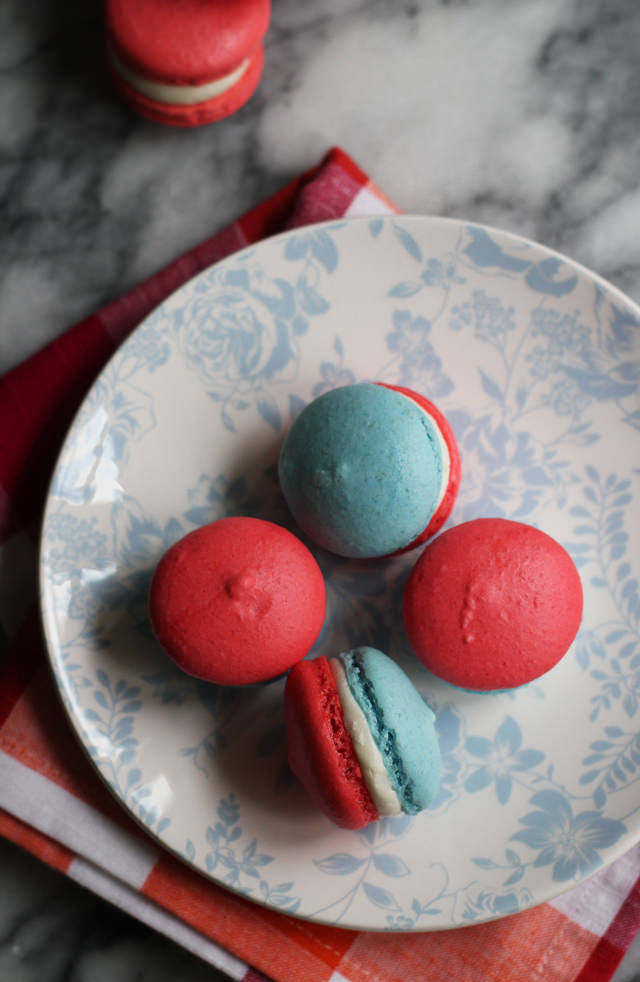 Truth be told, the.boy saw these and said, "Why did you make French flag macarons?".
Head smack.
Welllllll…..I tried?
I give myself an "A" for effort. Because that's how we do it in Ammeeerriicccaaa.
Okay, so we have a little less than a month to get all of our reds, whites, and blues in order.
You know I like to live my life as messy/not-Pinterest worthy as possible but even I get caught up in making one crazy RWB thang for the 4th of July season.
Also, I think we need 4 weeks to practice our macaron-ing, especially with this humidity that's in the air. When I made this batch, I got exactly FOURTEEN reasonable looking shells…and TWELVE of those had nipples. Suffice it to say – I'm a work in progress. I think this has something to do with my oven and its totally uneven heating but I'm not, like, a food scientist or anything, so who knows.
I do have faith that this recipe can work (since it has for me, multiple times), so the moral of the story is GO FORTH and red, white, and blue all the things.
But especially all the macarons.
Red, White, and Blue Macarons
Macarons get PATRIOTIC! Red and blue shells sandwich vanilla buttercream in these red, white, and blue macarons.
Ingredients
For the macarons
115 g blanched almond slices, ground, or almond flour
230 g powdered sugar
144 g egg whites
72 g granulated sugar
2 g kosher salt
red and blue food coloring gel
For the filling
16 tbsp unsalted butter, room temperature
4 cups confectioner's sugar, sifted
1 tbsp milk
1 tsp vanilla bean paste
pinch of salt
Instructions
If using almond slices, grind in a food processor with the powdered sugar for at least three minutes, but before the almonds start to become almond butter.
Sift together the almond flour and powdered sugar into a large bowl. If there are almond flour slices that won't pass through the sifter, then grind them again until they do.
In the bowl of a stand mixer fitted with the whisk attachment, combine the egg whites, sugar and salt. Beat on medium (speed 4) for 3 minutes. Increase the speed to medium-high (speed 6) and beat for another 3 minutes. Increase the speed to 8 and beat for another 3 minutes. Increase it to 10 and beat for one more minute. When you lift the whisk, the meringue should be stuck to it. Lightly tap it against the side of the bowl until it falls off.
Pour the dry ingredients into the meringue. if using. Fold them into the meringue using the "fold-and-smash" method (fold and then subsequently smash and smear against the side of the bowl). Mix until the batter is lavalike and when you spoon some of the batter out and drop it back in, it completely incorporates within about 20 seconds. When the batter is almost at the right consistency, split it into two bowls and add one color food gel to each. Keep mixing until batter is the correct consistency.
Transfer half of the batter to a piping bag fitted with a ½-inch round tip. Line two baking sheets with parchment paper. Pipe the macarons into evenly sized and spaced circles, making sure to keep the piping bag straight up and down as you do so.
Rap the baking sheet hard against the counter, twice. Turn ninety degrees and rap another two times. Let rest for 45-60 minutes.
Meanwhile, preheat the oven to 275F.
Bake the macarons, one tray at a time, on the rack farthest from the oven's flame for 18 minutes. Allow to cool completely on the pans.
Repeat with remaining batter.
In the bowl of a stand mixer fitted with the paddle attachment, cream the butter on medium-high speed until light and fluffy, about 3 minutes.
Reduce mixer to low and add in the powdered sugar, about a cup at a time, until totally combined. Add the vanilla bean paste and a pinch of salt, beating to combine. Beat for 1 minute. Pipe onto either the red or the blue shells and then top with the other color.
More macarons!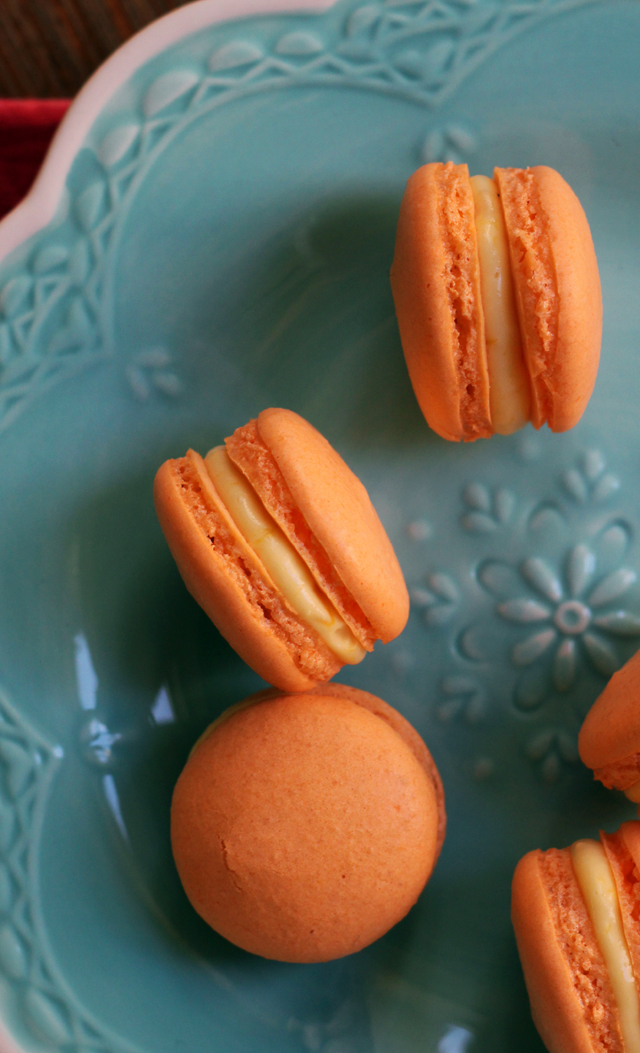 Mango White Chocolate Ganache Macarons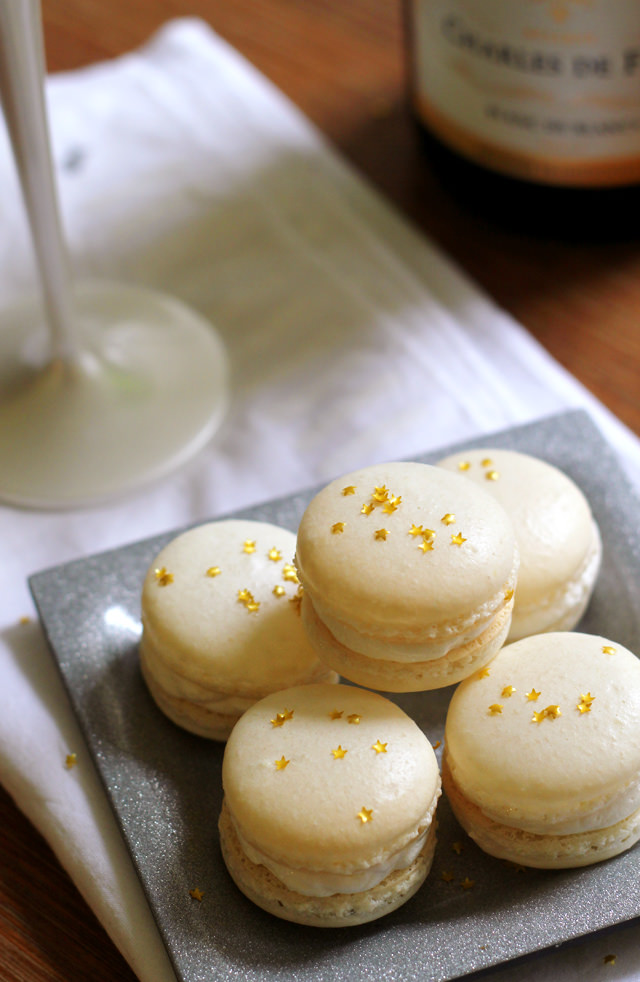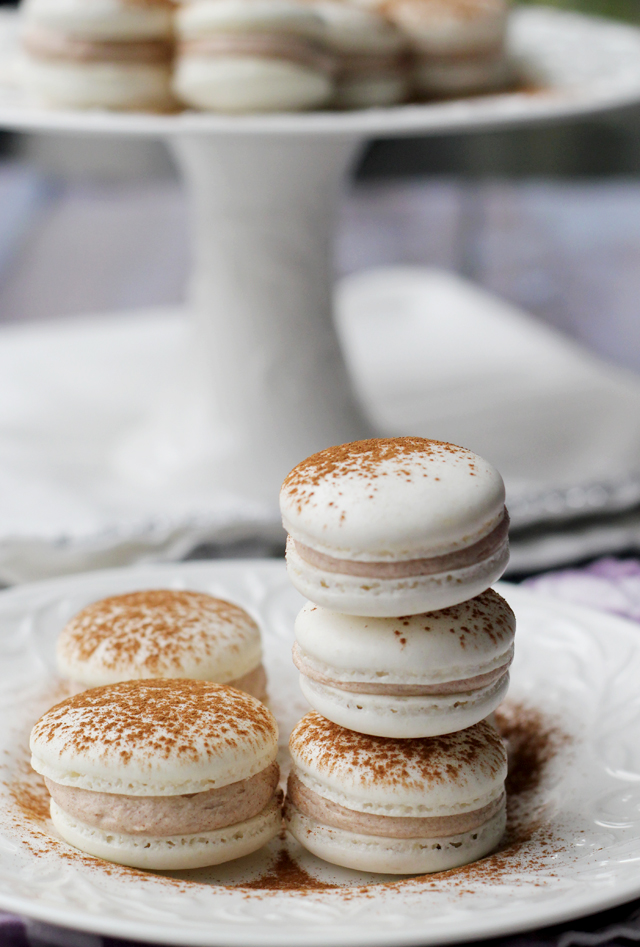 From Around the Web:
Raspberry Macarons from Mom Loves Baking
Chocolate Walnut Macarons with Salted Caramel from Baking A Moment
Lavender Honey Macarons from Blahnik Baker
Orange Dark Chocolate Macarons from Steph in Thyme
Strawberry Passionfruit Macarons from Hint of Vanilla