Cannoli cream, blueberries, the best ever crisp topping, and mocha whipped cream make these blueberry cannoli parfaits a perfect sweet treat.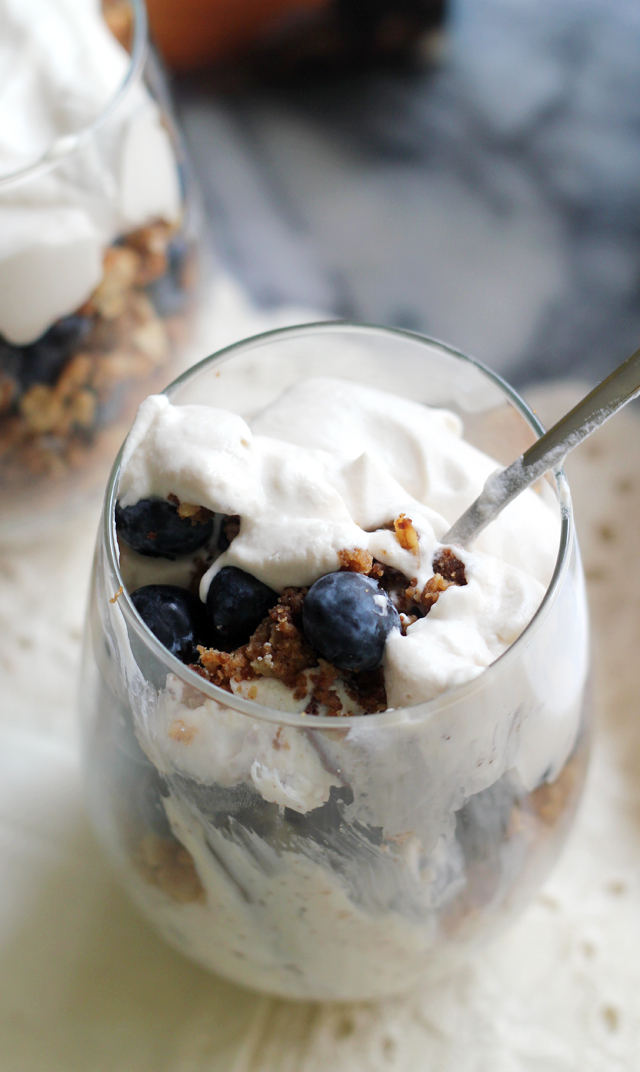 There are days when my biggest problem in life is that I have TOO MUCH CANNOLI CREAM in my fridge.
And then I pinch myself.
#thestruggleisreal
By all means, this is a good problem to have.
I would wish it upon anyone.
Buuuuttttt eating all the cannoli cream once you realize that actually making cannoli shells is pretty much beyond the realm of a weeknight sweet treat….
…that's the kind of thing that feels like a good problem until you do it. Then it just feels like a bellyache.
So, parfaits! Which are my new favorite way to say "I ate fruit for dessert, so can someone give me a medal here?!"
These are extra special and are layered with the aforementioned cannoli cream, a layer of my most favorite ever crisp topping (<–this stuff is sweet buttery crunchy gold), a handful of blueberries (or whatever berries you're feeling at this time of year) and a dollop of mocha whipped cream. They're the perfect light, summer, "Hey, I barely turned the oven on!!" bite. I like to make them in individual cups so that they feel extra fancy, but you can also layer the fillings in an 8×8-inch pan if sharing is more your thing.
I make my mocha whipped cream with International Delight Mocha Iced Coffee mixed in withe some heavy cream. It's barely sweet, with just a hint of chocolate coffee flavor that pairs perfectly with the juicy blueberries, crunchy crisp, and chocolate studded cannoli cream. Additionally, this whole treat comes together in as much time as it takes to make the crisp (which can be made ahead of time!), so that when that sweet treat craving hits, you can satisfy and stave it off. Fast.
Blueberry Cannoli Parfaits with Mocha Whipped Cream
Cannoli cream, blueberries, the best ever crisp topping, and mocha whipped cream make these blueberry cannoli parfaits a perfect sweet treat.
Ingredients
For the cannoli cream
4 oz softened cream cheese
¼ cup sugar
½ cup ricotta
½ cup mini chocolate chips or chopped chocolate
For the crisp
½ lb unsalted butter
1½ cups flour
¼ tsp ground cinnamon
¾ cup packed brown sugar
½ tsp salt
1½ cups old-fashioned oats
2 cups blueberries
For the whipped cream
2 cups heavy cream
¼ cup International Delight Mocha Iced Coffee
Instructions
To make the cannoli cream, beat the cream cheese, sugar, and ricotta together in a medium bowl until combined. Stir in the chocolate chips. Refrigerate until ready to use.
For the crisp, heat oven to 350. Cut the butter into ½-inch pieces and put it in the fridge while you mix the remaining ingredients.
In a medium bowl, whisk together the flour, cinnamon, brown sugar, and salt. Using your fingers, mix the butter into the flour mixture, rubbing it into the dry ingredients. When the mixture looks like coarse sand, add in the oats and mix well. Spread out on a parchment-lined baking sheet, breaking up any large clumps that form. Bake for 30-35 minutes, tossing halfway through, or until toasted and browned.
For the mocha whipped cream, whip together the heavy cream and mocha iced coffee until it forms stiff peaks.
Divide the cannoli cream among the parfait glasses. Top with the crisp, a layer of berries, and a dollop of the whipped cream. Serve chilled.
Notes
Cannoli cream from
Matcha Biscuit
and crisp from
Jeni's Splendid Ice Creams at Home
If you want to stay in the loop about the great new flavors and products that International Delight is always coming up with, exciting member giveaways, and coupons then sign up for their
newsletter
!
This conversation is sponsored by International Delight. The opinions and text are all mine.