Fluffy vegan white chocolate macadamia nut pancakes made extra decadent with a drizzle of coconut-maple syrup.
Disclosure: This post was sponsored by Silk. As always, my thoughts and opinions are my own.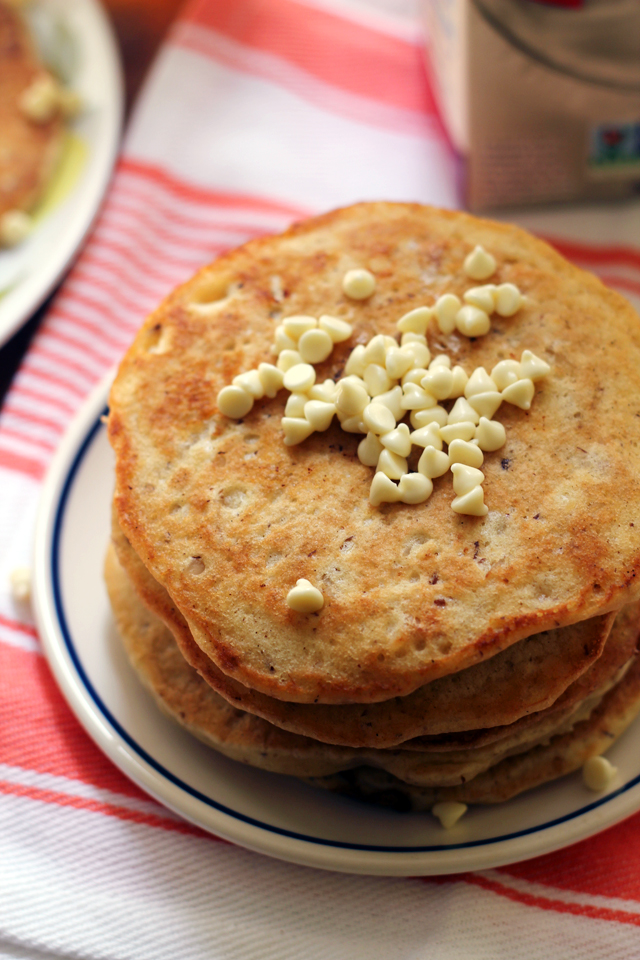 I like to think I get pretty hangry after a long run, but I'm learning that it is NOTHING compared to post full-day-of-med-school hunger.
I get home and I literally rip my apartment apart trying to shove all the things into my mouth.
It's not pretty.
Yesterday I even made the mistake of going grocery shopping in-between class ending and after school snacktime.
You know how they say you shouldn't go to the store while hungry? Well you definitely shouldn't go while ravenous. So many bad life choices in such a short period of time.
Since I tend to arrive home equally as exhausted as I am starving, I've been trying to brainstorm quick meals I can make that can keep me energized through a few hours of homework and possibly zumba if I manage to motivate myself to get out the door. Breakfast for dinner always sounds like a particularly good idea, which is how these pancakes came to be!
If we're being honest, I actually did originally make them after a long run. But let's be honest – if they can satisfy a legitimate exercise-induced calorie deficit, then I'm pretty sure they can handle a totally fictional, perceived "OMG I exercised my brain too much!" one.
So what sets these pancakes apart from all of their distant food coma-inducing relatives? Well, to start with, they're VEGAN! Don't let this scare you away. These are actually the easiest, fluffiest, most consistently awesome pancakes that I've ever made. They are far and above the.boy's favorite, and he considers himself to be somewhat of a pancake aficionado. So there's that.
Secondly, they're made with Silk Original Soymilk, which has been my go-to for a long time now when I want something protein-rich to slurp down after a hard workout. As much as I love drinking a cold, creamy glass of it after coming in from a particularly sweaty run, I'm also always up for mixing it into whatever else I'm eating – in this case, these pancakes! The Silk adds quite a bit of protein into the pancake mix, which helps you stay fuller for longer after eating and prevents the midday crash that accompanies most pancake consumption.
On the whole, these pancakes are fairly wholesome, but I couldn't help but add just a hint of decadence by throwing some white chocolate chunks and macadamia nuts into the mix, along with a coconut-maple syrup drizzle for extra happiness. I implore you to do the same.
White Chocolate Macadamia Nut Pancakes with Coconut-Maple Syrup
Fluffy vegan white chocolate macadamia nut pancakes made extra decadent with a drizzle of coconut-maple syrup.
Ingredients
1 tbsp ground flax seeds
2½ tbsp water
2 cups all purpose flour
2½ tsp baking powder
2 tbsp sugar
¾ tsp sea salt
1¾ cup Silk Original Soymilk
½ tsp vanilla extract
2 tbsp coconut oil, melted
½ cup chopped macadamia nuts
½ cup mini white chocolate chips
For the syrup
¼ cup maple syrup
¼ cup coconut syrup
Instructions
In a small bowl, whisk together the ground flax seeds and water. Let sit for 5 minutes or until thickened.
In a large bowl, whisk together the flour, baking powder, sugar, and sea salt. Whisk in the flax seed mixture, milk, vanilla, and coconut oil until just combined. Stir in the macadamia nuts and white chocolate chips.
Heat a griddle or nonstick skillet over medium-high heat and grease with a tablespoon of coconut oil, or as necessary. Using a ¼ cup scoop, scoop the batter onto the hot griddle. When small bubbles start to form and pop on the edge of the pancakes, about 2-3 minutes, flip them and cook on the opposite side for another 1-2 minutes, or until golden brown and cooked through. Repeat with remaining batter.
To make the coconut maple syrup, stir together the maple syrup and the coconut syrup. Serve with pancakes.
Notes
An Eats Well With Others Original
Want to see what all the Silk Soymilk hype is about? Head on over to their
website
 to receive a coupon!
This conversation is sponsored by Silk. The opinions and text are all mine.