This roasted corn and poblano risotto is smoky and savory with bursts of juicy sweet corn in every bite.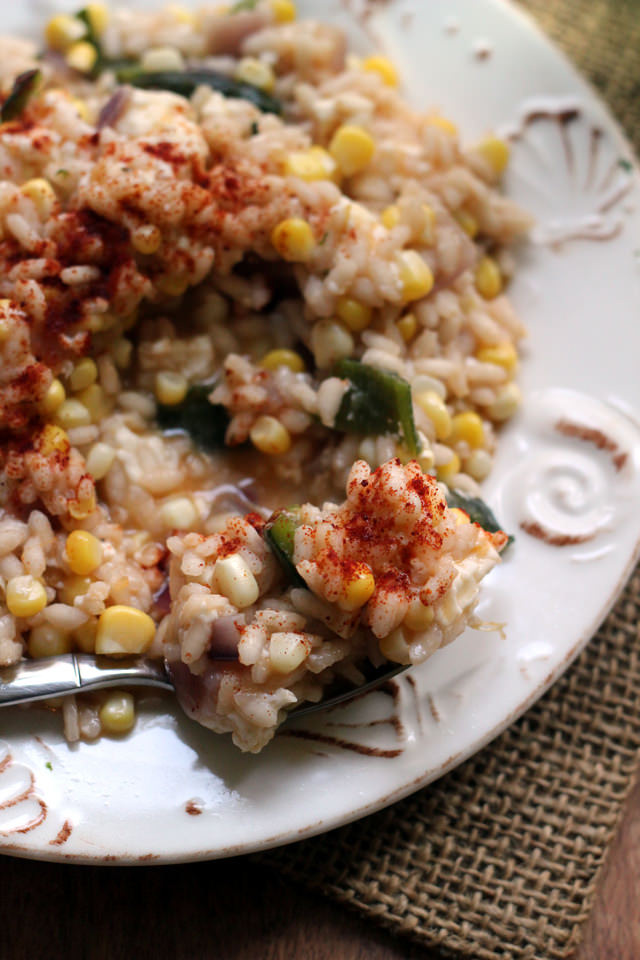 Last day in BOOOSSTTOOOONN!!!
And I really don't feel like I've eaten enough?!
IN OPPOSITE WORLD.
I've actually eaten everything. So there's that.
Apparently my main reason for going to a diabetes conference was to breakfast at Flour Bakery every morning. Nope, not strange or unusual or oxymoronic at all.
Did I mention that the.boy and I are also leaving for Italy next week, so really I should have spent this week breaking up with complex carbs (only to be reunited with them in gelato form, preferably on a gondola in Venice – I have priorities) to prepare!?
Weeellll maybe next week. A 48 hour cleanse/detox/green juice diet? That should do it.
And by that I mean, eating BOWLS of risotto. I didn't spend my college years perfecting the art of pregaming for nothing.
To be totally transparent, I'm actually not sure that this risotto is anything like anything you'd find in Italy. Not only did I not stand over it, stirring, for 50 minutes straight, which is sacrilege enough right there, but it's got some Mexican flavor fusion going on with juicy bits of corn and smoky roasted poblanos in every bite. Personally, that's how I prefer my carby comfort – with a hint of spice and a lot of flavor.
The amount of heat that gets packed into this is really dependent on your poblanos, so make sure to get a good feel for how spicy they are before you just throw them into the pan. Alternatively, you can live on the verge of danger.
Just be sure to keep a glass of cold water on stand-by.

Roasted Corn and Poblano Risotto
This roasted corn and poblano risotto is smoky and savory with bursts of juicy sweet corn in every bite.
Ingredients
2 poblano peppers, seeded and halved
2 tbsp olive oil
1 red onion, diced
½ tsp chipotle chili powder
½ tsp smoked paprika
salt, to taste
1 lb arborio rice
1 cup white wine
4-6 cups vegetable broth
4 ears of corn
1 tbsp white wine vinegar or lime juice
8 oz queso fresco, crumbled
Instructions
Heat the broiler on high. Put the poblano halves skin side up on foil-lined baking sheet. Broil for 10-15 minutes or until the skin is burnt. Remove from the oven and wrap in the foil. Allow to sit for 5 minutes, then peel the poblanos and coarsely chop the flesh. Set aside.
Meanwhile, heat the olive oil in a large skillet over medium heat. Add the onion to the pan and cook for 4-5 minutes, or until translucent. Stir in the chipotle chili powder, paprika, a pinch of salt, and the arborio rice. Cook, stirring constantly, for one minute. Stir in the white wine and cook until just evaporated, stirring constantly.
Add the vegetable broth to the pan 1 cup at a time, adding the next cup only after the previous one has evaporated, stirring frequently. Continue to cook this way until the rice is tender.
Stir in the corn kernels, poblanos, vinegar, and queso fresco. Season to taste with salt.
Notes
An Eats Well With Others Original
Nutrition Information
Serving size:
⅙th of recipe
More risotto!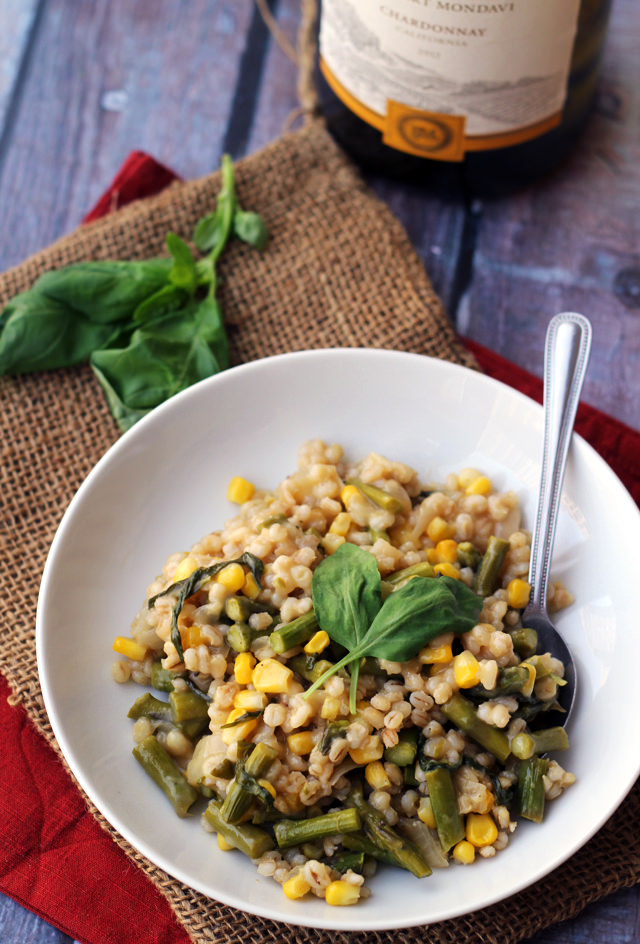 Corn, Asparagus, and Basil Barley Risotto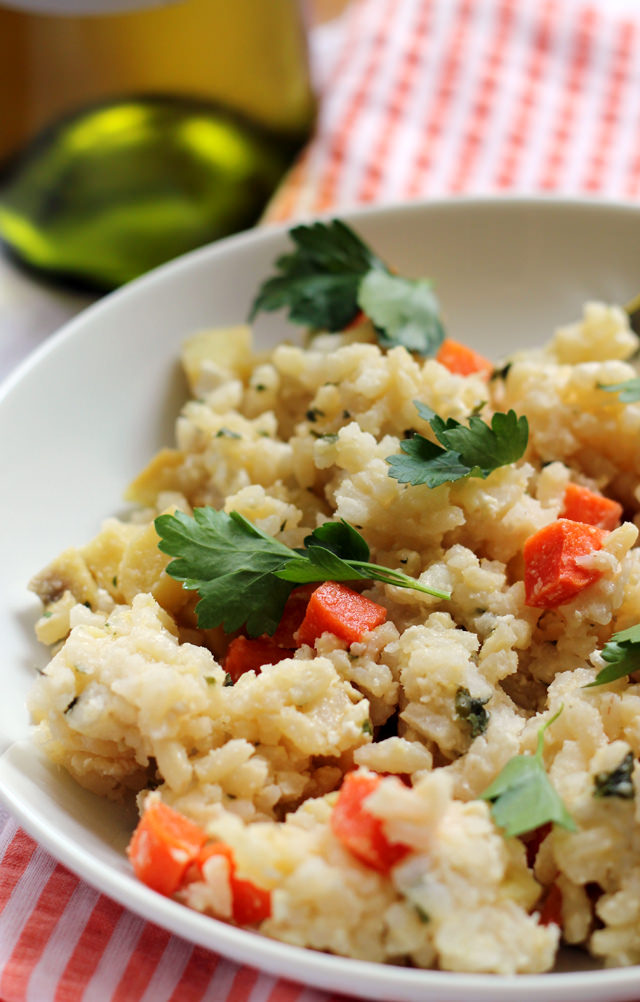 Honey-Roasted Sweet Potato and Carrot Risotto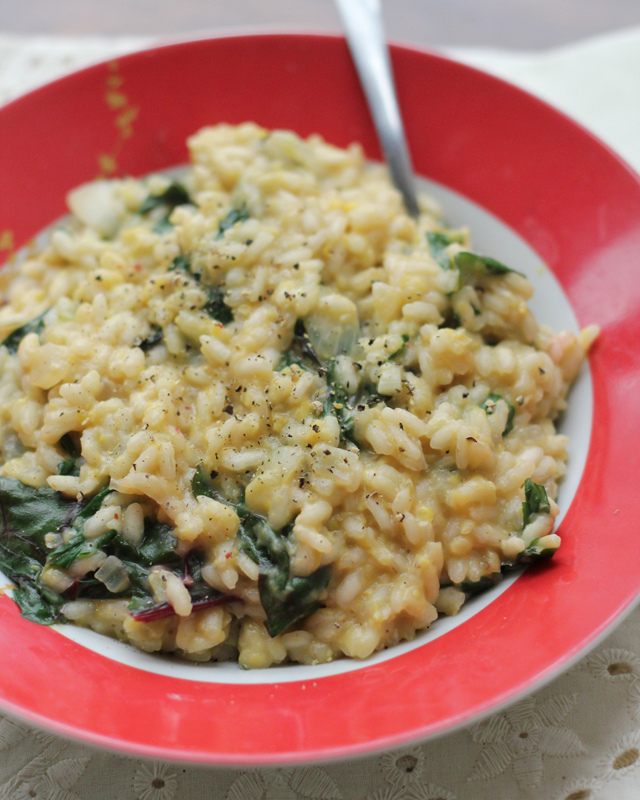 Corn and Caraway Risotto with Swiss Chard
From Around the Web:
Spring Pea and Asparagus Risotto from Cookie + Kate
Sweet Corn, Gouda, and Farro Risotto from Foodiecrush
Early Summer Risotto with Garden Vegetables from Simple Bites
Broccoli and Cheese Risotto from Big Bear's Wife
Sweet Corn Risotto from The Novice Chef