Thank you Domino® Honey Granules for sponsoring this post. Visit your local retailer to pick up your own package and start sprinkling sweetness today!
Add a little decadence to your morning with these buttermilk crepes with honey mascarpone Greek yogurt cream.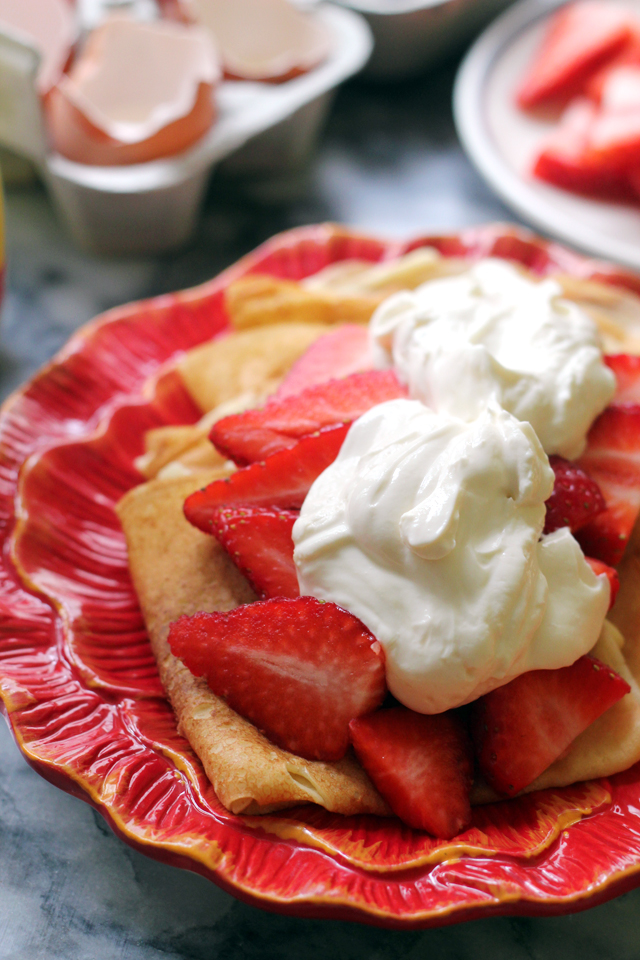 Do we even need a reason to celebrate in the spring?
Other than, "Hey – IT'S NOT WINTER ANYMORE!!"
Honestly, that's good enough for me.
But there's also BERRIES and asparagus and fresh peas and no longer having to wear winter jackets (which is perfect timing because none of mine fit) and the smell of so much green in the air.
And did I mention the berries?
I'm obsessed. Plain and simple.
Since long and leisurely breakfasts have been scarce around here lately ever since I started my surgery rotation, I try to celebrate those as well with the kinds of breakfasts that are worth actually sitting down at the table for.
There are have been pancakes and muffins and any number of eggy things…and now CREPES.
AKA my food arch nemesis AKA my latest food conquest.
Suffice it to say, we have a very complicated relationship so I try to only spend my time on those that are worth all the flipping stress.
Spoiler Alert: These are worth all the flipping stress.
And here's why!
BUTTERMILK. It keeps things light, fluffy, and full of all sorts of great kinda tangy (kinda perfect) flavor.
MASCARPONE GREEK YOGURT CREAM. Flavored with juuussstt the right amount of Domino® Honey Granules so that it's a hint of sweet and mostly pure decadence.
STRAWBERRIES. For obvious reasons.
Put them all together and you have a worthy offering for the most important meal of the day. And if that's not yet another reason to celebrate, I'm not sure what is.
You might be wondering what are these Domino® Honey Granules of which I speak – let me enlighten you! They are a free-flowing mix of honey and granulated pure cane sugar that allows you to add that luscious honey flavor to everyday foods while avoiding the sticky bottle mess that using liquid honey so frequently entails. The sweetness of Honey Granules is equal to about 1 1/2 times that of honey, so if you want to substitute them for honey in a recipe, just use the formula: 1 cup liquid honey = 1 cup Domino® Honey Granules + 1/4 additional recipe liquid.
Also, as an FYI, Domino® Honey Granules is sold where I live, but if they don't sell it in your area, look for C&H® Honey Granules, the sister brand of Domino®
Buttermilk Crepes with Honey Mascarpone Greek Yogurt Cream
Add a little decadence to your morning with these buttermilk crepes with honey mascarpone Greek yogurt cream.
Ingredients
For the crepes
1 cup all purpose flour
1 cup almond flour
4 large eggs
2 cups buttermilk
⅔ cup milk
¼ cup Domino® Honey Granules
For the cream
8 oz mascarpone
8 oz Greek yogurt
3 tbsp Domino® Honey Granules
2 tbsp heavy cream
strawberries, to garnish
Instructions
To make the crepe batter, in a large bowl, whisk together the flours. Make a well in the center and crack the eggs into it. Add the buttermilk and milk ½ cup at a time, whisking until well combined. Stir in the Domino honey granules. Let sit while you prepare the cream.
To make the mascarpone Greek yogurt cream, in a medium bowl whisk together the mascarpone, Greek yogurt, Domino® Honey Granules, and heavy cream. Set aside.
Lightly grease a large nonstick pan or a crepe pan and set over medium heat. Add ⅓ cup of batter to the pan and swirl to coat the pan. Cook for 2-3 minutes or until the edges of the crepes start to curl. Flip and cook the other side for 30-45 seconds. Remove from pan and repeat with remaining batter.
Serve crepes topped with honey mascarpone Greek yogurt cream and strawberry slices.
Notes
An Eats Well With Others Original
I was selected for this opportunity as a member of Clever Girls and the content and opinions expressed here are all my own.