Creamy baked polenta with herbs and scallions is topped with a layer of melted mozzarella and a roasted yam kale salad in this comfort food dish.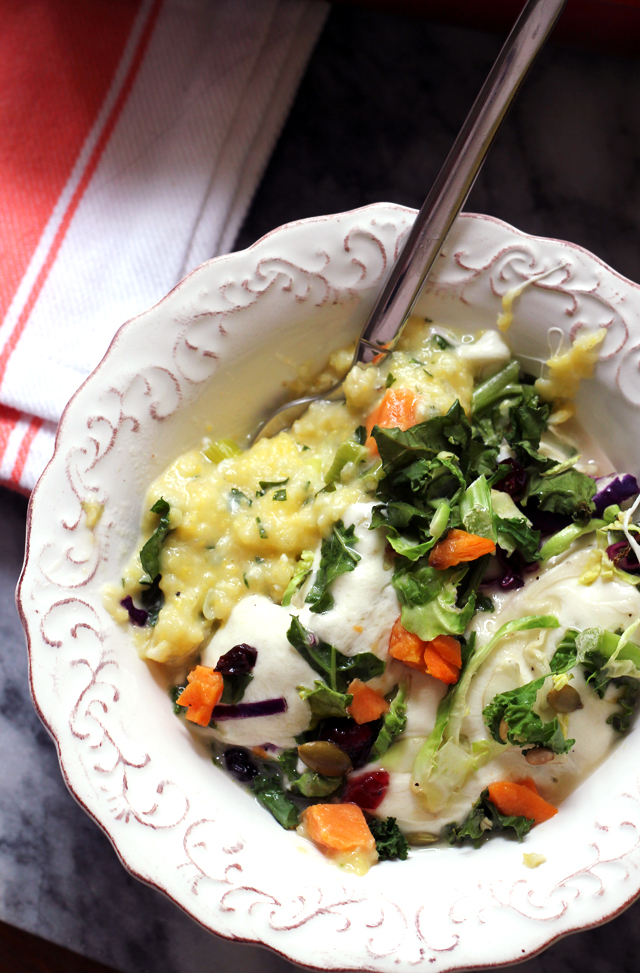 The phrases "semi-homemade" and "national nutrition month" don't often get to share the same airspace, but today.
That is ALL. CHANGED.
Those of us with full time jobs that leave us incapacitated on the couch every night out of sheer exhaustion – you understand my huge sigh of relief.
As much as I really really WANT to pack as much nutrition as possible into every meal of the day (especially since eating for two really means double the vitamins and nutrients, not double the calories), sometimes I just don't have the time. Or the energy.
There's so much chopping and prepping and mincing (and standing!) that's involved!!!
I just can't.
So when Eat Smart Salads offered to send me not one, not two, but SEVEN of their Eat Smart Gourmet Vegetable Salad Kits, I was like WHERE DO I SIGN. These chef-inspired salad kits offer sophisticated blends of five or more superfoods and include everything needed for a delicious salad, making them a convenient and delicious way to eat healthy every day. WIN.
Even though I could eat salad for all the meals all the time, I'm pretty sure the.boy would have a hissy fit if I tried to make us live on salad alone for days on end, so I had to get a little creative with some of the kits. Probably my favorite of all of my salad mash-up creations was this gloriously cozy polenta bake.
It's creamy, it's cheesy, and it's smothered in my favorite veggies. Need I say more?
It's also 99% hands off with the exception of a brief stir of the polenta with water and salt before it heads into the oven and a 5 minute stint at the stove to saute the scallions and herbs in a touch of butter and cream. Otherwise, it's really a "set it and forget it" kind of deal…with salad on top.
Nice.
I used the Eat Smart Roasted Yam Salad kit for this, which is a unique blend of EIGHT superfoods, including roasted yams, currants, cranberries, kale, red and green cabbage, and brussels sprouts. (So basically, all of my favorite things.) However, depending on the flavor profile you're going for, you could probably use most of the Eat Smart Gourmet Vegetable Salad Kit options and end up with quite a tasty meal.
Creamy Baked Polenta with Herbs, Scallions, and Roasted Yam Salad
Creamy baked polenta with herbs and scallions is topped with a layer of melted mozzarella and a roasted yam kale salad in this comfort food dish.
Ingredients
6 cups water
1½ cups polenta
2 tsp salt
2 tbsp butter
6 scallions, thinly sliced
¼ cup minced parsley
¼ cup heavy cream
1 lb mozzarella, thinly sliced
1 package Eat Smart Roasted Yam Salad
Instructions
Heat oven to 350F.
In a 9x13-inch glass or ceramic pan, whisk together the water, polenta, and salt. Bake uncovered for 40 minutes.
Meanwhile, melt the butter in a medium skillet. Stir in the scallions and parsley. Saute for 3-4 minutes, or until scallions are tender. Stir in the heavy cream. Season with salt and black pepper, to taste. Stir into the polenta and continue to bake for another 10 minutes.
Remove the polenta from the oven. Top with the mozzarella and the salad. Return to the oven and bake for another 5 minutes, or until the cheese is melted. Remove from the oven and let sit for 5-10 minutes to set. Top with the salad dressing before serving.
Nutrition Information
Serving size:
⅙th of recipe
Want to receive exclusive Eat Smart offers and stay in the loop about Eat Smart products? Make sure to
sign up for the e-blast
at the bottom of Eat Smart's website and
like them on Facebook
!
I was selected for this opportunity as a member of Clever Girls and the content and opinions expressed here are all my own.