Tofu, red onions, eggplant, and cherry tomatoes are smothered in a sweet and savory honey balsamic sauce and baked until caramelized in this vegetarian comfort dish.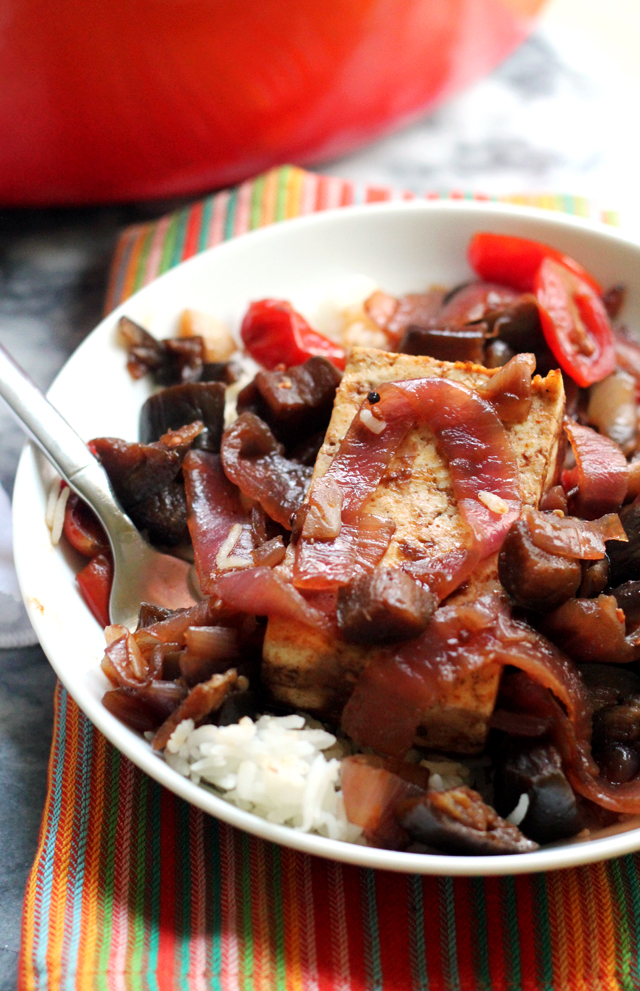 As a vegetarian, hosting a dinner party where the guest list includes non-vegetarians is always simultaneously terrifying and thrilling. On the one hand, it gives you the opportunity to show all those non-veg lovers how exciting and delicious vegetarian eating can truly be. (<–EXCITING).
On the other hand, YOU HAVE TO SHOW ALL THOSE NON-VEG LOVERS HOW EXCITING AND DELICIOUS VEGETARIAN EATING CAN TRULY BE. No pressure. (<–TERRIFYING)
With Easter coming in just a few weeks, I've already started flipping through my cookbooks to get ideas for what I might want to make, try to alleviate some of the impending stress, and get my creative juices flowing. One of my favorite ways to challenge myself in this respect is to find a meat-filled recipe and attempt to vegetarianize it. Sometimes it's a total flop and sometimes, as with this baked tofu with honey balsamic caramelized eggplant, it heads straight to the top of my favorite list.
This originally started off as a recipe for roasted chicken and while under most circumstances that would be enough for me not to give it a second look, when I saw the title for it, I just couldn't get the idea of a sweet and savory honey balsamic glaze as a coating for slabs of tofu out of my head. In order to turn my dinner fantasies into a reality, I tossed some red onions and tofu into a large oven-proof pot into the oven along with the sauce. They get cooked down for about a half hour until the onions start to become tender, the sauce starts to thicken, and the tofu soaks up all those juices and flavors. Then, I added some eggplant cubes and cherry tomatoes into the mix for another half hour of cooking. In that time, the eggplant becomes velvety smooth, the onions caramelize, and the tomatoes start to shrivel and intensify in flavor.
The finished dish is totally worthy of any spring celebration or dinner party, but it's also great as a weekend or weeknight meal. It does require a bit of time in the oven, but most of that is hands off and totally low effort, so don't let it scare you!
Baked Tofu with Honey Balsamic Caramelized Eggplant
Serves 4
Ingredients
1 lb Nasoya sprouted super firm tofu, pressed and cut into 4 slabs
2 tbsp unsalted butter
2 cups vegetable broth
1/2 cup balsamic vinegar
1/4 cup soy sauce
1/4 cup honey
6 garlic cloves, minced
1-inch ginger, peeled and minced
3 red onions, thinly sliced
1 lb Japanese eggplant, cut into 1-inch chunks
1 lb cherry tomatoes, halved
For the full recipe, head on over to Nasoya's website!