A pistachio roulade filled with raspberries and white chocolate whipped cream.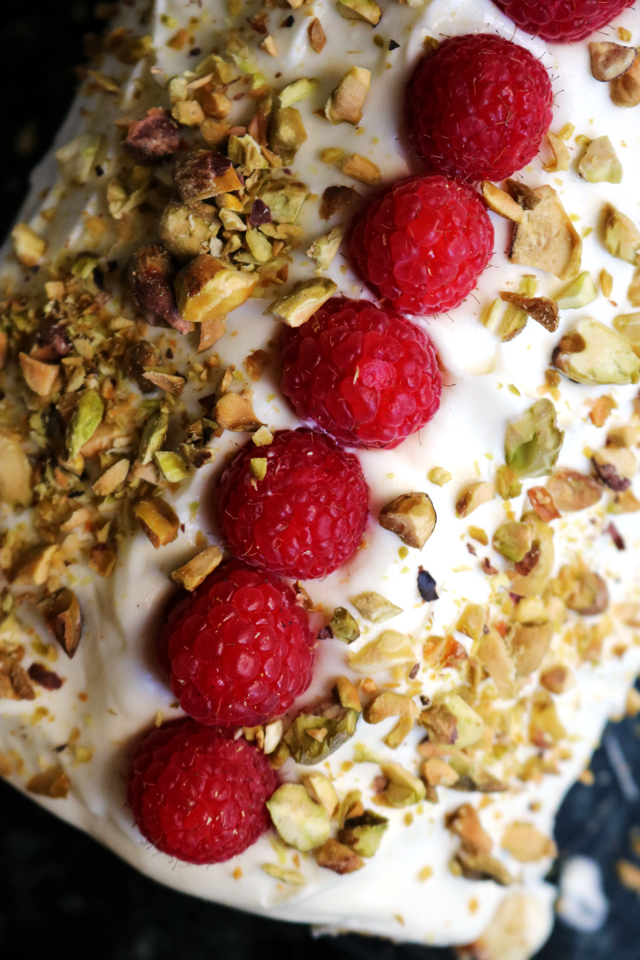 Fact: I would rather make 10 million roulades than start my month in the ICU today.
Not sure if that's a testament to how intense my disdain is for the ICU (27 hour shifts?!?!?! WHYYYYYYYYYY.) or how easy to make this roulade is. Maybe both.
Okay, definitely both.
But why dwell on the negative (also, because dwelling gives me migraines so really let's not)?!?! Let's talk ROULADES.
I have made these only a handful of times and have become increasingly frightened of doing so since watching The Great British Baking Show. Like, I really feel like Paul Hollywood is going to shame me for my roll not being as tight as it should be. To be totally honest, it wasn't (see above) and the world didn't end! I made this for Christmas and everyone thought it was pretty impressive in both the taste and the aesthetics department. I allotted the entire morning thinking it was going to be a real pain but it only took me an hour and a half. Considering I recently spent longer than that making lunch….not bad.
The roulade batter is made with homemade pistachio "flour" so it has that addictive sweet nutty flavor that makes pistachio desserts so lovely. It's rolled around a white chocolate whipped cream that has cream cheese at it's base so it is at once both sweet and tangy. The raspberries scattered throughout the roll serve to enhance that as well.
Serve it as a fancy schmancy dessert for a more formal get-together or just for yourself sitting on your couch in your pjs wallowing in your impending ICU sadness. Whichever way you go, it's all good.

Pistachio Roulade with Raspberries and White Chocolate
A pistachio roulade filled with raspberries and white chocolate whipped cream.
Ingredients
½ cup shelled pistachio kernels, plus 2 tbsp roughly chopped
4 large eggs, whites and yolks separated
⅔ cup sugar
2 tbsp hot water
⅔ cup self-rising flour
⅛ tsp salt
⅛ tsp almond extract
3 tbsp powdered sugar
2½ cups fresh raspberries
For the white chocolate cream
7 oz white chocolate callets or feves
5 tbsp unsalted butter, soft
10 oz cream cheese, room temperature
1 cup + 2 tbsp heavy cream
⅛ tsp almond extract
Instructions
Heat oven to 400F. Grease a 10x15-inch jelly roll pan and line with parchment paper.
Place ½ cup of the pistachios into a food processor and pulse until they are finely ground. Set aside.
Combine the egg yolks and the sugar in the bowl of a stand mixer fitted with the whisk attachment. Beat for 4 minutes, or until thick and creamy. Transfer to a large bowl and then slowly dribble in the water. Sprinkle the ground pistachios over the top and fold gently to combine, though note that it doesn't have to be completely mixed at this point.
Sift together the flour and salt and then sift again over the egg yolk mixture. Fold to combine.
Clean out your stand mixer bowl and then use it to beat the egg whites to soft peaks. Fold into the pistachio mixture, a third at a time, adding in the almond extract with the last addition.
Pour the batter into the prepared pan and spread it into an even layer. Place int he oven and bake for 15-18 minutes, or until the center springs back lightly when touched. Remove from the oven and let sit for 5 minutes.
Sift half of the powdered sugar over the top of the cake. Cover the cake with a clean kitchen towel, then flip it over onto a wire rack or a second baking sheet. Carefully peel away the parchment paper and sift the remaining powdered sugar over the top.
Roll the cake from one of the short ends so that the kitchen towel gets rolled inside of it. Allow to rest for 10 minutes still rolled - this will train the cake so that it won't be as likely to crack and break apart when rolling later. Unroll and allow to cool to room temperature.
For the white chocolate cream, melt the white chocolate over a double boiler or in the microwave. If using the microwave, heat it in 30 second intervals and make sure to stir it well after each one to prevent burning. Once melted, set aside to cool slightly.
Meanwhile, place the butter in the bowl of a stand mixer fitted with the paddle attachment. Beat for 30 seconds and then add in the cream cheese. Beat well to combine, then pour in the melted chocolate. Beat until smooth, then add in the heavy cream and almond extract. Beat on medium-high speed until the mixture is soft and fluffy but will hold a soft peak.
Spread two thirds of the white chocolate cream over the surface of the cake in an even layer, making sure to leave a ¾-inch border at the short end of the cake farthest from you. Place the cranberries on top, reserving 12 for the top of the cake. Roll up the cake as you did before, starting with the short end closest to you. Transfer to a serving platter and then frost with the remaining cream. Top with the reserved raspberries and the remaining chopped pistachios.