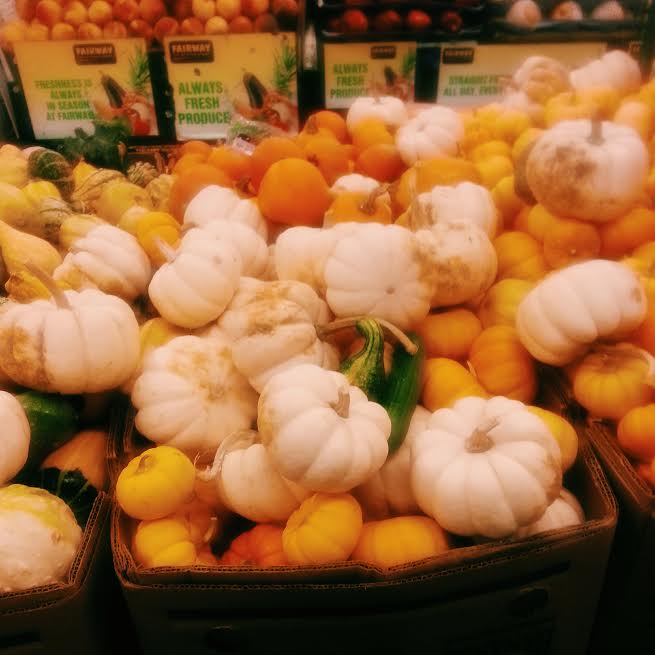 1. Decorative gourds have taken over my local supermarket. I am so okay with that.
2. Not that it's felt like fall here lately. I think we had one legit chilly day. Otherwise I've been sweating on my walk to work every morning and wearing tank tops on my weekly runs. Pleasant.
3. Speaking of fall, I really want to go pumpkin picking. And honeycrisp picking. And apple cider donut picking.
4. Okay, fine. Mostly apple cider donut picking.
5.  In case you're wondering, I made absolutely zero headway this weekend in picking a salon to do my hair and makeup for the wedding. Other than to convince the.boy that we absolutely must have the salon come to us and not the other way around. Because you guys said so. Therefore it it is true.
6. He responded by making me work on seating charts. AKA punishment.
7. Did I mention that I'm sick? I got my first cold of the season on Friday and it seemed like I was on the road to recovery by Saturday morning, but it is definitely lingering. I don't approve.
8. I think the cold might have something to do with it, but I have been finding it impossible to stay asleep at night. Basically I wake up around 2AM, wide awake, and ready to start my day. After going to bed at midnight. Not good.
9. I'm sure my 4pm coffee breaks are totally innocent in all of this.
10. But seriously. SEATING CHARTS. Why.