A lovely Keralan spring vegetable coconut curry that is full of gentle spice and bright, fresh flavors.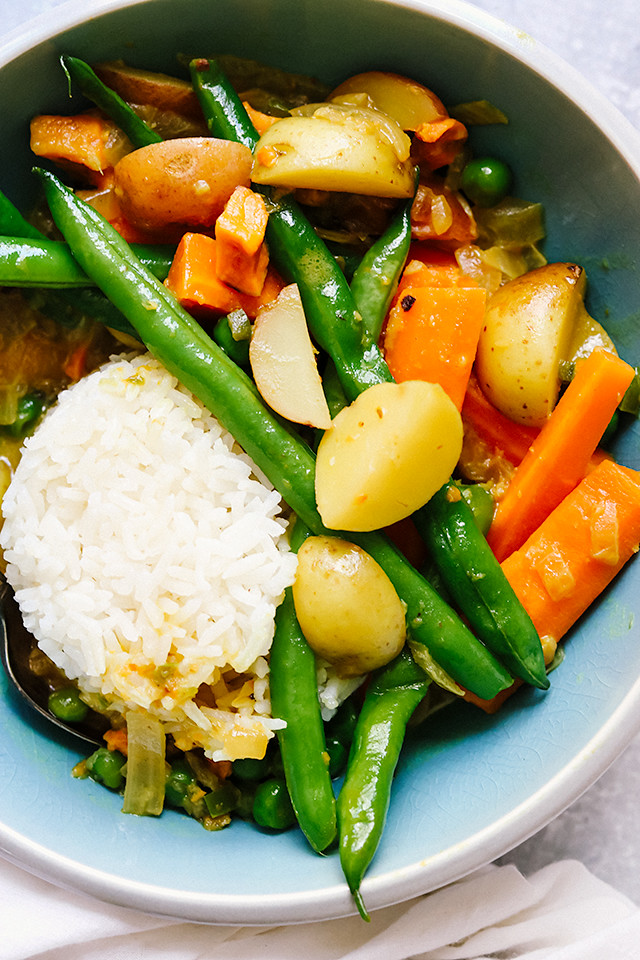 Are you guys still ordering takeout??
We've been getting it about once a week. You know, to support local small business and all that jazz.
But ooohhhhhh the production that comes with a takeout order is kind of hilarious. Basically we stand by the door assembly line style with the front line person washing all the packaging down with lysol wipes, the next person pouring all the food into our own bowls and transferring it to the table, and Remy trying to "help", which basically means touching things she shouldn't and then being forced to wash her hands every three minutes.
What a circus.
Honestly, I think we end up dirtying as many (if not more) dishes than we would have if I'd just cooked dinner.
Also….after doing SO MUCH cooking at home the past few weeks, I'm realizing that I just like my food better.
For instance, this past Friday we ordered Indian food from our favorite spot and Mike and I both agreed it was…okay? It's possible that they were just having a bad night and it was a one-off thing, and we'll probably still order from them again because this mama needs a break from the kitchen at least one meal a week.
Buuuuutttt, I'm convinced that we thought it was so meh because I've been cooking so much great Indian food at home. Mike would neither confirm nor deny these allegations, but I suspect that's more to do with the fact that he's scared that if he admits I'm right we'll stop ordering takeout and there goes his only opportunity to eat meat all week.
This Keralan spring vegetable coconut curry is one example of a meal I've made recently that is just so much better than any takeout you can order.
It is gently spiced with the warm flavors of cinnamon, cloves, and black peppercorns, and features a broth that is light and fresh but also creamy from the use of coconut milk. Full of fresh vegetables, it pretty much embodies what I imagine a spring curry to taste like.
This recipe hails from Kerala, a region in South India that is known for, among other things, its tea, coffee, and spice plantations. The food in Kerala, in contrast to other regions of India, relies heavily on the use of coconut milk and grated coconut and thus tends to be more gentle in terms of its heat.
It is made in one pot with vegetables being added layer by layer in order of how long it will take them to cook. This results in a very rich broth (and, let's be honest, the most important thing – EASY CLEANUP). Though I've used baby potatoes, carrots, green beans, and peas, you can feel free to use any vegetables that you have on hand. I suspect that sweet potatoes and asparagus would be particularly welcome additions or substitutions.
Keralan Spring Vegetable Coconut Curry
A love Keralan spring vegetable coconut curry that is full of gentle spice and bright, fresh flavors.
Ingredients
½ lb baby potatoes
½ lb carrots
1 lb green beans, trimmed
4 tbsp canola oil
4 cloves
1¾ inches cinnamon stick
12 black peppercorns
12 fresh curry leaves
1 large onion, diced
1½-inch piece of ginger, peeled and grated
3 garlic cloves, minced
1 jalapeno pepper, seeded and finely chopped
14 oz coconut milk
⅓ tsp turmeric
1 tsp salt
½ cup peas
Instructions
Quarter the baby potatoes. Peel the carrots and cut them into 2-inch batons. Set aside.
Heat 3 tbsp of the oil in a large pan over medium heat. Once hot, add the cloves, cinnamon stick, peppercorns, and curry leaves. Saute until the peppercorns and cloves start to swell up, then add in the onion. Saute for 8 minutes, or until soft. Add in the ginger, garlic, and jalapeno. Saute for 2-3 minutes, or until fragrant.
Add the coconut milk, ½ cup water, turmeric, salt, and potatoes to the pan. Bring the mixture to a boil, then reduce to a simmer. Cover and cook for 5 minutes. Add in the carrots and simmer, covered, for another 5 minutes. Once the vegetables are almost tender, add in the string beans and cook for another 3-4 minutes. Add in the peas and simmer until heated through.
Season to taste with salt. Serve with rice.