This Thai charred corn succotash salad is a fresh take on a summer classic. It features a sweet and sour lime dressing and is topped with the best crispy shallots.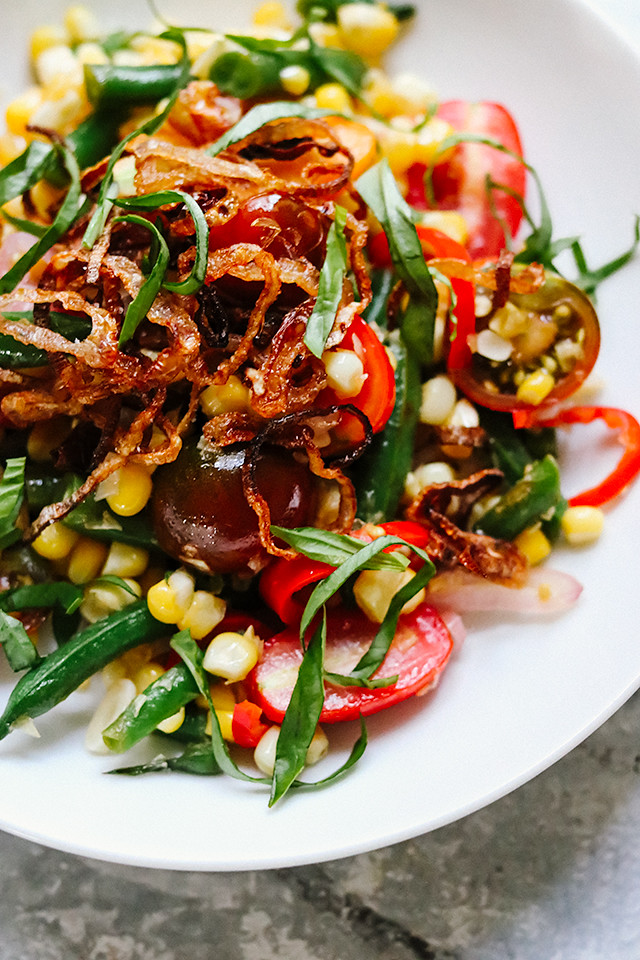 Sometimes the recipe chooses you.
I was flipping through my cookbooks during one of those increasingly rare moments when both Remy and my work pager were somehow occupying themselves and stumbled on this gem from The Smitten Kitchen Every Day cookbook. In the recipe header, Deb writes about how her travel dreams had to take a backseat after having kids, and so she instead relies on her cookbooks to fuel her travels around the world, at least gastronomically.
Can you even imagine something more relevant?
I feel seen.
Not that I was planning on going to Thailand any time in the near future, since not only is there a pandemic but there's also the matter of my 4 year old child and the fact that nothing sounds worse to me at the moment than having to occupy her on a plane for 18 hours.
So, yeah, travel through food it is!
This Thai corn succotash salad is not at all authentic to something you could eat in Thailand, but is instead inspired by the flavors found in classic Thai dishes such as the bright and fresh green papaya salad that you can find on pretty much any Thai menu. It is dressed in a simple lime and fish sauce vinaigrette that, yes, I know,  is not technically vegetarian (for those who don't eat fish sauce, there are vegan versions out there that combine soy sauce with shiitake mushrooms for that same hit of  pungent umami) and is topped with crispy fried shallots that would top all of my salads if I had my way. The bulk of the the salad is made of fairly typical summer produce, including sweet corn, green beans, and cherry tomatoes. Slices of Thai chili peppers are added for spice and a final garnish of thinly sliced basil (Thai basil, if you can find it) provides an extra pop of freshness.
Deb ruminates that it would be an excellent side to a simple grilled skirt steak or shrimp, but I can tell you from experience that you might find yourself eating so much of it that you don't need anything else.
Thai Charred Corn Succotash Salad with Crispy Shallots
This Thai charred corn succotash salad is a fresh take on a summer classic. It features a sweet and sour lime dressing and is topped with the best crispy shallots.
Ingredients
For the crispy shallots
2 large shallots, thinly sliced
vegetable oil
For the dressing
juice of 2 limes
2 tsp dark brown sugar
2 tbsp fish sauce
For the salad
1 cup green beans, sliced into 1-inch segments
4 ears corn, shucked
1 tbsp canola or other neutral oil
2 shallots, thinly sliced
2 garlic cloves, thinly sliced
1 fresh Thai chile, thinly sliced
kosher salt, to taste
1 cup cherry tomatoes, halved
1 tbsp thinly sliced basil
Instructions
For the crisp shallots
In a small skillet, heat ½-inch of oil over medium heat. Once the oil is hot, add the shallots to the skillet, breaking them into rings as you place them in. Cook until deeply golden, stirring occasionally, and then transfer them to a paper towel-lined plate. Sprinkle with salt. They will continue to darken after being removed from the skillet. Set aside.
For the dressing
Whisk together the lime juice, sugar, and fish sauce. Set aside.
For the salad
Bring a small pot of salted water to a boil. Add the green beans and cook until crisp tender, about 3 minutes. Drain and place them in a bowl with ice water to stop them from cooking more. Drain and pat dry. Set aside.
Char the corn on a hot grill or griddle pan, or over the flames from a gas stove, until the kernels are charred, turning frequently with tongs to make sure all of the sides are evenly cooked. Once cool, cut off the kernels with a large knife and set aside.
Heat the oil in a large skillet over medium heat. Add the shallots, garlic, and chile to the pan. Cook for 1 minute, or until fragrant and starting to soften. Add in the corn. Season to taste with salt and cook for 2-3 minutes to soften. Remove from the heat and stir in the green beans and tomatoes. Add half of the dressing to the skillet and toss to combine. Pour onto a serving plate. Top with the garnish and the crispy shallots just before serving. Serve with the remaining dressing on the side.