Crispy buttermilk waffles topped with browned honey butter, fruit, and lots of syrup! The perfect long weekend breakfast.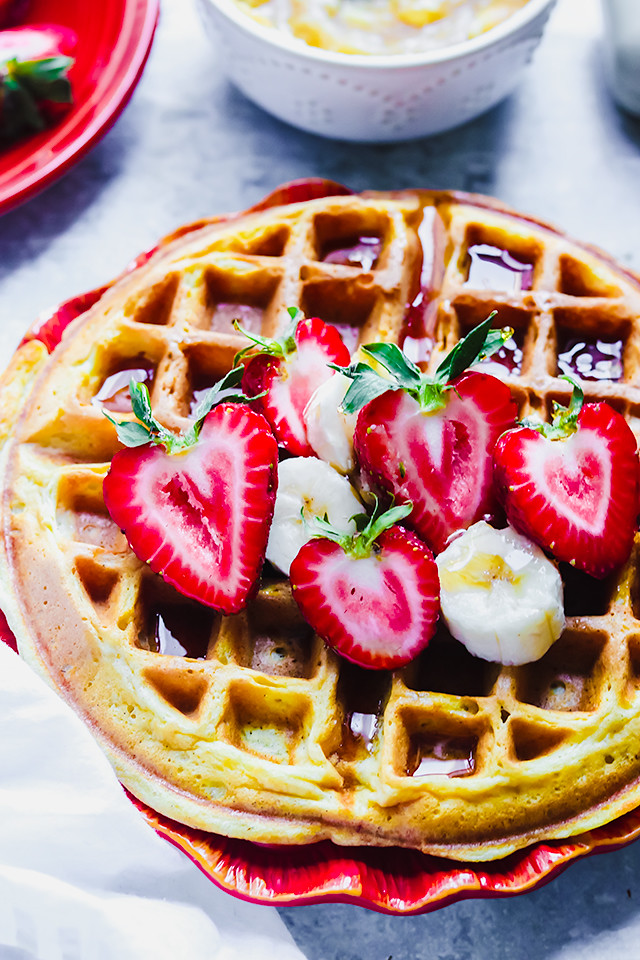 Probably the best thing to come out of quarantine – WE GOT A WAFFLE MAKER!!!
Finally.
It's amazing what being stuck in a five room apartment will drive you to (convince your husband to) do.
(I'm working on a Peloton next, hehe.)
If you look, you will find a whole slew of waffle recipes in the blog archives so YES we did used to have a waffle maker, like five years ago, but I ruined it. Probably by trying to make some kind of healthy, kale-infused waffles. Not joking.
It likely could have been saved, if only it wasn't IMPOSSIBLE to clean. If you've ever had the misfortune of excess waffle stickage to your machine, then you know what I'm talking about. SO MANY CREVICES, and it's impossible to get a good angle for scrubbing. Ugh, not worth it, which is why we tossed it.
So what made us give waffle machine ownership another go?? I blame Deb. She posted a waffle recipe (I think on Bon Appetit?) and mentioned that she had a waffle maker with REMOVABLE plates that you can just pop out and into the sink for easy cleaning.
Total game changer.
So the first thing I did on Mother's Day weekend (which is when it *finally* arrived) was to find a super basic waffle recipe and get to it.
This is from The Half Baked Harvest Cookbook and the waffle recipe is really as classic as you can get – crispy on the outside, fluffy on the inside buttermilk waffles. Does a weekend breakfast get any better?
Uhhhh, it does when you top it with browned honey butter. Yup, we went there and it was glorious!!
Highly recommended for all of your waffle/pancake/biscuit/English muffin/bagel/spoon-it-straight-from-the-bowl(-no-judgment) needs.
Buttermilk Waffles with Browned Honey Butter
Crispy buttermilk waffles topped with browned honey butter, fruit, and lots of syrup! The perfect long weekend breakfast.
Ingredients
For the browned honey butter
6 tbsp salted butter, room temperature
¼ cup honey
For the waffles
3 large eggs, separated
2 cups buttermilk
6 tbsp unsalted butter, melted
1 tbsp vanilla extract
2 cups all purpose flour
2 tsp baking powder
1 tsp baking soda
½ tsp kosher salt
fruit, for serving
Instructions
For the browned honey butter
Melt 4 tbsp of the butter in a small saucepan over medium heat. Cook the butter until it starts to brown and turns a light amber color. Remove from the heat and pour into a small bowl. Add the honey to the bowl and stir to combine. Place in the refrigerator and chill for 10-15 minutes. Stir in the remaining 2 tbsp butter.
For the waffles
Preheat waffle iron according to manufacturer's instructions.
In a large bowl, whip the egg whites to stiff peaks. Set aside.
In a medium bowl, whisk together the egg yolks, buttermilk, melted butter, and vanilla. Fold in the flour, baking powder, baking soda and salt until just combined. Add a scoop of the whipped egg whites to the batter to lighten it. Add the remaining whites to the batter and then fold them in gently until there are no more white streaks to be seen.
Cook the waffles in your waffle iron according to the manufacturer's instructions. Serve with the browned honey butter and fruit.