This fresh herb and summer vegetable tian is a hearty side dish that really allows its simple ingredients to shine.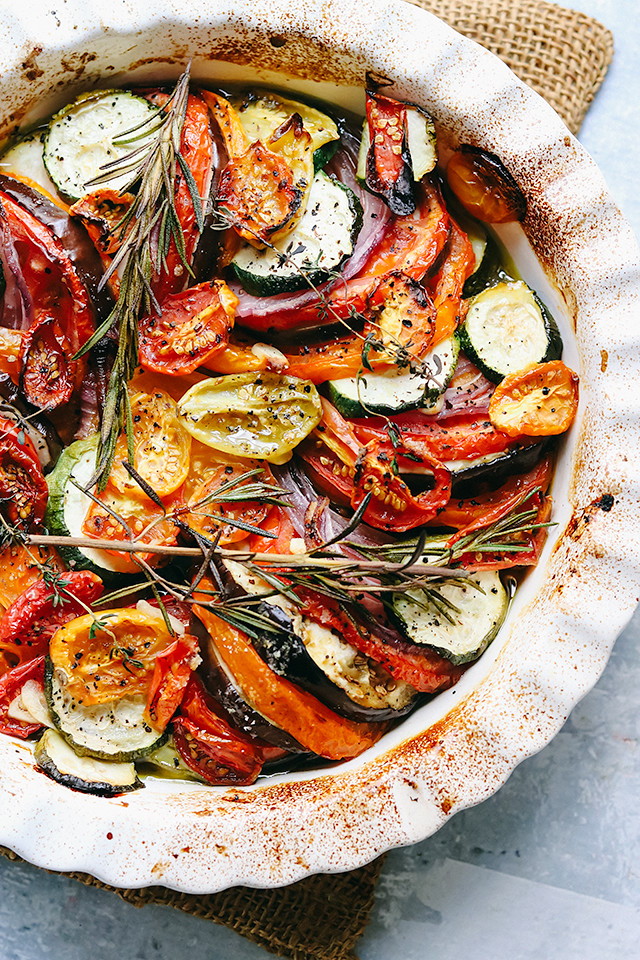 I could say this is NOT YO' MOMMA'S recipe for a summer vegetable tian.
But, it is. It probably is.
Call it a gratin or a bake or a casserole. Call it Mediterranean or Provencal or Tuscan.
Whatever you call it, there's only one (maybe two) ways to arrange summer vegetables in a pan in concentric circles, smother them in olive oil and fresh herbs, then roast them until they are fall apart tender and basically melt in your mouth good.
But here we are!
Consider this a recipe without a recipe. (I mean, there IS a recipe but it's not like you really need one.)
Take whatever summer vegetables you have on hand – I used a mix of zucchini, eggplant, red onion, and tomatoes (both heirlooms and cherry). Feel free to add less of one and/or more of another. Thinly slice them so that they are approximately the same dimensions as each other. This will make sure they cook evenly and will overall just make the dish more beautiful. Aesthetic is everything.
Next, grab your baking vessel (I used a pie pan, but you can use a casserole dish of any sort. Ceramic or nonstick is best because this is going to roast for a looooonnnnggg time.). Grease the bottoms and sides of the pan with some olive oil and then layer on your fresh herbs. Top with your vegetables in whatever artistic (or hot mess, see above) pattern you choose. Then add more herbs, a glut of olive oil, and, most importantly, SEASON SEASON SEASON. These need generous amounts of salt and black pepper to bring out their natural flavors. Just do it.
Now throw it in the oven and roast for FOREVER. It will make your house smell glorious, so relish in your DIY potpourri situation. At the end of the bake, the vegetables should almost melt in your mouth. Serve with large hunks of bread for soaking up their juices.
Fresh Herb and Summer Vegetable Tian
This fresh herb and summer vegetable tian is a hearty side dish that really allows its simple ingredients to shine.
Ingredients
5-9 tbsp extra virgin olive oil
3 garlic cloves, thinly sliced
10 sprigs fresh herbs (I used a mix of rosemary and thyme)
kosher salt and freshly ground black pepper
1½ lb tomatoes
½ lb zucchini, scrubbed and trimmed
¼ lb eggplant, washed and trimmed
¼ lb red onion
Instructions
Heat oven to 400F. Grease a 9-inch pie plate with 2 tbsp olive oil. Scatter half the garlic and half the herbs over the bottom of the pan. Season with salt and black pepper.
Slice the vegetables about ¼-inch thick. Arrange them in the prepared baking dish, overlapping the circles as tightly as possible. The eggplants do especially well if they are placed in-between the tomato slices. Season with salt and black pepper. Tuck in the remaining garlic slices. Top with the remaining herbs and drizzle over the remaining olive oil.
Bake for 70-90 minutes, or until the vegetables are melt-in-your-mouth tender and the juices are bubbling. Serve warm or at room temperature with bread to sop up the juices.