Vegetarian salsa verde bean and cheese enchiladas made with an easy and fresh homemade tomatillo salsa and lots of cheese both inside and on top of the enchiladas.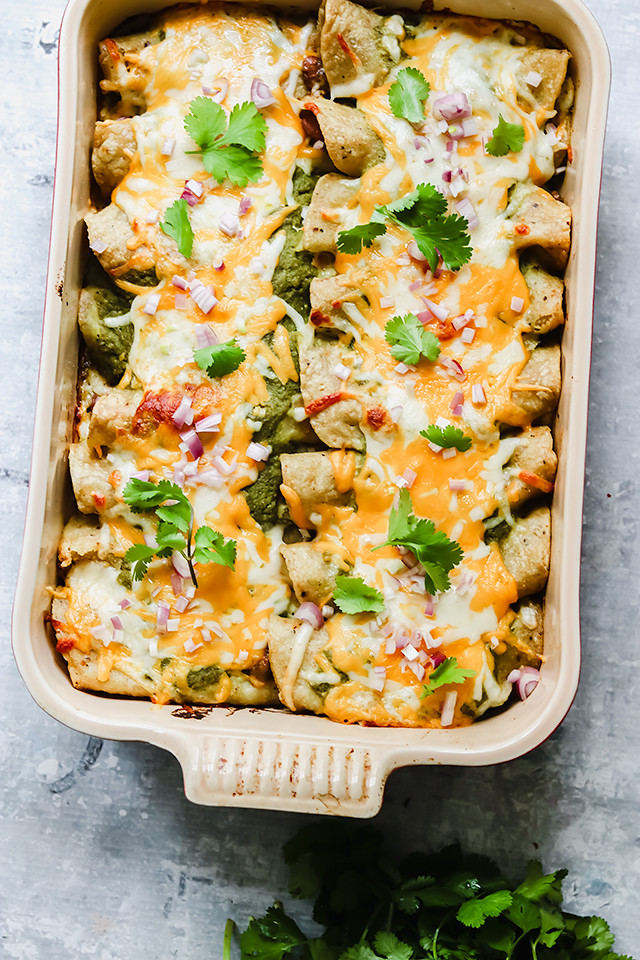 You know me, just giving us an excuse to drink margaritas on a Wednesday.
I'm allllllllllllllllllllllllllllllllll about that life. And apparently so is everyone else in NYC because I can't tell you how many restaurants in a ten block radius of our apartment are doing curbside marg takeout starting from about noon every day. They set up these little bars in their storefronts that face out to the street so people can just stop by for a little socially distanced midday tequila shot.
I've yet to partake in this quarantine street drinking situation partly because I almost always have a toddler in tow, but also because these places tend to draw in congregations of semi-masked individuals standing too close together for my comfort with an abundance of respiratory droplets intermingling between them.
The only intermingling I want to be doing right now is with my drank on my sofa, so it's really just not for me.
Good thing I've been sure to keep us stocked on quarantine essentials (tequila, limes, enchilada fixins') so we can do our own little margarita night on a weekly (*cough* daily) basis.
Enchiladas are one of my favorite tex-mex meals to make because they are beloved by all the members of my family and there are infinite options for filling and saucing them that can adapt based on what you have on hand. This means that as long as I have tortillas and cheese in my pantry, I can make enchiladas pretty much any night of the week.
These vegetarian salsa verde enchiladas are filled with a simple bean and cheese mixture, then topped with an easy homemade salsa verde enchilada sauce! The sauce does require a few specialty ingredients (tomatillos, I'm looking at you) but it comes together in less than ten minutes, most of which is completely hands off as the components broil away in the oven. The resulting sauce is super flavorful and the perfect combination of tangy and spicy. The jarred versions really don't hold a candle to it, but feel free to use them if you're in a pinch.
Pre-enchilada shaping, I usually warm my tortillas (a necessary step to make them more pliable so that they don't break as you roll them) by heating them in the microwave but for these I took the more traditional route of frying them in a bit of oil. It was actually way easier (and less greasy) than I had imagined and definitely made a big difference in how soft and easy the tortillas were to work with. When you heat them in the microwave, they're always either too hot or too cold, rarely achieving that perfect middle ground of "warm enough to roll, but not to scald your fingertips". The frying method, on the other hand, traps the heat more efficiently so that you can hold onto that warm and pliable stage for longer.
After stuffing and rolling all of your tortillas, top them with a glut of cheese and lots of that glorious sauce you made. Make a margarita while they bake and you have one wonderful Wednesday (or any day!) ahead of you.
Vegetarian Salsa Verde Bean and Cheese Enchiladas
Vegetarian salsa verde bean and cheese enchiladas made with an easy and fresh homemade tomatillo salsa and lots of cheese both inside and on top of the enchiladas.
Ingredients
For the tomatillo salsa
14 oz tomatillos, husked and rinsed
2 serrano chile peppers
1 large shallot
3 garlic cloves
salt, to taste
½ bunch cilantro
For the enchiladas
1½ cups crumbled queso fresco
3 cups cooked pinto or cranberry beans, or ½ recipe borracho beans
3 tbsp minced onion
2 tbsp minced cilantro
grapeseed oil, for dipping the tortillas
16 corn tortillas
½ cup grated cheddar cheese
½ cup grated Monterey Jack cheese
Instructions
For the tomatillo salsa
Heat the broiler over high heat.
Place the tomatillos, peppers, shallot, and garlic on a foil-lined baking sheet. Sprinkle with a pinch of salt. Broil until the vegetables are charred and softened, about 3-5 minutes, flipping halfway through to make sure both sides brown evenly. Remove from the oven and allow to cool slightly.
Place the broiled vegetables in a blender along with the cilantro and ½ tsp salt. Process until pureed. Season to taste with salt.
For the enchiladas
Heat oven to 350F.
Spread ¼ cup of the tomatillo salsa over the bottom of a 9x13-inch baking dish. Set aside.
In a medium bowl, mix together the queso fresco, beans, onion, and cilantro. Season to taste with salt and black pepper. Set aside.
Pour the oil into a small skillet so that it covers the bottom and comes up the side by about ½ inch. Heat over medium heat until hot. Using tongs, add the tortillas to the oil, two at a time, until softened, about 5 seconds per side. Transfer to a paper towel-lined plate as soon as they come out of the oil. Repeat with the remaining tortillas.
In a small bowl, toss together the cheddar and Monterey Jack cheese. Set aside.
Fill each of your warmed tortillas with about 2 tbsp of the bean and cheese mixture, then tightly roll it around the filling and place seam-side down in your baking pan. Repeat until all of the enchiladas are rolled and the filling has been used up.
Spoon the rest of the tomatillo sauce over the enchiladas. Top with the cheddar and Monterey Jack cheese mixture. Bake until the cheese is melted, about 15-20 minutes. Increase the oven temperature to 400F and bake for an additional 5 minutes for the cheese to brown and get crispy. Let rest for 5 minutes before serving.