A fresh and delicious summer gratin filled with layers of eggplant, tomatoes, chard, and mozzarella.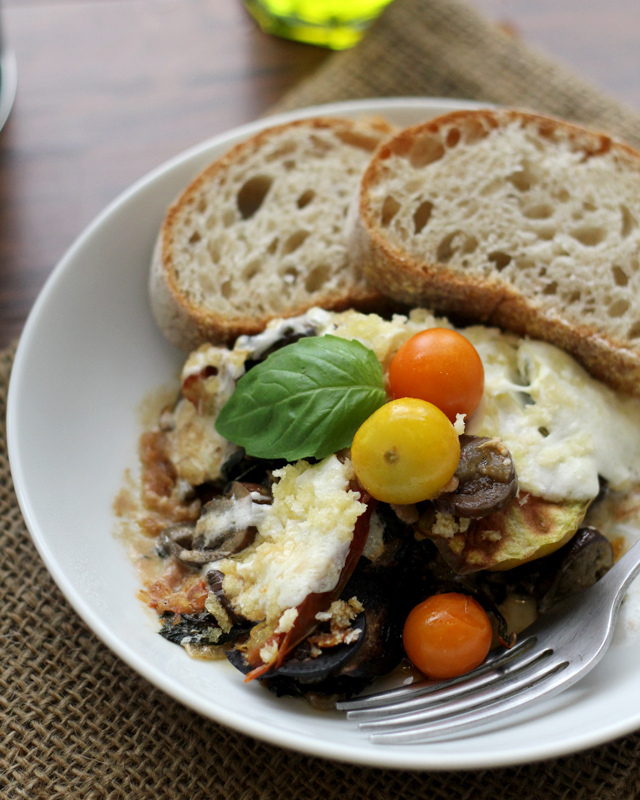 One weekend.
Two weddings
Four states.
And now I might have Get Lucky stuck in my head for the rest of eternity.
If you haven't heard it, it goes something like "we're up all night to get lucky". Over and over.
I won't even tell you the ideas that put into the.boy's head.
So while I've really loved getting to wear heels two nights in a row along with form-fitting dresses that require major stomach sucking in…and not quite as much eating as I'm inclined to do…
(I mean, don't get me wrong, the weddings were beautiful and so much fun! And all that jazz.)
I am definitely looking forward to wearing jeans again.
And returning home to a fridge full of vegetables.
There's only so much wedding cake a girl can inhale, after all.
I made this gratin the Friday before all this insanity went down and it was just what we needed to prepare us for this weekend of indulgence. Filled with summer vegetable after summer vegetable and a good honest layer of mozzarella, this gratin will hit the spot whether you're about to embark on a #weddingroadtrip or are just trying to get a handle on your Monday.
One year ago…Chocolate Cupcakes with Basil Buttercream Frosting
Two years ago…Peaches and Dream Pie, Tupelo Honey Coleslaw with Sweet Potatoes and Sunflower Seeds
Three years ago…Sultan's Delight
Four years ago…Pistachio Pesto Pasta with Butternut Squash, Peach Blueberry Pie
Gratin with Tomatoes, Eggplant and Chard
A fresh and delicious summer gratin filled with layers of eggplant, tomatoes, chard, and mozzarella.
Ingredients
1½ lb eggplant (I used fairytale eggplants)
sea salt
2 tbsp olive oil, plus more for eggplant
1 small finely diced onion
1 lb chard leaves, chopped
freshly ground black pepper
several large basil leaves, torn
2 medium heirloom tomatoes, sliced ¼ inch thick
4 oz fresh mozzarella cheese, sliced
handful of cherry tomatoes
1 cup fresh bread crumbs
Instructions
Slice the eggplants into rounds that are about ½-inch thick. If the eggplant isn't super fresh, salt the slices and let stand for 30 minutes to remove bitterness. Blot dry with paper towels.
Heat a large nonstick skillet over medium-high heat. Toss eggplant slices with olive oil. When the pan is hot, add the slices and cook for about 6 minutes or until a bit charred. Turn the slices over and cook on the second side for another 6 minutes. Remove from skillet and set aside.
Heat 1 tbsp olive oil in a wide skillet over medium heat. Add the onion and cook for 3 minutes, stirring occasionally. Add the chard and a bit of salt. Cover and cook until the chard is wilted, about 3-4 minutes.
Heat the oven to 350.
Cover a gratin dish with half the eggplant slices. Season with salt and pepper. Add the basil and half the tomato slices. Top with half the mozzarella. Scatter the chard over the cheese. Layer the remaining eggplant, tomato slices and cheese. Scatter the cherry tomatoes on top.
Toss the breadcrumbs with the remaining tbsp of olive oil. Sprinkle over the top of the gratin. Bake until bubbly, about 35 minutes. Let set for 10 minutes before serving.
Nutrition Information
Serving size:
¼ of recipe