Tacos are stuffed full of spicy cheesy corn, tangy zucchini-radish slaw, and topped with a fried egg and avocado. Perfect for breakfast, lunch, or dinner.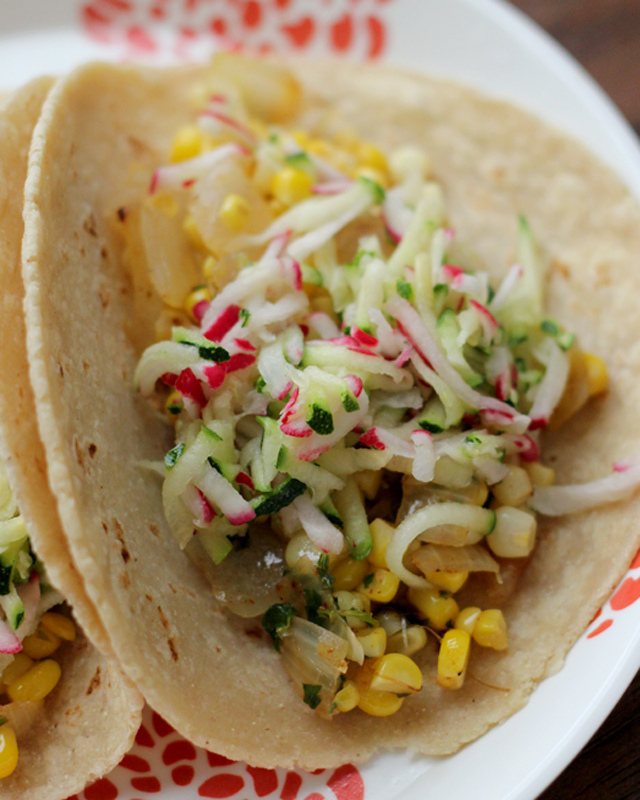 I received free samples of California Avocado mentioned in this post. By posting this recipe I am entering a recipe contest sponsored by California Avocado and am eligible to win prizes associated with the contest. I was not compensated for my time.
My name is Joanne and I am an avocadoholic.
That's the only possible explanation for how I've managed to both swear off avocados and then dive right back into them, headfirst, within a span of nine days.
But when you're at a wedding at The Four Seasons (!!) and a waiter is trying to hand you an appetizer with just a smidge of avocado on it, you can't really say no. Can you?
And then because that seemed to go down okay, you feel utterly compelled to order the huevos rancheros at breakfast the next day. I mean, you really have to. Fried plantains. 'Nuff said.
And then, once you've spiraled down that rabbit hole, you think well…I might as well put them in tacos. Because how can I not.
You understand, right?
So. Was it worth the minor bout with stomach pain, you might ask?
I mean…just look at these. Do you really need to ask?
These are the perfect storm of taco ingredients and flavors…sweet corn, a tangy crunchy zucchini-radish slaw, a good salty hard cheese, buttery avocado, and some gloriously runny egg yolk.
I may or may not have eaten them for two meals yesterday. With black beans substituted for the eggs the second time because I felt like eating four eggs in one day was kind of excessive.  They were fairly glorious either way.
This is my submission for this month's Recipe Redux sponsored recipe contest with California Avocados!
To see what sort of avocadoliciousness everyone else cooked up, check out these links:
One year ago...Summer Rolls with Peanut Sauce, Cranberry Beans with Artichokes, Zucchini and Pasta
Three years ago...Slash-and-Burn Flounder with Barley Succotash Salad
Four years ago...Red Curry Roasted Salmon with a Pepper and Snow Pea Salad on Buttered Lime Rice
Tacos with Corn, Zucchini-Radish Slaw and Avocado
Tacos are stuffed full of spicy cheesy corn, tangy zucchini-radish slaw, and topped with a fried egg and avocado. Perfect for breakfast, lunch, or dinner.
Ingredients
8 oz red radishes, trimmed
1 zucchini
1 lime
salt
5 ears corn, husks removed
1 tbsp olive oil
1 onion, finely chopped
2 cloves garlic, minced
3 tbsp chopped cilantro
4 oz ricotta salata, crumbled
¼ tsp chili powder
8 soft corn tortillas
8 eggs
1 avocado
Instructions
Grate radishes and zucchini using a handheld grater or food processor attachment. Alternatively, you can cut them into tiny matchsticks using a mandoline or cut them by hand.
Squeeze the juice of half a lime over the radish-zucchini mix and season with salt to taste. Set aside.
Remove the corn kernels from the stalk and reserve. In a large nonstick skillet heat the olive oil. Add in the onion and cook until translucent, about 5 minutes. Stir in the garlic and cook until fragrant, about 30 seconds. Add in the corn and cilantro and saute until heated through, about 2 minutes. Remove from the heat and stir in the ricotta salata, chili powder, and juice from half a lime. Season to taste with salt and pepper.
Heat the tortillas. Prepare eggs as desired (I went with sunny side up). Top each warm tortilla with the corn-cilantro filling, zucchini-radish slaw, an egg, and avocado slices. Serve 2 tacos per person.