Easy vegetarian quesadillas filled with a spicy black bean paste and refreshing tomato avocado salsa.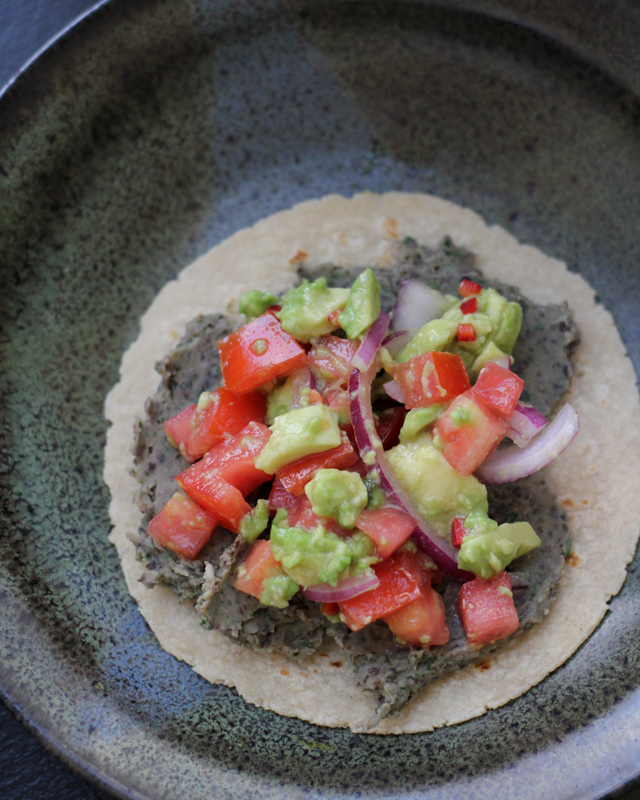 Consider these the avocados that broke the camel's back.
For a little over a year now, I've been flirting with the idea that I have an avocado allergy. It started, as most of these things do, sporadically, with a little cramping stomach pain here and there but now we've progressed to full-fledged nausea and hot flashes.
I might as well be pregnant and menopausal. Simultaneously.
To be honest, I would be happy to go on eating them (in the privacy of my own home) and then lying in bed for the rest of the afternoon in crippling pain. (Yes, my love for them is inordinately enduring.)
But The.Boy is really forcing my hand on this whole giving them up thing. Apparently he doesn't like listening to me moan and groan and complain for hours on end. Weird.
So you can just consider these to be their swan song.
And what a delicious one it was.
To be honest, I was a little dubious when I saw that Ottolenghi had a recipe for quesadillas in Plenty. I mean…what does an Israeli-born chef know about good authentic Mexican fare?
Apparently, enough to get by because these quesadillas were damn good. Stuffed with a subtly spiced black bean paste and a fresh-flavored (and so EASY!) salsa, these are both tasty and refreshing, not to mention super quick to throw together, making them the perfect weeknight meal.
If not for my avocado intolerance, I'd be making them over and over for weeks for to come. As it is, I might just push back the elimination for a week or so…just so I can have a chance to get these in my life one more time.
These are my submission to this week's I Heart Cooking Club!
One year ago…Zucchini Cream Cheese Pound Cake
Two years ago…Pineapple Ginger Granola Bars, White Gazpacho, Whole Grain Popovers
Three years ago…Turkey Burgers Filled with Brie and Granny Smith Apples on Homemade Pretzel Rolls

Four years ago…Shredded Piquant Pork and Red Bean Paste Noodles
Black Bean and Salsa Quesadillas
Easy vegetarian quesadillas filled with a spicy black bean paste and refreshing tomato avocado salsa.
Ingredients
Black Bean Paste
1½ cups cooked black beans
1 tsp ground coriander
½ tsp ground cumin
¼ tsp cayenne pepper
1 bunch cilantro, leaves and stalks, chopped
juice of 1 lime
¼ tsp salt
Salsa
1 small red onion, thinly sliced
1 tbsp white wine vinegar
5 medium tomatoes, seeded and diced
1 red fresno chile, finely diced
salt, to taste
1 ripe medium avocados, diced
8 small corn tortillas
4½ oz sharp Cheddar cheese, grated
pickled jalapenos, to taste
Instructions
To make the black bean taste, put the beans, coriander, cumin, cayenne, cilantro, lime and salt in a food processor. Pulse until a rough paste has formed, adding a tbsp or so of water, as necessary to keep it running smoothly.
For the salsa, toss the red onion slices with the vinegar and let soak for a few minutes. Add the tomatoes, chile pepper, cilantro, salt, and avocados. Stir well.
Heat a nonstick skillet over medium high heat.
Spread one of the tortillas with 2 tbsp of the bean paste, leaving ¾ inch clear around the edge. Spread salsa, cheddar, and jalapenos over the bean paste. Top with a second tortilla.
To cook, toast the quesadillas on the nonstick skillet for a minute or so, until browned on one side. Flip and cook for another minute. Serve with remaining salsa.
Nutrition Information
Serving size:
1 quesadilla