Mujaddara is a richly spiced Middle Eastern comfort food filled with rice, lentils, and caramelized fried onions. It is the perfect filling in these Middle Eastern mujaddara burritos, along with zucchini baba ghanoush!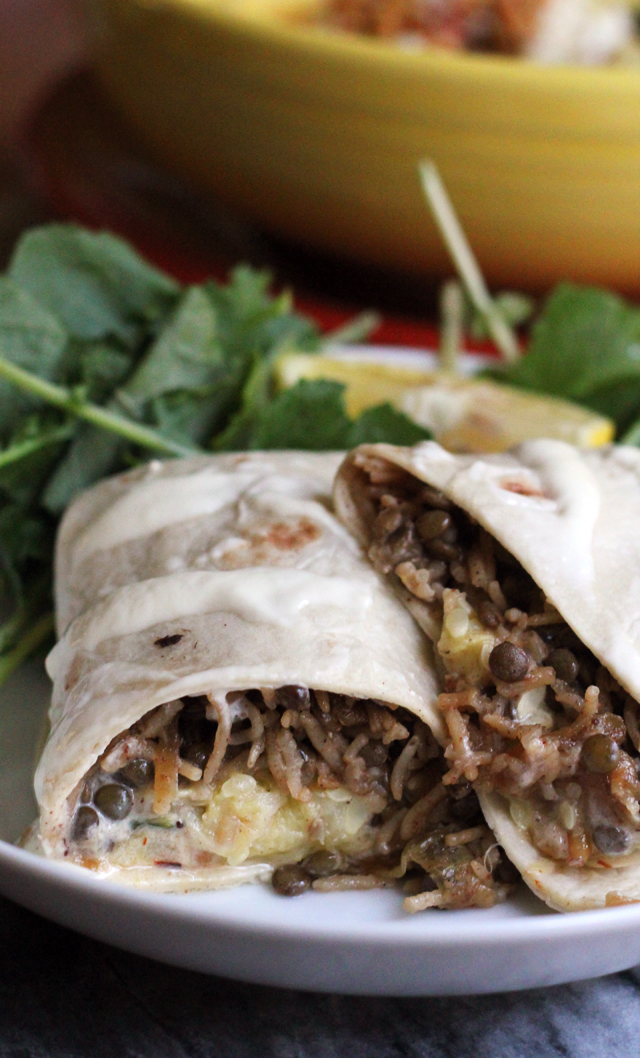 Here's the deal.
I have absolutely no scruples when it comes to burritos.
I really think it comes from growing up in NYC where, I hate to say it, Mexican food? SUUUXXXXX.
With an x.
No, really. That's how bad it is.
As a result, I have very little Real Life Best Authentic Mexican Food Experience…which basically means I have no standards when it comes to all things south of the border. I mean, obviously I know that Taco Bell is one of the most disturbing things on earth, but I'm also fairly convinced that Chipotle is The Real Deal.
All of you in Arizona or SoCal are gagging at the thought of this right now. I accept that. It is what it is.
The silver lining to all of this is that I am pretty much an open book with what I will and won't shove into an oversized tortilla. If it even somewhat resembles rice and beans…I will do it.
Cultural norms be damned.
Given how enamored I am with all things Middle Eastern (really, I could live off of hummus and falafel if anyone would let me), it was really only a matter of time before this particular fusion burrito happened. I'm mostly just shocked that it didn't happen sooner. Making mujaddara, a Lebanese version of rice and beans that involves mixing fried caramelized onions with richly spiced basmati rice and lentils, has always been on my cooking bucket list, but it wasn't until I found myself with a HUGE Dutch oven full of it (seriously, enough to feed a small army) and a bag full of burrito shells in my fridge that I had the DOH moment that led me to these.
It was worth the wait.
I realize that not everyone will have as fluid a definition of "burrito filling" as I do and so may not want to stray so far from tradition, but either way, you should still make the filling and eat it topped with the zucchini baba ghanoush from last week or some kind of tahini/garlic/yogurt sauce. It is comfort food to the nth degree, but the kind that doesn't make you feel like a ton of bricks smacked you in the face after you eat it.
I more than kind of love that.
Middle Eastern Mujaddara Burritos
Mujaddara is a richly spiced Middle Eastern comfort food filled with rice, lentils, and caramelized fried onions. It is the perfect filling in these Middle Eastern mujaddara burritos, along with zucchini baba ghanoush!
Ingredients
2 lb onions, halved and sliced ¼-inch thick
salt and black pepper, to taste
1 cup vegetable oil
1¼ cups green or brown lentils, rinsed
1¼ cups basmati rice
3 garlic cloves, minced
1 tsp ground coriander
1 tsp ground cumin
½ tsp ground cinnamon
⅛ tsp cayenne pepper
1 tsp sugar
3 tbsp minced fresh cilantro
8 tortillas
1 recipe Zucchini Baba Ghanoush
Instructions
Toss the onions with 2 tsp salt in a bowl and microwave for 5 minutes. Rinse, drain, and pat dry with paper towels. Cook the onions and the oil in a Dutch oven over high heat, stirring often, until golden brown, 25-30 minutes. Drain the onions in a colander set in a large bowl, reserving 3 tbsp of the leftover oil. Transfer the onions to a paper towel-lined baking sheet to drain. Do not wash the pot.
Meanwhile, bring the lentils, 4 cups water, and 1 tsp salt to a boil in a medium saucepan over high heat. Reduce heat to low and simmer, covered, until lentils are tender, 15-17 minutes. Drain and set aside.
While the onions and lentils cook, place the rice in a medium bowl and cover with hot tap water by 2 inches. Let stand for 15 minutes. Carefully pour off as much water as possible, leaving the rice in the bowl. Add cold water to the rice and pour it off again. Repeat 4-5 times. Drain rice in a fine-mesh strainer.
Heat 3 tbsp of the reserved oil, garlic, coriander, cumin, cinnamon, ¼ tsp black pepper, and cayenne pepper in the Dutch oven over medium heat until fragrant, about 2 minutes. Stir in the rice and cook, stirring occasionally, until it starts to turn translucent, about 3 minutes. Stir in 2¼ cups water, sugar, and 1 tsp salt. Bring to a boil. Stir in the lentils and reduce heat to low. Cover and cook until all of the liquid is absorbed, about 12 minutes.
Remove the pot from the heat and let sit for 10 minutes. Fluff with a fork and stir in the cilantro and the onions.
Heat the tortillas according to package directions. Mound the lentil and rice mixture and the zucchini baba ghanoush across the center of the tortillas, close to the bottom edge. Fold the sides of the tortilla over the filling, then fold up the bottom of the tortilla. Continue to roll tightly into a burrito. Serve warm.
Notes
Filling recipe from
The Complete Vegetarian Cookbook
 Burritos!!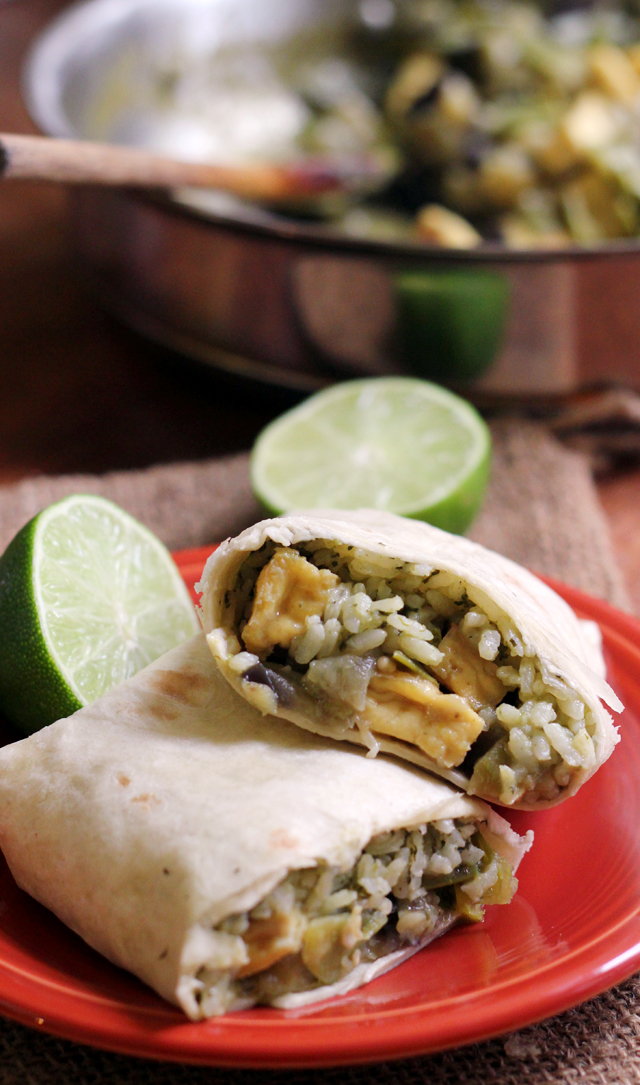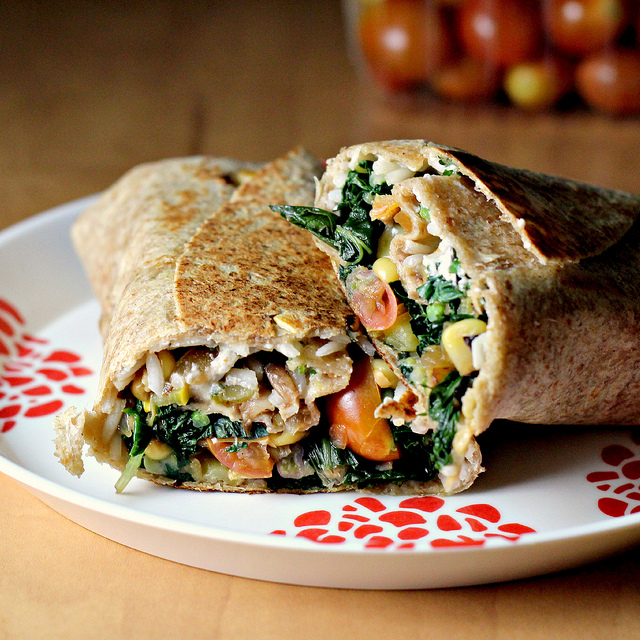 Vegetable and Rice Burritos with Quesadilla Cheese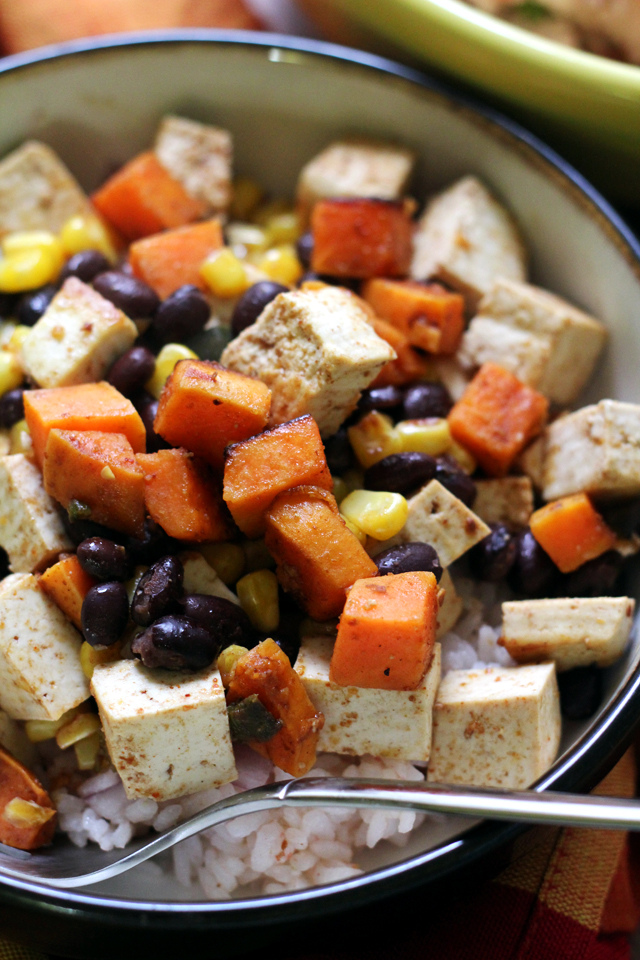 Tofu, Sweet Potato, and Black Bean Vegetarian Burrito Bowls
From Around the Web:
Butternut Squash Burrito Bowls from Love and Lemons
Sweet Potato Burrito Smothered in Avocado Salsa Verde from Cookie + Kate
Garden Veggie Freezer Burritos from Oh My Veggies
Creamy Green Chile-Smothered Burritos from I Heart Eating
Breakfast Burrito Bowl with Sweet Potato Noodles from Food Faith Fitness