Why should strawberries get all the shortcake fun?! These blueberry rhubarb buttermilk shortcakes are sweet, tart, and taste like spring.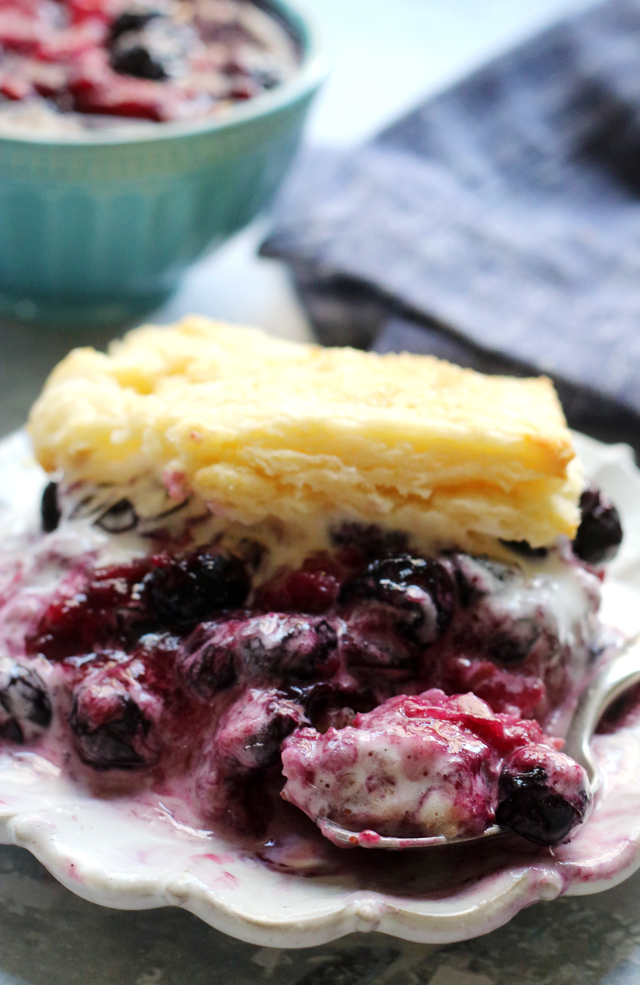 Riding the struggle bus big time today, but just seeing photos of these shortcakes is giving me LYFE.
We've had a WEEK of fevers.
Remy was patient 0 (obviously), and now I'm quickly headed on a journey to fever-ville. Fingers crossed the.boy is spared because the only thing worse than the toddler cold is the man cold.
Am I right, or am I right?
Anyway.
Have you ever had blueberry rhubarb compote jammy goodness before??
If not, YOU NEED TO.
It rivals strawberry rhubarb anything. Big time.
I actually ended up making a second batch and putting it on my oatmeal all week. GENIUS move. Highly recommend it.
It's tart, sweet, and perfect sandwiched in-between buttery flaky biscuit layers.
You'll notice in my photos that the whipped cream is super melty and that's because I have no patience and couldn't wait for the compote to cool before smushing everything together and shoving it into my face.
Don't be like me! Or do? It's delicious either way.
Blueberry Rhubarb Buttermilk Shortcakes
Why should strawberries get all the shortcake fun?! These blueberry rhubarb buttermilk shortcakes are sweet, tart, and taste like spring.
Ingredients
For the buttermilk biscuits
3½ cups all-purpose flour
1 tablespoon baking powder
8 oz salted butter, grated on a box grater just like cheese
1 tablespoon honey
1 cup buttermilk, plus more for brushing
For the blueberry rhubarb compote
12 oz blueberries
5 stalks rhubarb, thinly sliced
½ cup sugar
1 tbsp vanilla bean paste
For the shortcakes
1 cup heavy cream, cold
1 tbsp sugar
Instructions
For the biscuits
Heat oven to 400F. Line a baking sheet with parchment paper.
In a large mixing bowl, whisk together the flour and baking powder. Add in the butter and gently mix together with your hands until evenly combined. Pour in the buttermilk and honey. Mix with your hands until just combined, adding more buttermilk as needed until it comes together.
Roll the dough out into a rectangle that is 1-inch thick. Cut into 9 biscuits. Place the biscuits on the prepared baking sheet and brush the tops with buttermilk. Bake until golden brown, 15-18 minutes. Allow to cool before filling.
For the blueberry rhubarb compote
Combine the blueberries, rhubarb, sugar, and vanilla bean paste in a heavy-bottomed skillet over medium heat. Cook until the sugar is dissolved, the blueberries are starting to burst and release their juice, and the rhubarb is tender, about 10 minutes. Remove from the heat and let cool to room temperature.
For the shortcakes
Whip the heavy cream and sugar in the bowl of a stand mixer fitted with the whisk attachment until stiff peaks form.
Cut each of the biscuits in half. Top with a scoop of compote and a dollop of whipped cream. Serve immediately.
More fruity desserts: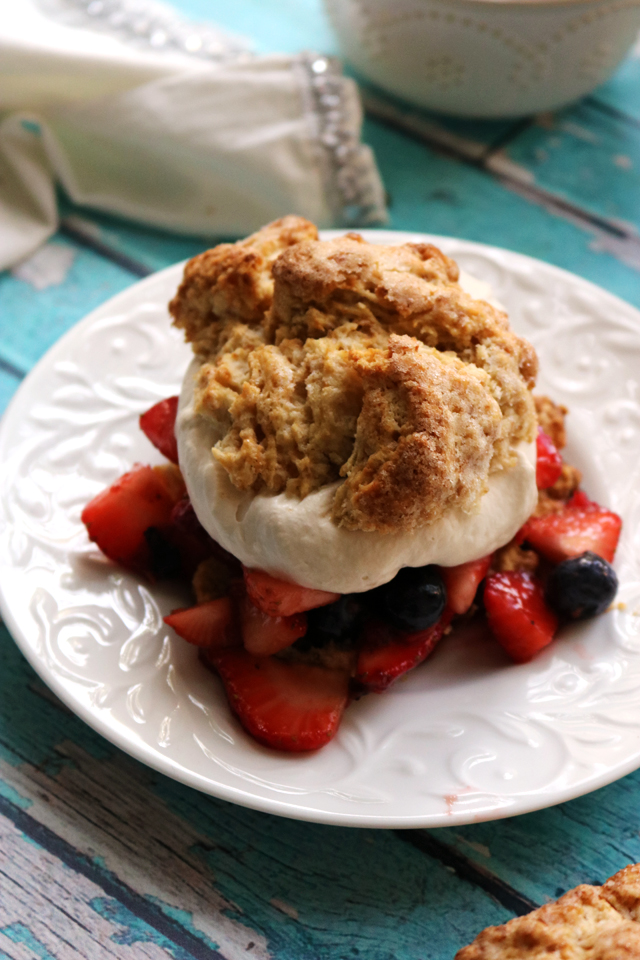 Red, White, and Blue Brown Sugar Berry Shortcakes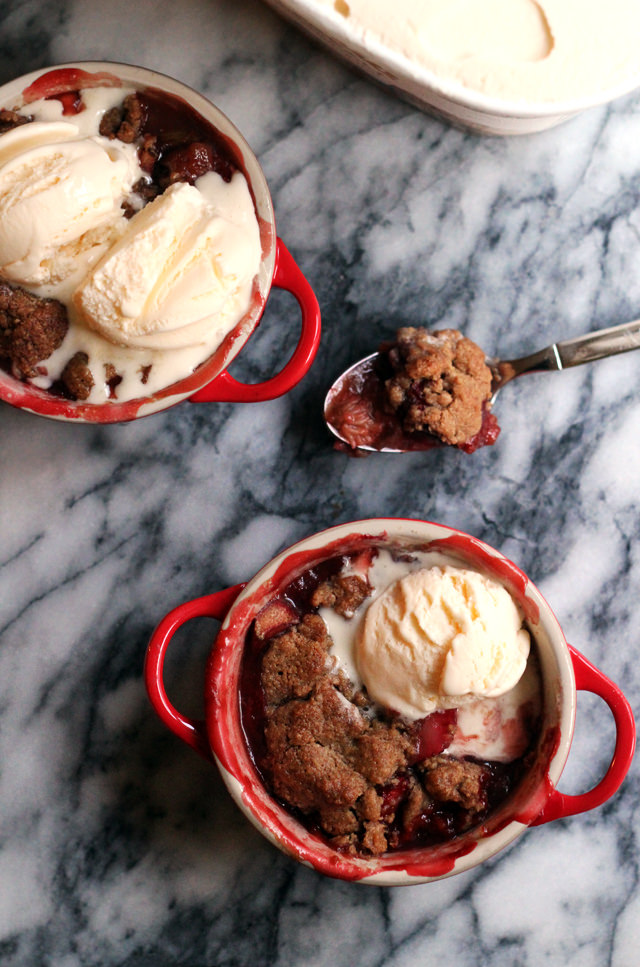 Strawberry Rhubarb Crumble with Almond Butter Cookie Crust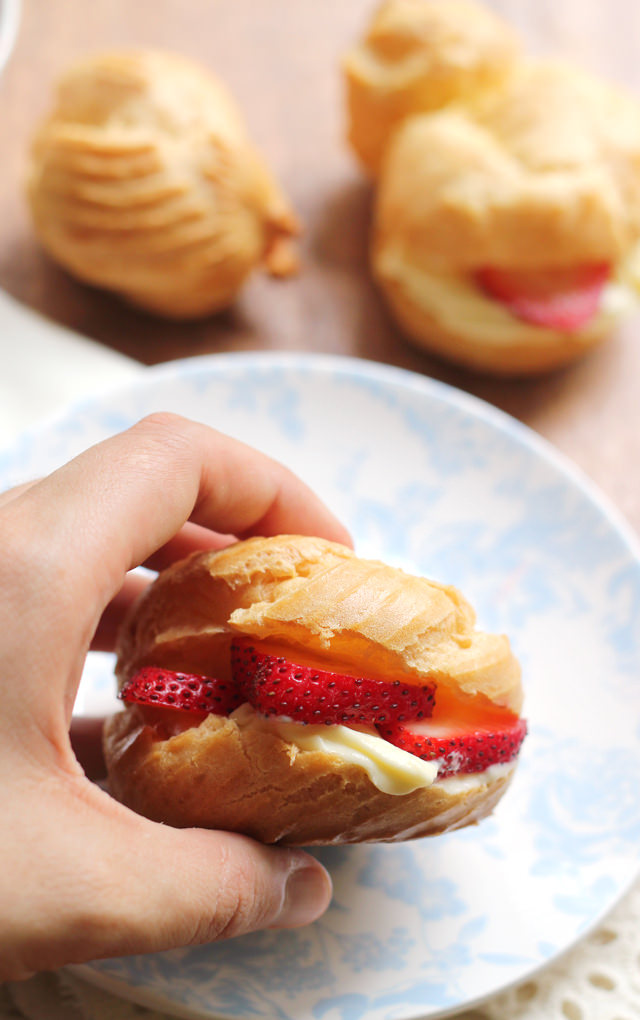 Strawberry Shortcake Cream Puffs