Individually portioned strawberry rhubarb crumbles topped with an almond butter cookie topping are the perfect sweet tart spring treats. Make sure to serve with a dollop of ice cream on top!
Disclosure: This post was sponsored by Whole Foods Market. My thoughts and opinions, as always, are 100% my own.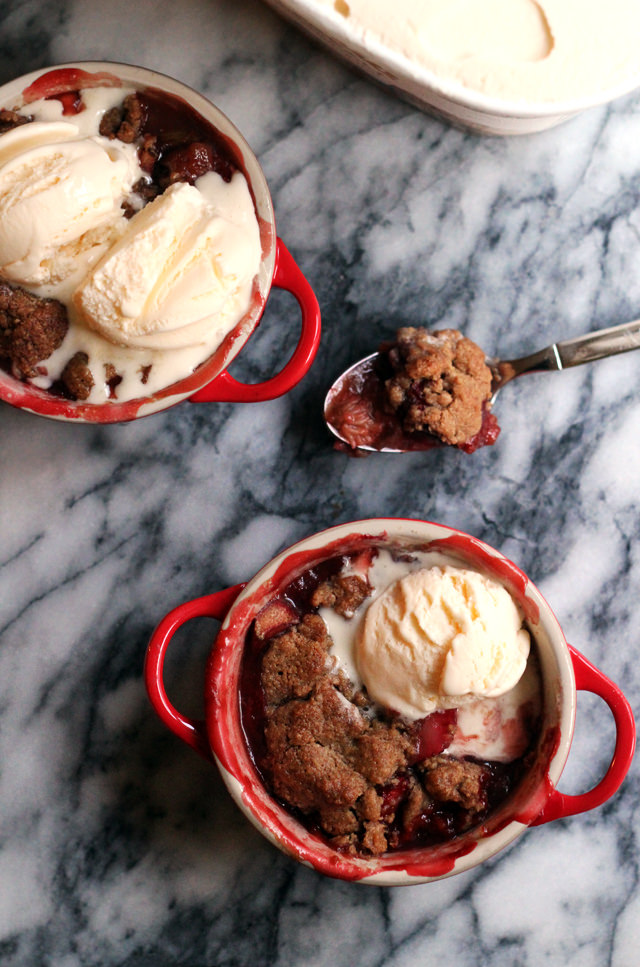 Please tell me these made your heart skip a beat.
SAME(sies).
I'm actually so glad to have a rhubarb-loving confidante in you guys because a certain husband of mine is not having it.
He's all like, "RHUBARB IS NOT REAL".
And I'm like, "YOU JUST ATE IT."
It's endless, really.
I don't even want to know what our neighbors think of us. (except I kind of do?)
As you can probably tell from my extensive track record, if there is one dynamic duo I can't go a whole spring without obsessing over, it is the ever classic strawberry rhubarb pairing. I swear sometimes it's the only thing that gets me through winter. That and the promise of roasted asparagus.
I'm all about life's simple pleasures. Especially when they come in seasonal produce form.
But what if….we lived in a world where much of the food that we love SO.MUCH is gone because we no longer have the pollinators necessary to aid it in it's growth?! We're talking NO chocolate, NO avocados, NO coffee. That is not a world that anyone wants to be living in, yet we're getting closer to it with every passing day. Currently, nearly one third of America's bee species are at risk for extinction, while the existence of other pollinators such as moths, butterflies, fireflies, and hummingbirds is in rapid decline. To get a glimpse of what the world would be like without these creatures, check out this video on what your daily smoothie would look like if there were no pollinators around to support plant growth. Scary, huh?
The bottom line is, we NEED to take action to prevent this while we still can, and Whole Foods Market is making it easy with their 365 Everyday Value® Pollinator-Friendly Almond Butters!! These are available at Whole Foods RIGHT NOW in both creamy and crunchy form, and for every jar sold between April 16th and 28th, Whole Foods Market will donate $0.50 to the Xerces Society to help it reach its goal of planting 100,000 acres of pollinator habitat within the next 12-18 months. What's also cool about these is that the almonds that were used to make them were grown as part of a pilot project on the Nevada Ranch in Le Grande, California, designed to study and raise awareness about how important natural biodiversity is in the almond growing process.
So they're just good news all around.
Seeing as how I always keep my pantry stocked with almond butter anyway, it was a no brainer to me that I should buy my weight in jars of these. After all, it's for the greater good….of my belly and the world.
So I did.
And then, because I am incapable of just having almond butter in my apartment without inhaling all of it almost immediately, I realized that I could kill two birds with one crumble if I turned it into a cookie topping for this hot, thick, luscious strawberry rhubarb filling.
Kind of like a PB&J but with AB instead. So, kind of like a PB&J but better.
I made these in individually portioned mini cocottes, but you can just throw the whole thing into a pie pan if that floats your boat.
The ice cream topping, on the other hand, is non-negotiable. Really. Just do it.
So you can have the opportunity to try these almond butters for yourself, Whole Foods Market has so generously agreed to give away one $50 coupon to one of my awesome readers. See the widget below for details on how to enter!!
Strawberry Rhubarb Almond Butter Cookie Crumble
Individually portioned strawberry rhubarb crumbles topped with an almond butter cookie topping are the perfect sweet tart spring treats. Make sure to serve with a dollop of ice cream on top!
Ingredients
For the filling
½ cup dark brown sugar
2 tbsp cornstarch
pinch of salt
1 lb rhubarb, trimmed and sliced ¼-inch thick
1 lb strawberries, hulled and quartered
For the almond butter cookie crumble
¼ cup unsalted butter, softened
¼ cup brown sugar
½ cup flour
¼ cup creamy almond butter
vanilla ice cream, for serving
Instructions
Heat oven to 375F. Place 6 8-oz ramekins or one 10-inch pie pan on a foil-lined baking sheet. Set aside.
In a small bowl, whisk together the brown sugar, cornstarch, and salt. Toss together in a large bowl with the rhubarb and strawberries. Divide among the ramekins or pour into the pie pan.
In a medium bowl, use a spatula or your fingers to combine the ingredients for the crumble, making sure that it is well combined. Crumble over the filling.
Bake for 30-45 minutes, or until the filling is bubbling thickly. Cool slightly and serve topped with vanilla ice cream.
Notes
An Eats Well With Others Original
More rhubarb!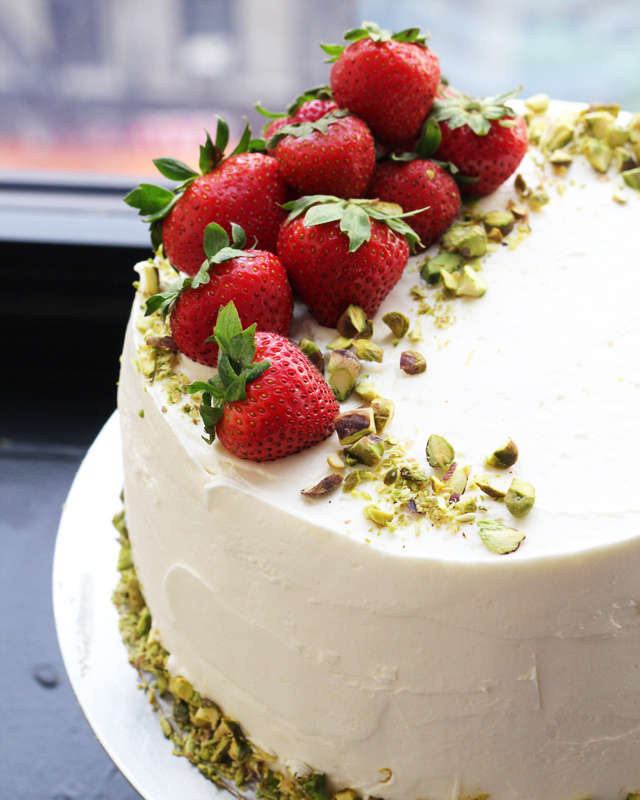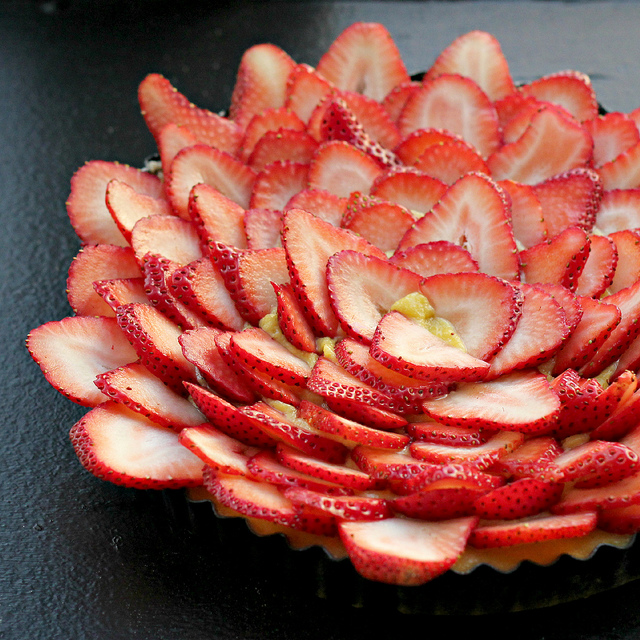 Rhubarb Curd Shortbread Tart with Fresh Strawberries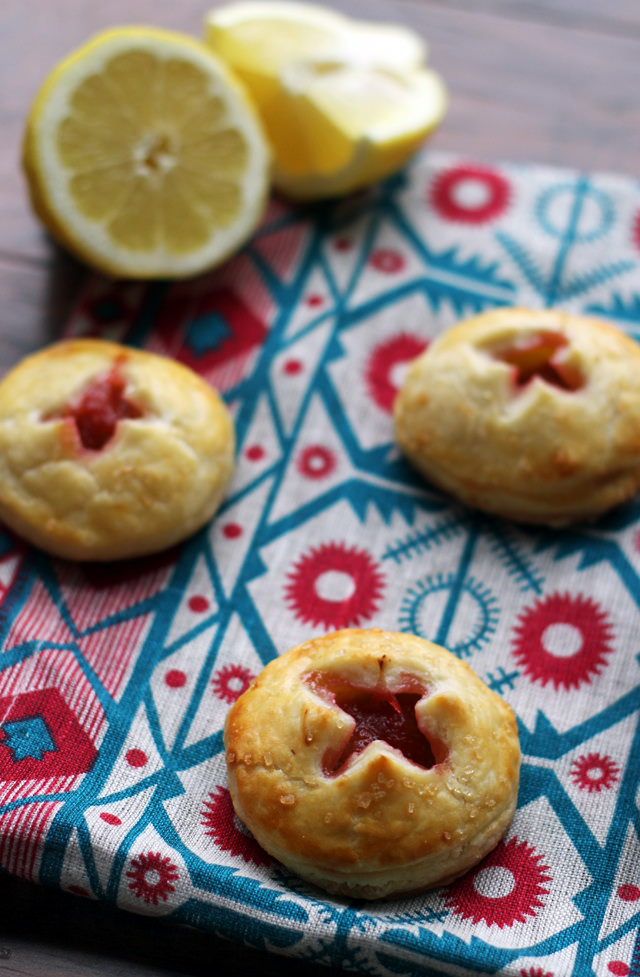 Rhubarb Cream Cheese Hand Pies
From Around the Web:
Rhubarb Custard Tea Cake from Eat, Little Bird
Rhubarb Fool from Baked Bree
Rhubarb Swirl Buttermilk Ice Cream from Well Plated
Coconut Raspberry Rhubarb Ice Cream from Blahnik Baker
Strawberry Rhubarb Bars from Amandeleine