Vegan baked purple yam and sweet potato dumplings with peanut sauce let you satisfy your dumpling cravings in a healthy way!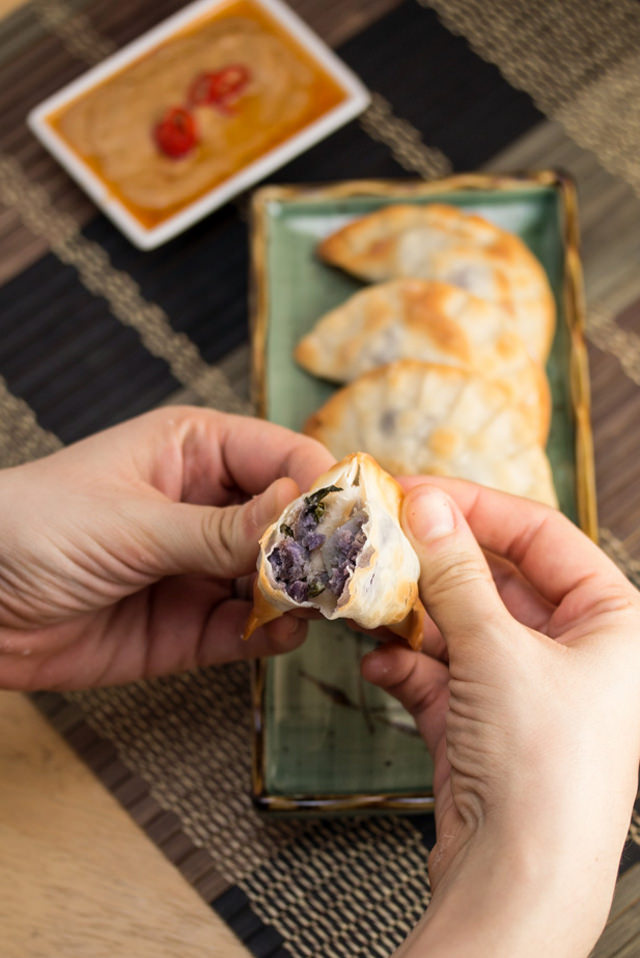 MORE DUMPLINGS!!
Because you didn't think that I would eat a meal that consisted solely of carbs, oil, cheese, and nutella, did you?!
*GASP* I have standards.
Also, I really like my coronary arteries. So there's that.
Thankfully Ashley has a similar eating ethos, so when we were planning our #Dumplingpalooza menu, we unanimously agreed that at least one dumpling had to be totally virtuous: veggie-stuffed, baked, preferably with a leafy green or two…and sweet potatoes. Obviously. (I mean, look who you're talking to.)
We couldn't just go with your regular orange variety, though, because HOW PREDICTABLE. So instead, we pretty much used everything but, which included purple yams and white oriental sweet potatoes. With some choy sum (a distant, leafier relative of Chinese broccoli) thrown in for good measure.
These may have been baked, but they still had just as much crunch as their fried buddies…but healthier. The filling was a perfect mix of sweet and earthy, and I felt like its fresh flavors did a good job of balancing out the heavier dumplings. Of all the dumplings that we made, though, these were the ones that I felt really needed a dip to bring all of the filling flavors together and our homemade peanut sauce, with it's slightly sweet nuttiness and hint of spice, did just that.
Ashley and I had actually intended to make a fourth dumpling filled with even more veggies and lots of crunch but, um, we got lazy and so we turned that filling into an awesome Triple Crunch Asian Salad! Filled with watermelon radishes, water chestnuts, and the choy sum stems, and dressed in a light citrus sesame vinaigrette, it was the perfect light bite in the midst of all of this dumpling mania. Check out the recipe on Ashley's blog!
Baked Purple Yam and Sweet Potato Dumplings with Peanut Sauce
Vegan baked purple yam and sweet potato dumplings with peanut sauce let you satisfy your dumpling cravings in a healthy way!
Yield:
3-4 dozen dumplings
Ingredients
For the filling
2½ cups purple yams, peeled and diced small
3 cups Oriental sweet potatoes, peeled and diced small
Kosher salt, to taste
1 tablespoon peanut oil
2 cloves garlic, minced
1 teaspoon ginger, grated or minced
3 tablespoons shallots, thinly sliced
3 cups choy sum leaves (or other leafy green), sliced
Dumpling wrappers
For the peanut sauce
1 tablespoon peanut oil, plus a little brushing over the dumplings
6 cloves garlic, minced
1 tablespoon ginger, grated or minced
¾ cup creamy peanut butter
¼ cup low sodium soy sauce
1 (13.66 ounce) can unsweetened coconut milk
1 tablespoon rice vinegar
1 tablespoon chili garlic sauce
Instructions
Place yams and sweet potatoes in a large saucepan, covering them with cold water by a few inches. Add a pinch of salt and bring to a boil. Reduce heat and simmer until potatoes are tender when pierced with a knife, about 10-15 minutes. Drain.
Meanwhile, heat peanut oil in a large skillet over medium heat. Add garlic, ginger and shallots and sauté until fragrant, about 3-4 minutes. Add choy sum leaves and cook until wilted, stirring occasionally, about 4-5 minutes. Add potatoes back in, stir to combine and set aside to cool slightly. Season to taste with salt.
Preheat oven to 425°F. Get a small bowl of water ready. Scoop a heaping teaspoon of the potato mixture into a dumpling wrapper. Dip a finger in the water and run it around the perimeter of the dumpling wrapper. Fold it in half and press the edges firmly to seal around the filling. Set on a baking sheet and repeat with remaining dumpling wrappers until you run out of wrappers or filling.
Brush each dumpling with a little extra peanut oil, and bake until golden brown, about 15-20 minutes.
While the dumplings are baking, prepare the peanut sauce. Heat peanut oil in a saucepan over medium heat. Add garlic and ginger and sauté until fragrant. Add remaining ingredients and whisk until smooth and heated through.
Notes
An Eats Well With Others + Big Flavors from a Tiny Kitchen Collaboration
Nutrition Information
Serving size:
3-4 dumplings
 More recipes to get your Asian food fix!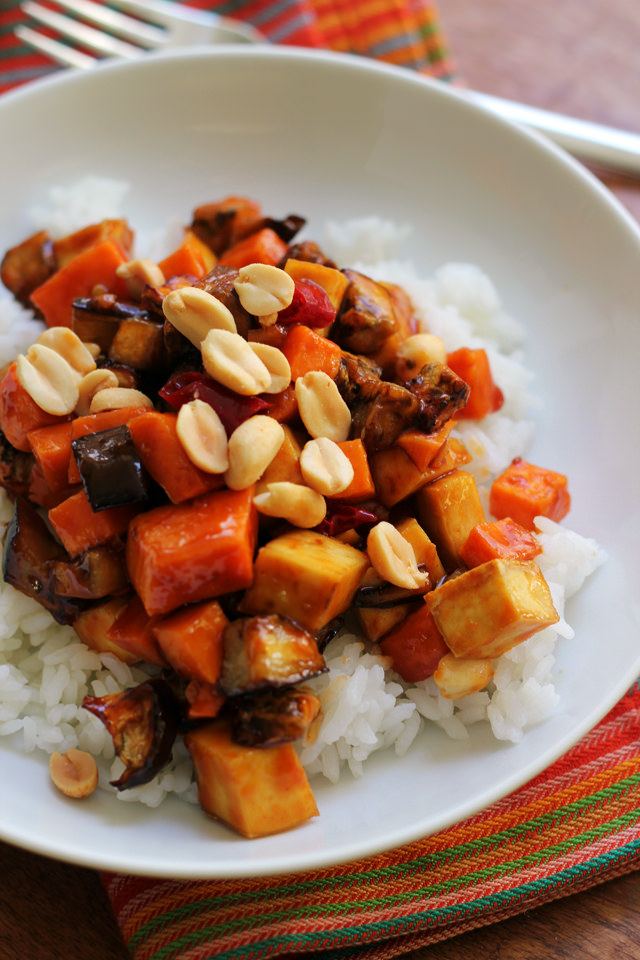 Crispy Kung Pao Tofu and Vegetable Stir Fry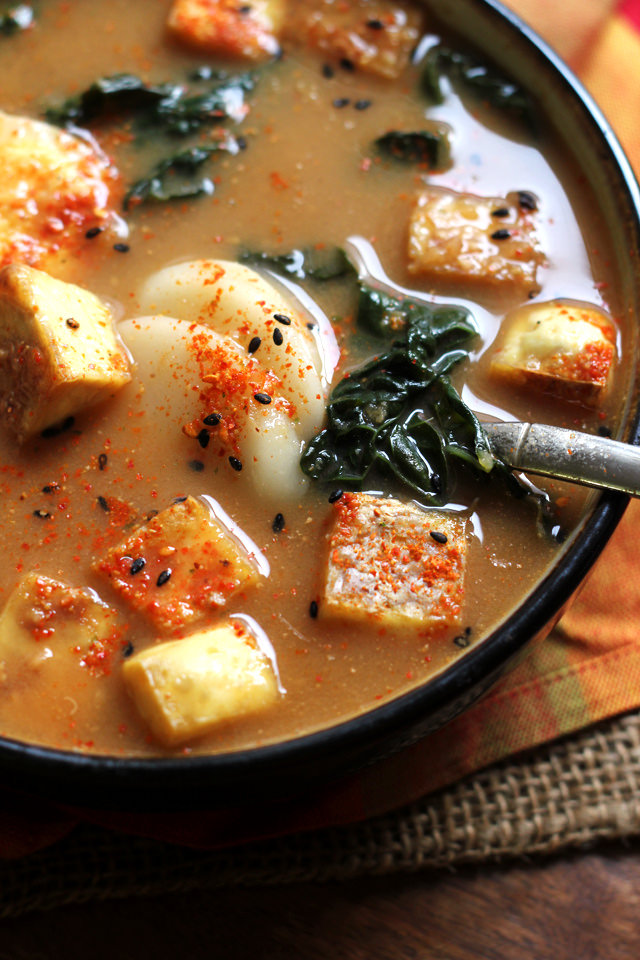 Spicy Miso Soup with Korean Rice Cakes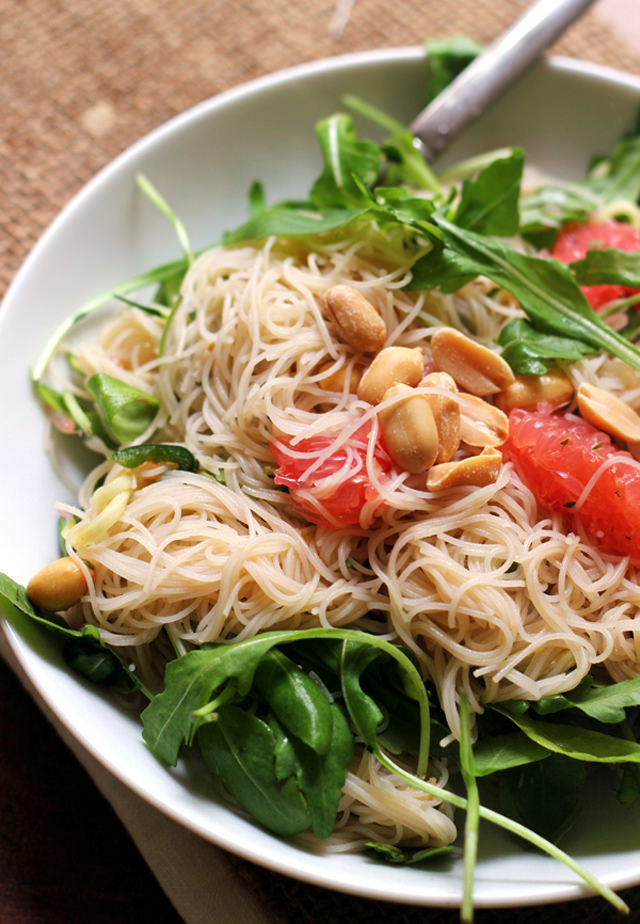 Rice Noodle Salad with Grapefruit and Peanuts
From Around the Web:
Crunchy Asian Ramen Noodle Salad from Gimme Some Oven
Asian Steamed Buns with Kale and Bok Choy from Love & Olive Oil
Ginger, Citrus and Black Sesame Carrots with Edamame from The First Mess
Kale & Sesame Salad with Scallion Pancake Croutons from My Name Is Yeh
Sesame-Ginger and Cucumber Soba Noodles from Cookie + Kate