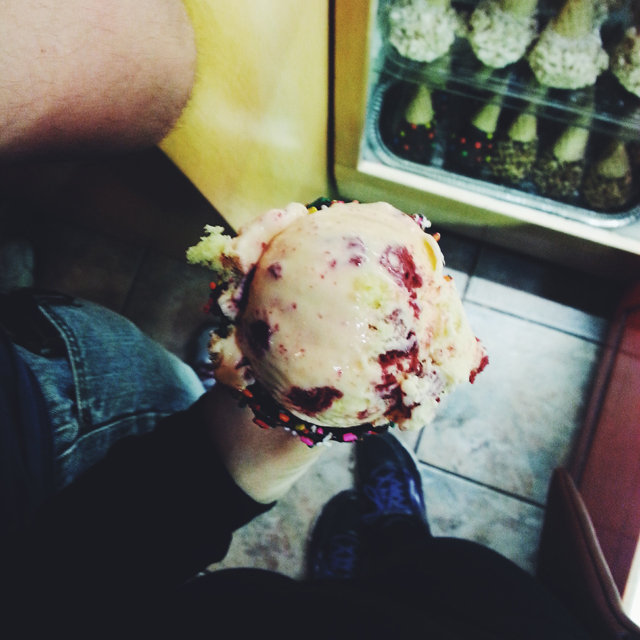 1. First ice cream run of the SEEAASSSOOONNN!!!
2. First of many, I should say. SO. MANY.
3. I am so gung-ho over spring right now that I even had the audacity to put away all my winter clothes. For good. It just felt right.
4. I'm sure this means it will snow tomorrow. Because, Murphy's Law.
5. Mad Men this week was…weird…for lack of a better word. I just can't even with Don and Betty. I think they live in an alternate universe sometimes.
6. For the past four years that I've been in my lab, we've always had group meeting on Wednesdays, but last week my boss decided that having it on MONDAY makes so much more sense…so he changed it. And it is totally throwing me off!! In fact, it is highly likely that I will never know what day of the week it is again.
7. Consider yourself warned.
8. So last week, I made the potentially crazy decision to join a CSA this summer! I did it once before (in my pre-the.boy days) and while there were weeks when it drove me crazy (i.e. ALL.THE.LETTUCE), I really think that on the whole it made me look at vegetables in a different way and forced me to be more creative with them. Now I'm just counting down the days until the first pick up date in June…
9. Except not, because June is going to be an INSANE month between a science conference that I'm going to and our honeymoon, and I really don't need it to be here yet.
10. On a somewhat related note, can someone just figure out how to slow time already?! I would really appreciate it.