Zucchini is broiled until charred and smoky, mashed, and then topped with a warm yogurt sauce and spicy brown butter pine nuts in this sultry zucchini baba ghanoush.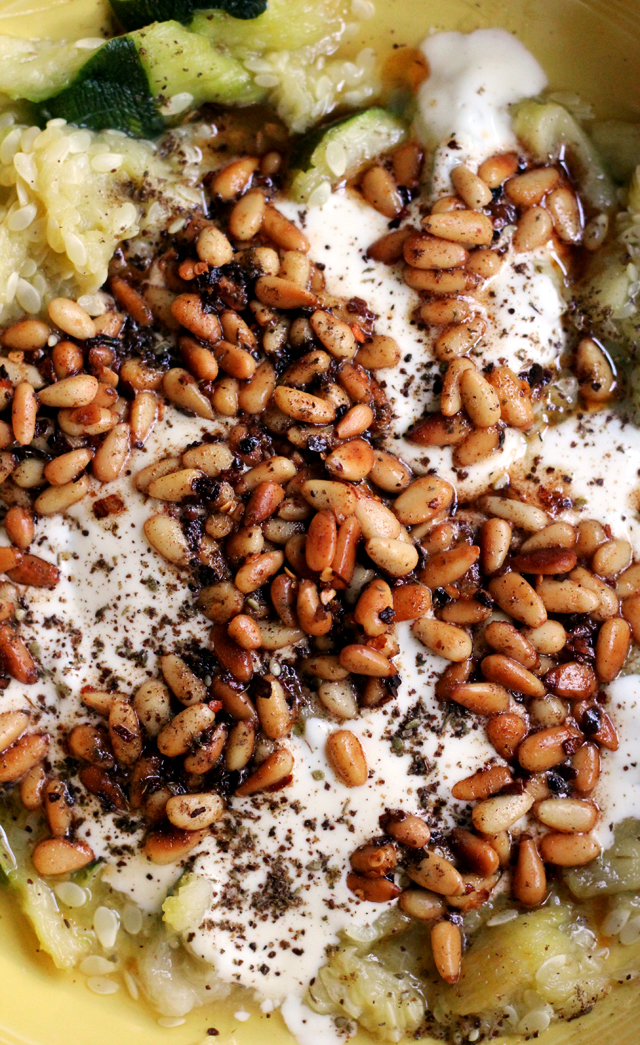 If you want to hear what crazy really sounds like, I advise you to stop by my apartment while I'm flipping through an Ottolenghi cookbook.
It's an endless chorus of "He wants me to do WHAT?! With WHAT?! And put that WHERE?!", followed by a dull thud as I fling the book across the room and position myself securely under the covers where those phantasmagorical recipes can't get to me.
(But, really. Every. Time.)
Then, of course, because I have no self control, my curiosity gets the best of me and I end up making whatever I was shrieking about only to discover that YES this seemingly random combination of ingredients and cooking techniques is perfect, absolutely PERFECT together.
Who'd have thought history could repeat itself so exactly, so many times….and I would continue to find it so surprising.
The thing that got me with this recipe was not the zucchini stand in for what is typically an aubergine's job. I can be open to new things! Really!! (Okay, in rare situations, but it happens.) Actually, I thought this was quite genius. Where eggplants can be bitter and tough to tame, zucchinis are slightly sweet, take well to charring, and turn into a silky buttery mess at the slightest nudge from some hot flames.
Nope, the thing that sent the cookbook flying across the room this time was the yogurt sauce.
You're like, ummm that is SO normal in Middle Eastern cooking.
Hear me out: what if I rephrased it as the goat's milk goat cheese custard sauce that gets it's sleek smooth texture from a barely cooked (okay, semi-raw) egg. You're trying to throw your laptop now. DON'T DO IT.
Because though it seems crazy, this sauce just works. It's adds the perfect amount of luscious tang to this otherwise absurdly healthy dip. Topped with spiced up brown butter pine nuts that are pretty much the pinnacle of sheer buttery decadence, I adored it on pita chips, inhaled it straight off a spoon, and even stuffed it into a Middle Eastern burrito that I'm going to be sharing next week. It's a jack-of-all-trades dip…and I'm so sorry that I ever had my doubts.
This baba ghanoush is my submission to this month's Recipe Redux, the theme of which is SPRING CLEANING. A concept that I've heard of (in fairy tales), but have yet to actually practice in my own life. Someday.
Quite luckily, I had some pine nuts that were languishing in my pantry and a container of za'atar that is likely almost past its prime, so I made sure to find a recipe that would make good use of them. While this recipe is largely unchanged from the original, I did swap out the Roquefort in the yogurt sauce for goat cheese, mostly because I like it better, but you can add it back in if it's more your style!
Zucchini Baba Ghanoush
Zucchini is broiled until charred and smoky, mashed, and then topped with a warm yogurt sauce and spicy brown butter pine nuts in this sultry zucchini baba ghanoush.
Ingredients
5 large zucchini (about 2¾ lb)
⅓ cup goat's milk yogurt
4 oz goat cheese
1 egg, lightly beaten
1 tbsp unsalted butter
3 tbsp pine nuts
1 tsp red pepper flakes
1 tsp lemon juice
1 clove garlic, crushed
za'atar, to finish
salt and black pepper, to taste
Instructions
Heat the broiler. Place the zucchini on a baking sheet lined with aluminum foil. Broil for about 45 minutes or until the skin is crisp and brown, turning as needed to cook evenly. Remove from the oven and let cool slightly. Peel off the skin and discard it. Put the flesh in a colander to drain.
Meanwhile, put the yogurt in a small sauce pan with the goat cheese and the egg. Heat gently for 3 minutes, stirring constantly, until slightly thickened. Set aside and keep warm.
Melt the butter in a small pan with the pine nuts over low heat. Cook, stirring often, until the nuts are golden brown, about 3-4 minutes. Stir in the chili flakes and lemon juice.
Put the zucchini in a bowl and mash it together with the garlic, ½ tsp salt, and freshly ground black pepper. Spread over a large serving platter. Top with the yogurt sauce, pine nuts, and a sprinkling of za'atar.
Notes
Very slightly adapted from
Plenty More: Vibrant Vegetable Cooking from London's Ottolenghi
Nutrition Information
Serving size:
⅙th of recipe
More dips!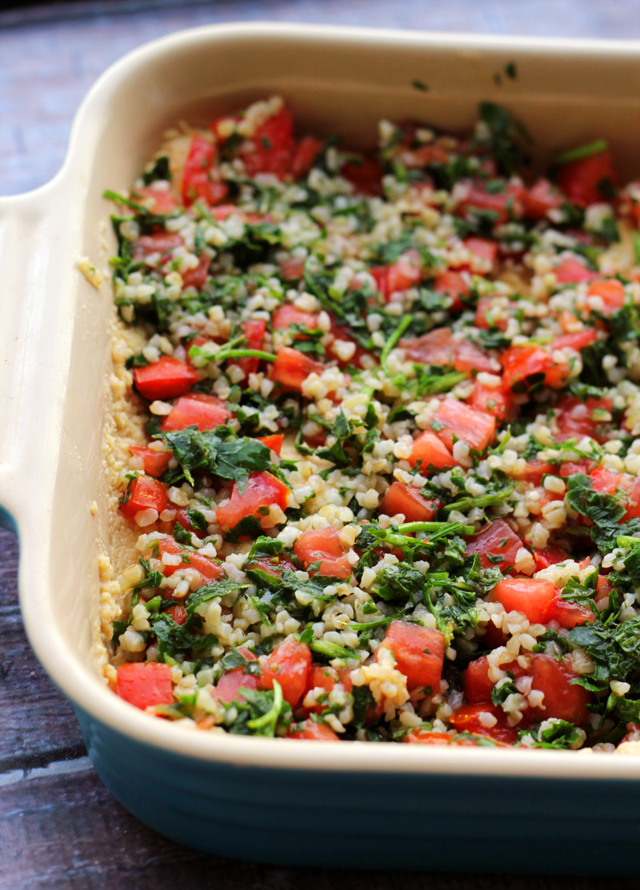 Mediterranean Tabbouleh Hummus Dip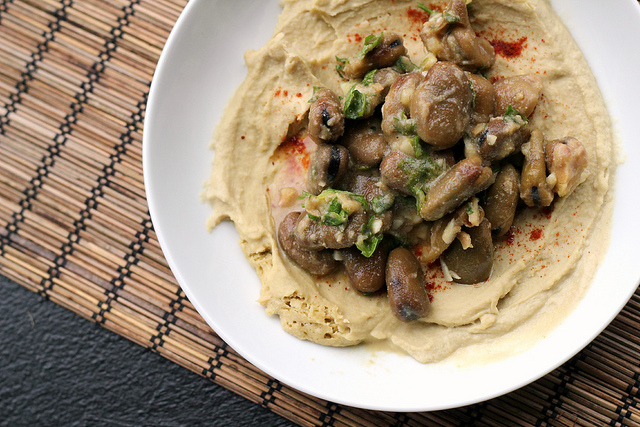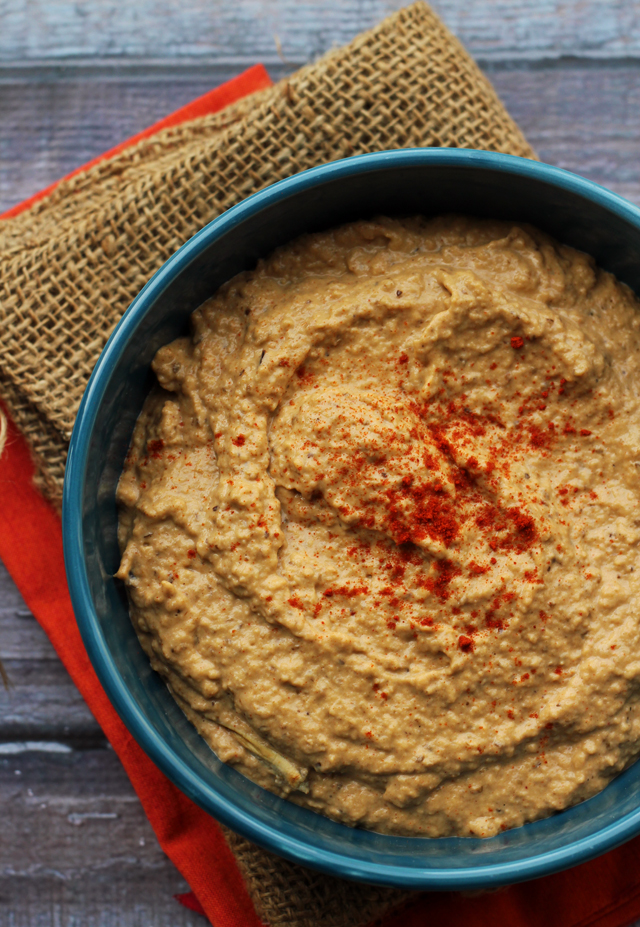 From Around the Web:
Berbere Spiced Red Lentil Hummus from Fat Free Vegan Kitchen
Spicy Sweet Potato Hummus from The Novice Chef Blog
9 Layer Bean Dip from Favorite Family Recipes
Extra Virgin Olive Oil Herb Dip from My Baking Addiction
Basic Brie Dip from Spoon Fork Bacon