Fresh and clean flavors abound in this recipe for salmon with citrus charred scallions and a lightly pickled smashed cucumber salad with toasted garlic and turmeric.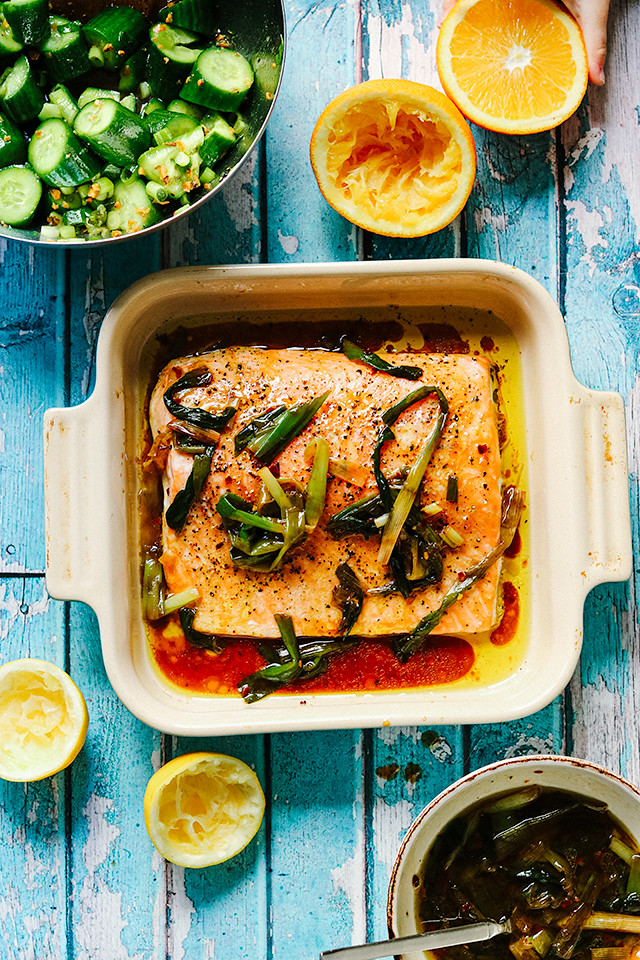 Remy's response to literally all of the food I put in front of her lately: No. I WANT FISH.
For a girl who previously lived on raspberries, pasta, and yogurt alone this is very confusing on many levels, but mostly because she is now refusing to eat all of her old favorites.
I feel like I don't even know her anymore.
But also, I can't even blame her because between this salmon with citrus charred scallions and the brown butter salmon I posted back in December we have been eating some really good fish recipes.
If anyone is the culprit here, it's Alison Roman for filling her most recent cookbook with so much delicious fish.
We didn't stand a chance.
Whereas the brown butter salmon is rich in all the best ways, this salmon is filled with more fresh and clean flavor from the citrusy soy sauce marinade to the tangy smashed cucumber salad.
I would alternate between the two every day if I could but fish on a daily basis is just not in our budget right now. Hence Remy's daily outraged complaints at the dinner table.
And – the kicker – this recipe is SO EASY to prepare. The whole meal can be prepared in all of 30 minutes from start to finish. Totally doable for a weeknight but it's also special enough to serve for company on a weekend.
Who says we can't have it all?
This recipe as written serves 4-6 but the leftover fish doesn't keep so well, so my recommendation would be to cook off as much as you need for your family and then reserve any leftovers to be cooked on a later day. Just use as much of the sauce as you need for that day and save the rest in the fridge.
The same with the cucumber salad! I actually think that gets better with age as the cukes get more and more pickled and infused with the toasted garlic sauce.
Serve with a bowl of hot rice and you have a truly excellent meal. It's even toddler-approved, and that's an accolade that's hard to come by.
Salmon with Soy Citrus Charred Scallions and Smashed Cucumber Salad
Fresh and clean flavors abound in this recipe for salmon with soy citrus charred scallions and a lightly pickled smashed cucumber salad with toasted garlic and turmeric.
Ingredients
For the salmon
2 bunches scallions, trimmed
2-3 lb skin-on salmon fillet
¼ cup + 3 tbsp olive oil
salt and black pepper, to taste
¼ cup soy sauce
2 tbsp lemon juice
¼ cup fresh orange juice
crushed red pepper flakes
For the smashed cucumbers
½ cup grapeseed oil
6 garlic cloves, coarsely chopped
½ tsp turmeric
1 tsp flaky sea salt, plus more to taste
6 Persian cucumbers, cut into 1-inch chunks
2 scallions, thinly sliced
3 tbsp distilled white vinegar
freshly ground black pepper, to taste
Instructions
For the salmon
Heat oven to 325F. Thinly slice four of the scallions and place them in a bowl. Set aside.
Place the salmon on a large baking dish skin-side down. Drizzle with 2 tbsp olive oil and season to taste with salt and black pepper. Roast until medium-rare, about 10-12 minutes.
Meanwhile, heat 1 tbsp of the remaining olive oil in a medium cast-iron skillet over medium high heat. Add in the remaining scallions and cook until charred, about 4-6 minutes, tossing occasionally. Season to taste with salt and black pepper.
Transfer the charred scallions to a cutting board and coarsely chop them. Add them to the bowl with the raw scallions along with the soy sauce, lemon juice, orange juice, and remaining ¼ cup olive oil. Season to taste with salt, black pepper, and red pepper flakes.
Transfer the cooked salmon to a large serving platter, making sure to leave any skin in the baking pan. Top with spoonfuls of the charred scallion sauce and serve warm.
For the cucumbers
Heat the oil in a medium skillet over medium heat. Add the garlic to the pan and saute until toasted, about 2-3 minutes, swirling the pan occasionally. Add in the turmeric and flaky salt. Stir to combine and remove from the heat. Set aside.
Add the cucumbers and a pinch of salt to a large resealable ziploc bag. Smash the cucumbers using a heavy pot or rolling pin until they start to split. Allow to rest for a few minutes so that the salt can draw out some of their liquid.
Drain the cucumbers and toss with the scallions and vinegar in a large serving bowl. Season to taste with salt, pepper, and more vinegar. Toss with the garlic oil and serve.