Spaghetti with arugula pistachio pesto and topped with sweet and spicy butternut squash polpette.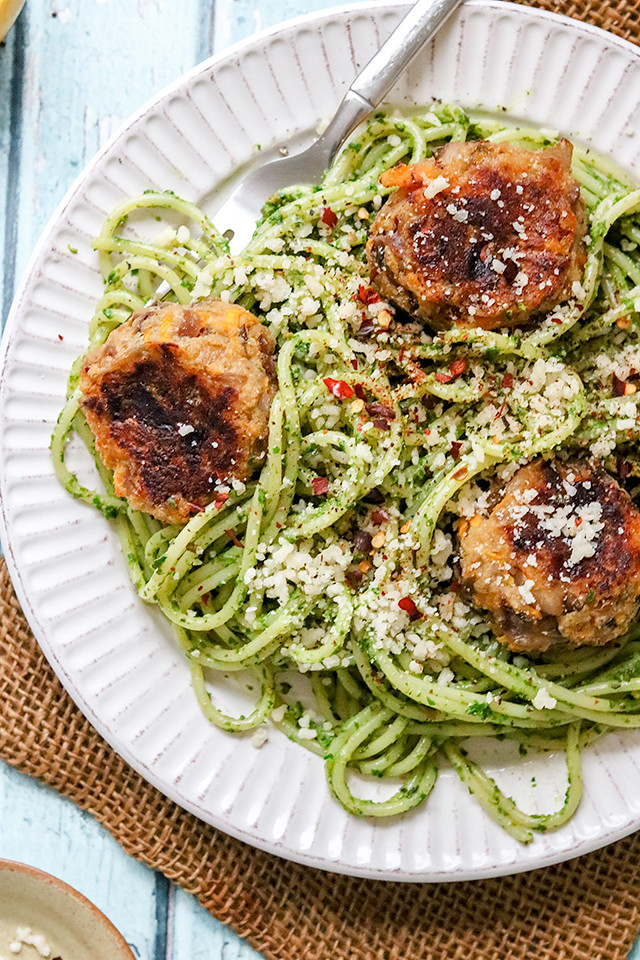 Really about to change your life with this pesto spaghetti.
Okay, I say that about everything but I'm SERIOUS this time.
We bit into it and I swear angels sang. Such a magical experience.
It's been a hot minute since I've shared a veggie "meat"ball recipe, and with good reason!
My (previous) absolute favorite recipe is wonderful but it is eggplant-based and requires boiling the eggplant, pressing out all the water, and then frying them.
With lots of hot oil because if there's one thing eggplant is good for it is soaking up your entire bottle of olive oil in one sitting. Not the healthiest or the most time-efficient.
So I've been reticent to try new recipes, partly because that eggplant recipe really is super delicious but also because I just didn't want to make the time investment if it wasn't going to be worth it.
But here I am with a new recipe for butternut squash polpette (fancy Italian way of saying veggie balls).
And they are so worth it, but with far less time and oil involvement.
These butternut squash polpette are simultaneously sweet and savory, and you'll be hard pressed to not keep popping them in your mouth with reckless abandon. I baked them in the oven but for an even crispier exterior you can treat them to a shallow fry if you're up for the oil adventure.
They are tossed with spaghetti that has been dressed in a bright and simple arugula pistachio pesto.
Each bite is filled with rich, bright, delicious flavor and it makes for the perfect meatless "spaghetti & meatball" eating experience.
Spaghetti with Arugula Pistachio Pesto and Butternut Squash Polpette
Spaghetti with arugula pistachio pesto and topped with sweet and spicy butternut squash polpette.
Ingredients
For the polpette
2 tbsp olive oil
1 red onion, thinly slice
2 garlic cloves, minced
1 cup (100 g) butternut squash, peeled and grated
¾ cup (150 g) cooked Puy lentils
½ cup (50 g) panko bread crumbs
⅓ cup (100 g) ricotta
¼ cup (25 g) grated parmesan cheese
pinch of red pepper flakes
3-4 parsley sprigs, minced
salt and black pepper
For the arugula pistachio pesto
¼ cup (25 g) shelled pistachios
1.5 oz (40 g) basil
5 oz (140 g) arugula
4 tbsp olive oil
juice of ½ lemon
Instructions
Heat the olive oil in a large skillet over medium heat. Add the onion and fry for 10 minutes, until caramelized and sweet. Add the garlic and cook for 2 more minutes. Remove from the heat to cool slightly.
Meanwhile, combine the grated squash, lentils, panko, ricotta, parmesan cheese, red pepper flakes, and parsley in a large bowl. Mix in the sauteed onion. Season to taste with salt and black pepper. Let rest for 20 minutes.
Meanwhile, heat the oven to 475F (240 C). Divide the polpette mixture into 12 little balls. Place them on a parchment-lined baking sheet and spray with olive oil spray. Bake for 20 minutes, or until golden, turning halfway through.
While the polpette are in the oven, make the pesto by combining the pistachios, basil, arugula, olive oil, and lemon juice in the bowl of a food processor or blender. Process until smooth. Add water, as necessary, to get the desired consistency. Season to taste with salt and black pepper.
Cook the spaghetti according to package directions, reserving ½ cup of the pasta cooking water. Toss the pesto with the spaghetti, adding a few tbsp of cooking water at a time until it forms a sauce.
Divide among serving plates and top with the squash polpette. Serve with extra parmesan cheese to garnish.